Green and Orange Juice Recipe!
Would you like to see what vegetables and fruits I used today for my healthy juice because you might want to try it at home?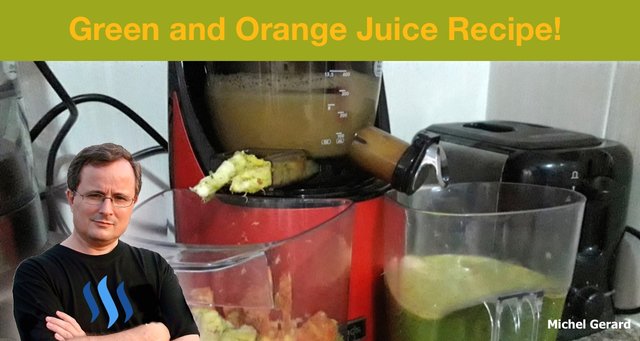 This is a green juice that I make every day with some variation in the kind of veggie and fruit I use. It is very tasty and easy to drink.
You may want to read my post to see how it all started: I Invested in a Kuvings Cold Press Juicer!
All photos are mine and taken with my Samsung phone.
Green and Orange Juice Recipe!
I am going to show you all the ingredients that I used to make this green and orange juice and hope that you will give it a try.
The green and orange juices were mixed together in bottles, and I had an extra glass with only orange/carrots/apple juice.
Today's Juice Recipe
I used these ingredients as you see them in the photos below:
Leafy greens
2 small cucumbers
2 carrots
4 tomatoes
1 lemon
3 apples
3 oranges
a small piece of ginger
These are the vegetables ready to be cut.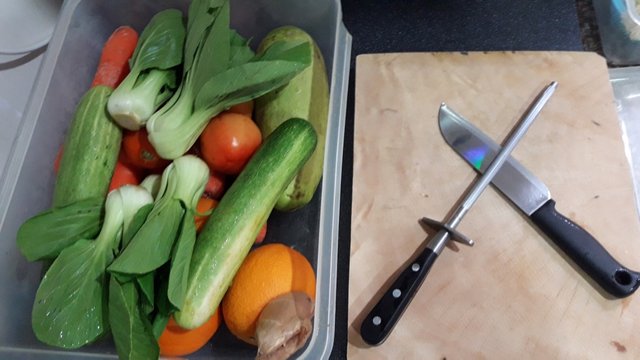 Two cucumbers that I learned to love.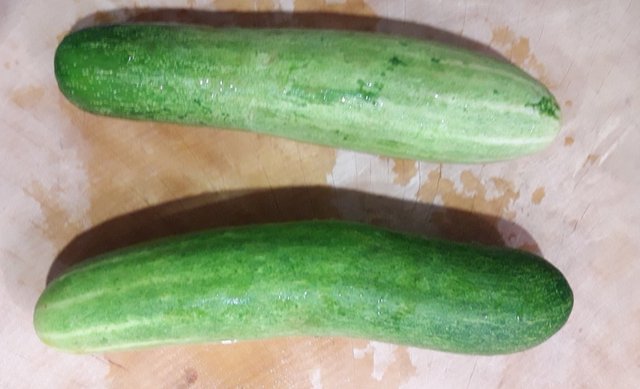 Leafy greens that I also learned to love.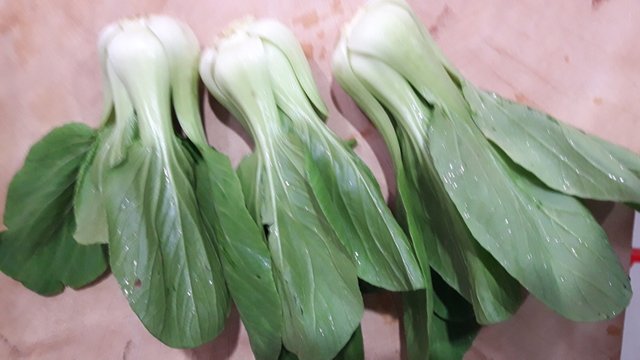 Tomatoes that I hate since childhood, but that I tolerate hidden in the juice.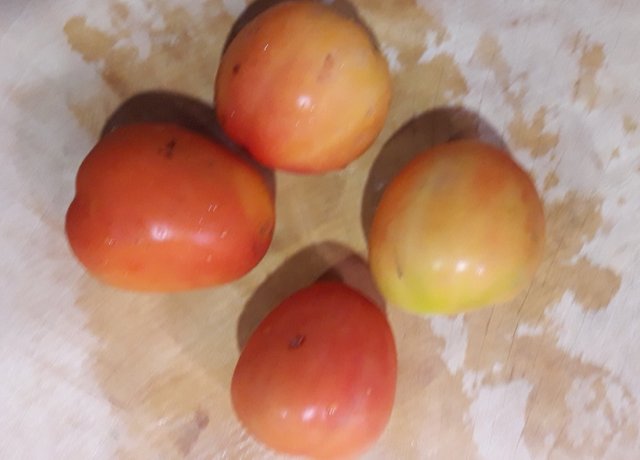 A piece of ginger to get some energy!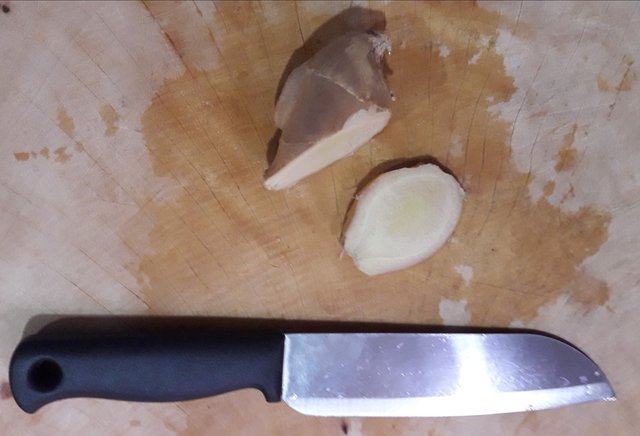 Carrots that I love.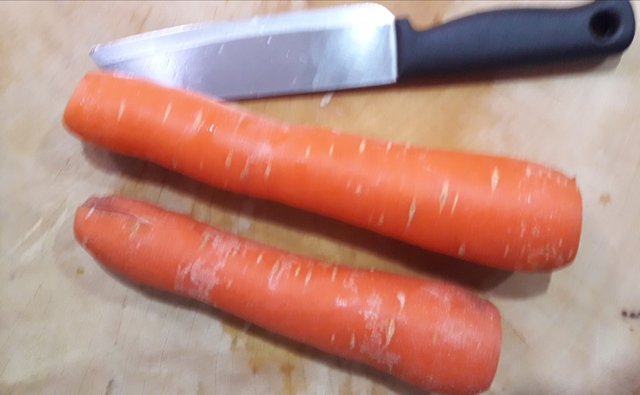 Oranges that I love.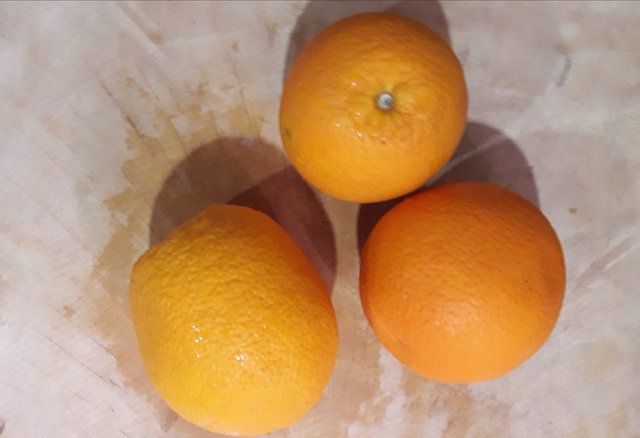 Apples and a lemon that I love.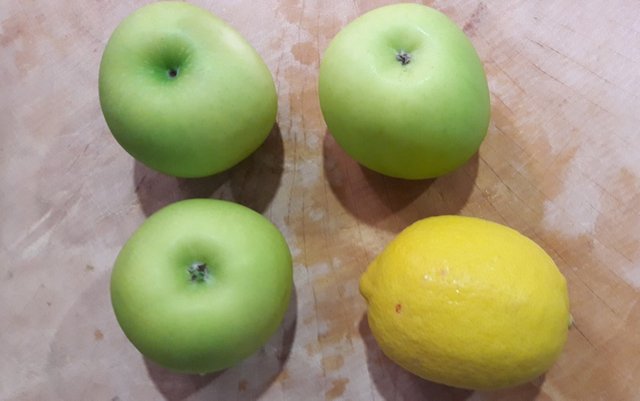 All the veggies prepared.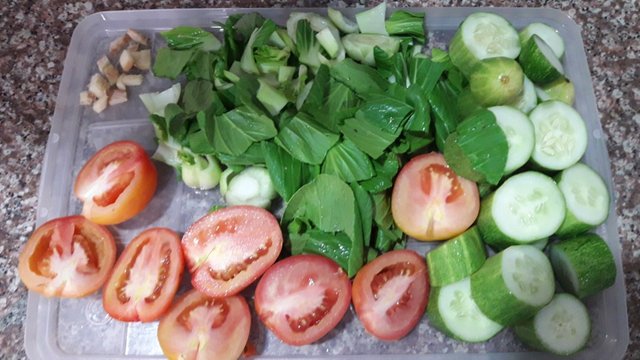 The carrots and fruits prepared.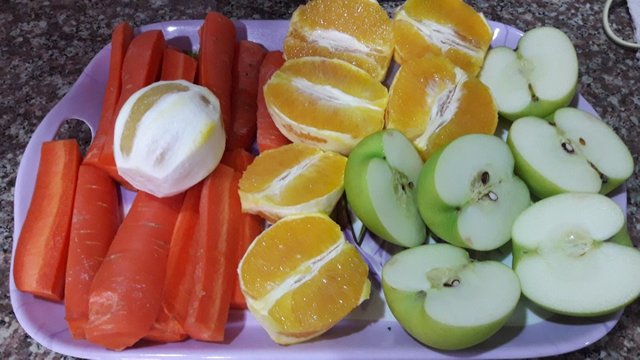 Let's get started.
I always start with a piece of carrot, and then the leafy greens. Look at this beautiful green color.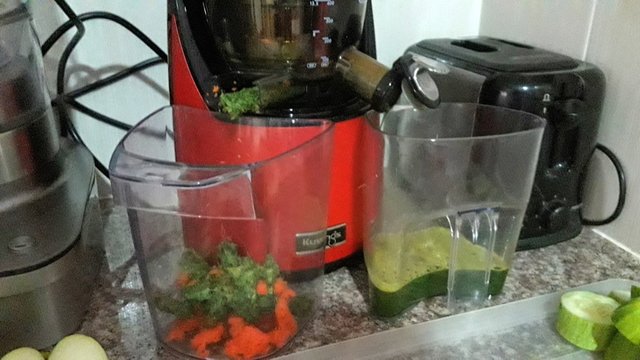 I alternate with an orange and apple, then the cucumbers.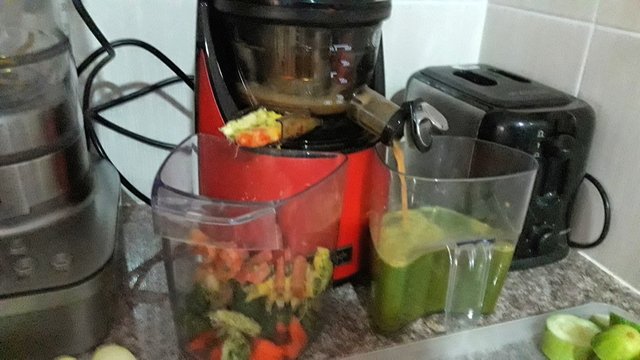 Nearly done with all the greens and the ginger went through, too.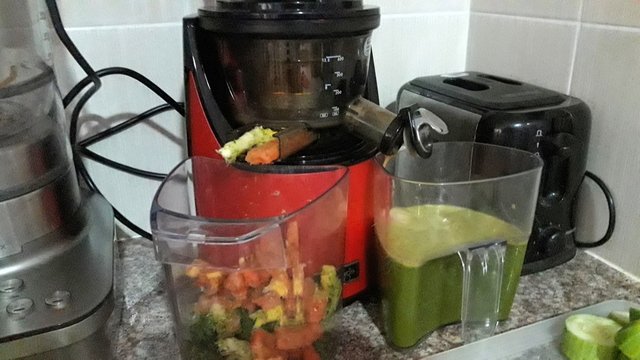 Now it's time for more fruits and look at this beautiful color in the bowl.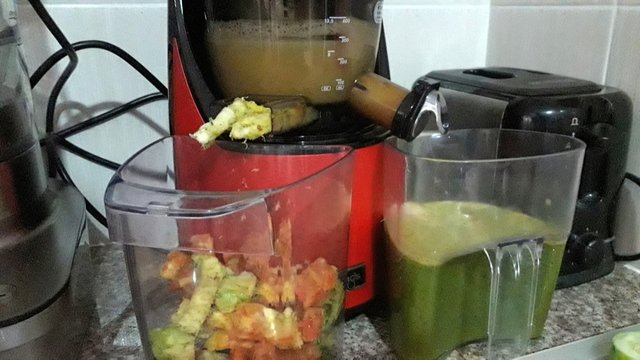 The juice container is now nearly full and I'm putting the juice in bottles.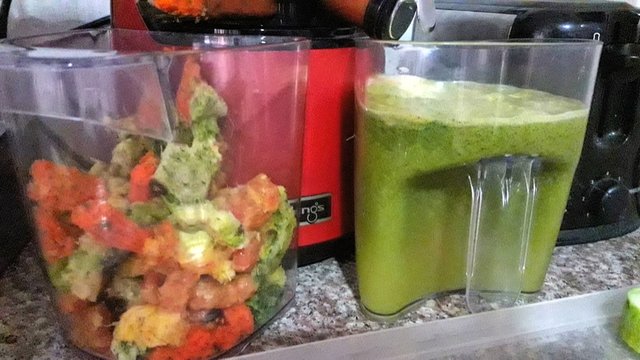 More carotts now, which gives a beautiful orange color. When you look at the fiber container, you can tell in what order I put all the produces in the juicer.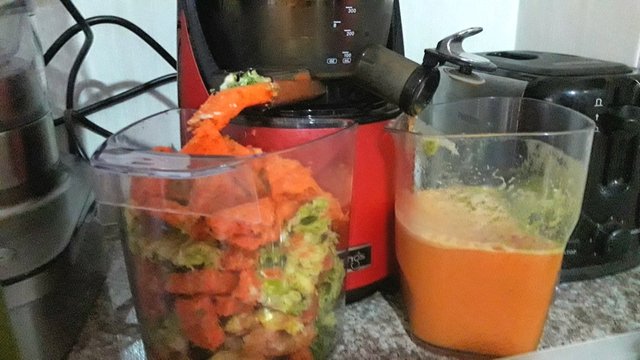 I was able to make 2 bottles of juice and one glass with mainly carrots and fruits.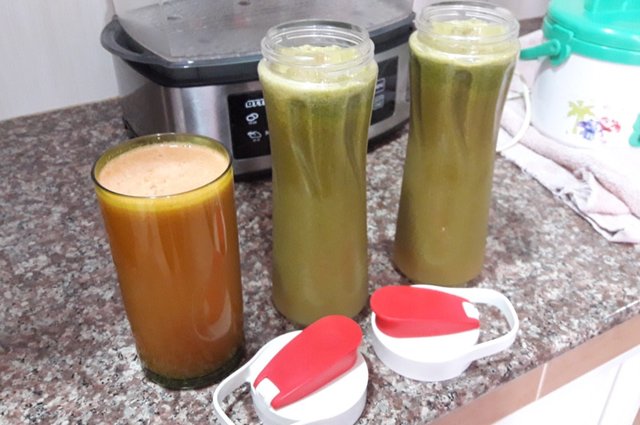 Beautiful foam from the top.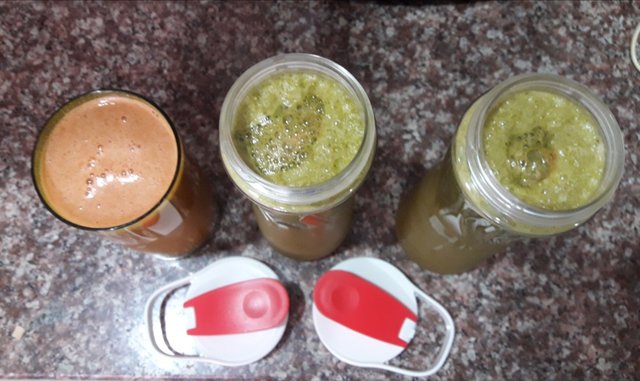 You may want to read my eight previous posts about juicing.
Or visit this link: Fruit-veggie juices & smoothies
Thank you for reading, I hope that I have encouraged you to try this simple veggie and fruit recipe.
I'll get one bottle now and the next one tomorrow.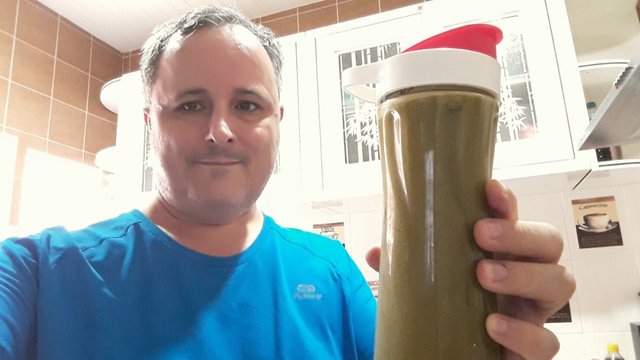 Each day I try to remember that daily veggie and fruit juices are good for health, that they taste good, and that they help me to lose weight.
All photos are mine and taken with my Samsung phone.
Would you upvote this post and follow me for more because this will encourage me to write more juice recipe posts like this one?
I have categorized my posts on Steemit for easy access:
Steemit tools | Steemit strategies | Steem economics | Steem on WordPress | Blogging on Steemit | Steemit posts I curated | Cryptocurrency | Cryptocurrency trading | Mac computer tutorials | WordPress & online marketing | Self-development & motivation | Travel in Thailand | Travel in Japan | Travel in France | Life in Thailand | Fitness challenge | Fruit-veggie juices & smoothies | Education | My answers on Quora | Fundition tutorials & projects | Miscellaneous writing
You may prefer to go to my Steemit Posts Directory.
The most important votes you can make on Steem are for Witnesses. The top 20 witnesses can influence the addition or removal of features in future Steem hard forks. Read my post: What is a Steem Witness, How to Vote and Why?
Michel Gerard