I'm watching Cross Talk: Varsity Blue. Most of us are taught and believe that we live in a society based on merit and equal justice. The Varsity Blues college admissions scandal informs us that neither are true. The rich and privileged can buy access for their kids at the expense of families who are hard-working and honest. Is the idea of merit dead?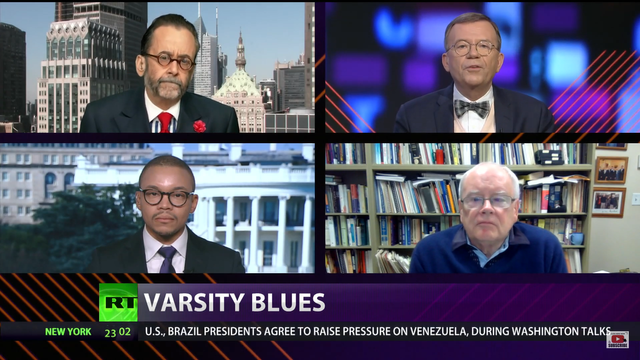 CrossTalk : Varsity Blues Dissected — Do These Greedy Elite Cons Signal the End of College Scams?
- Infowars Activism Forum -
CrossTalk : Varsity Blues Dissected — Do These Greedy Elite Cons Signal the End of College Scams? (click here to watch the video)
- Infowars Activism Forum -
Do we still need school?
There are so many questions we can ask and debate. What are some of your questions? For example, do we really need higher education in an age where we can get so much information via the Internet? Better yet, should tuition be determined on and by the free market or by secret committees? Should rich celebrity actresses like Aunt Becky of Full House bribe universities into letting their children attend even if they don't qualify in the first place? How often are children allowed to pass through high school even without the ability to read? Are kids left behind? What is the value of a diploma, a piece of paper, a certificate, a degree, if you can cheat your way into getting them like they do in Vietnam? Yeah, I was living in Vietnam for five years until 2017 teaching English and people told me that government kids were allowed to go to school. Beyond that, in some cases, they would send other people in to take the classes for the government kids. Those kids would get the credit or so I was told. Those kids didn't earn it. Those kids weren't even there. Whatever happened to vocational training colleges? Shouldn't colleges be more about apprenticeships, training, mentorship, discipleship, hands-on practicality, etc? How did college get so expensive? Are kids radically crammed propaganda? Are all of the classes and degrees practical enough? Are teachers teaching students how to teach themselves? Do you want me to answer some of these questions in future posts? What are your questions, comments, concerns, ideas, etc? Can we make education great again?
Should we homeschool more?
@jessica-miller - The Debate on whether or not to homeschool - what is best for children? Should we eat from gardens? Why do I homeschool my kids? @canadian-coconut - Can we fight CPS? @venomnymous - Escaping Homeschool Hell @curlfamilyvlog - Homeschooling Causes CPS Involvement @doitvoluntarily - Would homeschooling save taxpayers millions of dollars each year? @shaneradliff - Why You Should Homeschool Your Children and How to Do It @tecnosgirl - Homeschool Resources @breakingtonight - Is CPS unfairly targeting Homeschool families? @mythosacademy - Homeschool Garden @kafkanarchy84 - Fighting for the Right to Homeschool in Japan: It's Gonna be an Interesting Year. アンスクーリングについて、日本語と英語のポスト・動画 @misslasvegas - What you could learn from a toothache @thehomeschoolkid - Homeschool Book Report: "Tumble Down Mountain" by Elizabeth Coatsworth