InformationWar - Leadership/Supporters/Contributing Writers: Roll Call Pt 14 12/12/2018
Join our new Reddit and start sharing your Steemit posts directly to it!!!!
Subscribe to our YouTube Channel and help us get the truth out!!!
Our Purpose
How To Help Support The Informationwar!!!
---
The tag #informationwar on Steemit is for posts discussing Information War, Propaganda, and Disinformation, which happens across many subjects. We are a peaceful and non-violent movement that sees information is being held back by mega corporations that own 90% of "News Output", as well as other various bad actors who have an interest in continuing a lie or narrative for profit or for power. The our goal is to expose liars, debunk narratives on all sides, give you the data big MSM/govt doesn't want you to see, discuss how to reduce corruption, discuss conspiracies, build up decentralized platforms so that information is not deleted, and create a truth seeker/critical thinking minded culture.
The subjects/topics we write most about are the following: Truth/Freedom/Facts/Data/Analysis/Liberty/Censorship/Decentralization/Cryptocurrency/Building a Better World That Is More Self Reliant/Debunking MSM/Holding Govt Accountable/Precious Metals/Smaller Govt.
---
Leadership And Positions Of The Informationwar Effort
@stevescoins - Founder Of Informationwar Initiative/Board of Directors
@truthforce - Leader/Discord Community Owner/Social Media Accounts Owner For IW/Curator/Podcaster
@wakeupnd - Co-Leader/Discord Community Owner/Curator/Moderator In Discord Chat/Reddit Moderator/Podcaster
@openparadigm - Curator
@richq11 - Curator/Board of Directors
@dwinblood - Board of Directors
@metalmag25 - Curator/Moderator In Discord Chat
@KrNel - Webmaster
@commonlaw - Curator/Reddit Moderator
@gregorypatrick - Master Of Ceremonies For Podcasts And Live Shows/Curator/YouTube Content Creator/Moderator In Discord Chat/Reddit Moderator/Podcaster
@chieppa1 - Youtube Content Creator/Podcaster
@fakeinternetnews - Youtube Content Creator/Podcaster
@rycharde - Curator
@thoughts-in-time - Curator/Recruiter
Official accounts of the project
@informationwar – The main account. This account curates posts and leaves comments on related content to our purpose. This account should be the one you delegate SP to if you are wanting to help support us. Curators on this account are @openparadigm @wakeupnd @richq11 and @truthforce
@iw-curator – The second curation account. The @informationwar account upvote follows what this account curates. Curators on this account are @commonlaw @metalmag25 @rycharde @gregorypatrick and @thoughts-in-time
@truthbot – The truthbot gives random upvotes to those who have delegate 100SP or more to the @informationwar account. These upvotes are not guaranteed, and are done at random as a little bonus!
---
Steemians That Support The @informationwar Project Through Delegation
@papadimos
@aggroed
@r0nd0n
@joelfriedman68
@geke
@v4vapid
@newcastle
@fatkat
@deanlogic
@freebornangel
@goldgoatsnguns
@tarazkp
@empress-eremmy
@snowpea
@duarte9sousa
@aagabriel
@funbobby51
@thoughts-in-time
@dwinblood
@naturowlmystic
@lucylin
@apshamilton
@aconsciousness
@metalmag25
@paradigmprospect
@wakeupnd
@globocop
@krnel
@steemonkey
@commonlaw
@ausbitbank
@earthcustodians
@froyoempire
@ganjafarmer
@truthforce
@mepatriot
@gomeravibz
@natepower
@jonyoudyer
@stevescoins
@natubat
---
Steemians That Support The @informationwar Project Through Following The Curation Trail On www.steemauto.com
Our Curation Trail Link What is a Curation Trail? Following a curation trail means that you will automatically upvote each post that the trail upvotes!!! This helps support the Information War community! :) :) :)
Other Upvote Service
@ausbitbank
Curation Trail Followers
@truthforce
@metalmag25
@jdc
@wakeupnd
@johnvibes
@tftproject
@mindszai
@edgecanopy
@commonlaw
@insanityisfree
@blackliberal
@daniscib
@warfeed
@aconsciousness
@empress-eremmy
@memeboi
@miss-j
@amit86
@mlgcrypto
@wonderlamp
@think-liberty
@goldgoatsnguns
@primeraplana
@zanoni
@jimbobbill
@duarte9sousa
@asad1234
@natepower
@thoughtsin-time
@imammudarifqi
@tribesteemup
@paradigmprospect
@haccolong
@truthseeker101
@joshwho
@joshwho1
@joshwho2
@radio420fm
@joshwho-bot
@deadcountry
@r4v4n4
@joshwho3
@josh-who
@reversehitler88
@retard-gamer-de
@filebot
@retardgamer-live
@flordiaman
@okean123
@risemultiversity
@greatestjourney
@sienna-lea
@ensteemit
@ura-soul
@chieppa1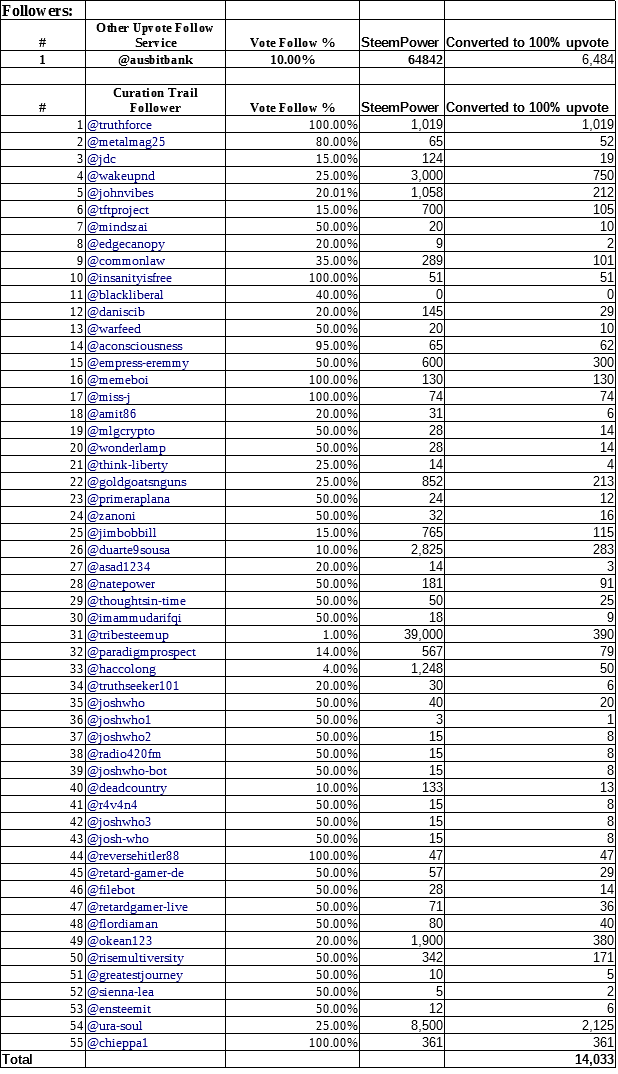 ---
Steemians Who Write #informationwar Articles And Who Manually Upvote/Resteem/Spread Our Message Of The @informationwar + Related Projects/Projects We Like!!!
@akashas
@amit86
@apshamilton
@barrydutton
@bashadow
@bekind
@bernardchapin
@brentssanders
@brianoflondon
@canadian-coconut - Cofounder of #FamilyProtection
@canusapatriots
@chefleopard
@chieppa1
@cmw
@cupidzero
@cre47iv3
@daniscib
@deanlogic
@deepdives - Deep Dives Research, ran by @v4vapid
@dodecahydra
@dragon40
@elektropunkz
@fakeinternetnews
@franzia
@fortified
@gregorypatrick
@haccolong
@ihashblox
@justmeagain
@kushfreeman
@libertyacademy
@libertylol
@lifeworship
@lighteye
@lucylin
@lturner
@mikebluehair42
@mindszai
@millhouze
@mjo
@nachtigall
@newsagg - News Service Managed By @dwinblood
@nikflossus
@olet-lucername
@openparadigm
@originalsimulant
@phibetaiota
@pjcomposer
@primeraplana - Venezuelan News Service Managed By @metalmag25
@razorray
@rebelskum
@reformedmedia
@risemultiversity
@roofcore
@sevvie
@shayne
@sunnyego
@thedeplorable1
@thoughts-in-time
@titusfrost
@tomduggan
@ura-soul
@valued-customer
@vermithrax
@vieira
@wizardave
@worldfinances
@xsmith
@xwalkran
@zanoni
---
---
Would you like to be on this list/is there an update you would like us to make to your name???
Comment here with a link to your #informationwar related posts...they do not necessarily have to be tagged as #informationwar.

Suggest other writers!!

Are you a current InformationWar Writer? Tell us if we missed you!!!
Thanks, @truthforce writing :)