What is it about old barns that makes them so appealing? I think the answer is several factors: (
1
) the old, weathered wood that has withstood the test of time, (
2
) the seemingly limitless styles which these buildings possess, (
3
) the architectural curiosity of how they are constructed, (
4
) the rustic, rural charm which they provide on a subjective level, (
5
) the mystery behind all of the different doors and sections of the structure, (
6
) the different ways they deteriorate as they age, which is a function of the barn's construction, and (
7
) the historical significance which they must have played in the area.
From many accounts I have heard, the building of a barn was frequently a community project. When someone needed a barn, materials were procured, and everyone who lived nearby participated in the "barn raising." The favor was returned when someone else needed a barn, a fence erected around a pasture, repairs to their house, or help in their fields.
My mother's family lived on a working farm that was in a community of other active farms. She and her brother told me that each family worked their own farms during the spring and summer. But during the harvest-time, entire families would work side-by-side with other families to gather the crops from first one farm, and then another, until everyone's farms had been worked.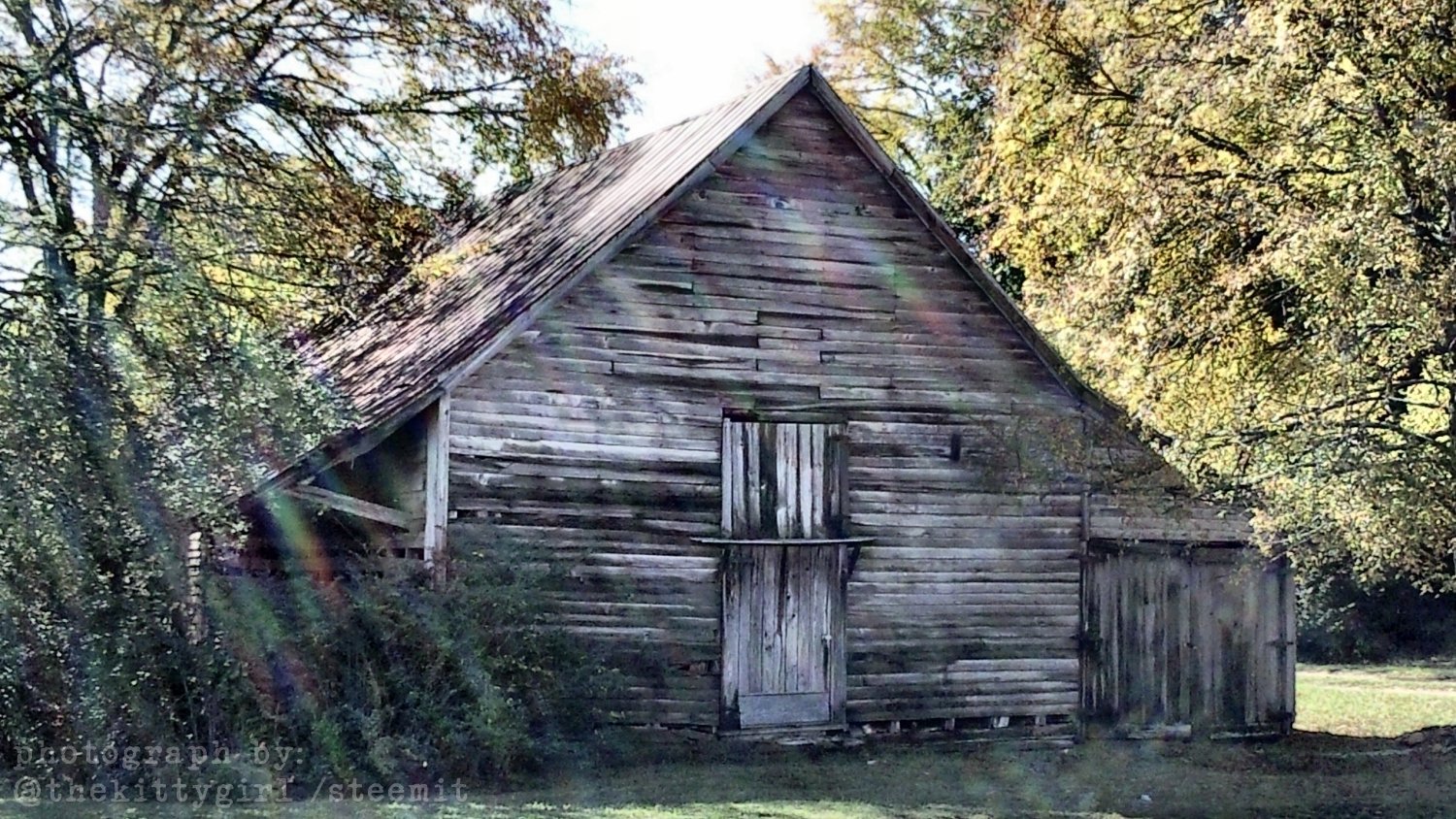 • OLD BARN № 020, PHOTO BY ME •
One of the most delightful barns to me is this one situated close to the road along route US Highway 178 in Anderson County, South Carolina. I have cataloged it as Old Barn № 020 in my Old Barn Project. At first glance, it appears to be a clapboard construction, but the boards are not overlapping each other, so this is just a simple frame construction instead. If one looks closely at the above photo, colorful streaks can be seen emanating from the sunlight streaming from upper-left.
I strongly suspect that this property was part of a much larger homestead, as there is an adjacent field and a farm pond that now appears to be part of someone else's property. Part of the original farm might have been sold to another person, but often large properties in this area are subdivided to family members. Betty Sue and her husband will take a small chunk of her parent's property and erect a house on it, while her brother Eugene and his wife build next door to her on another small piece of family land. The parents will then deed that bit of land to their children, so they can do with it as they wish.
In the aerial view below, another driveway can be seen cutting-across the landscape between the barn and the farm pond. This leads to a house that is back in the trees, off the top of the screenshot, and is probably on land that was subdivided from the original tract.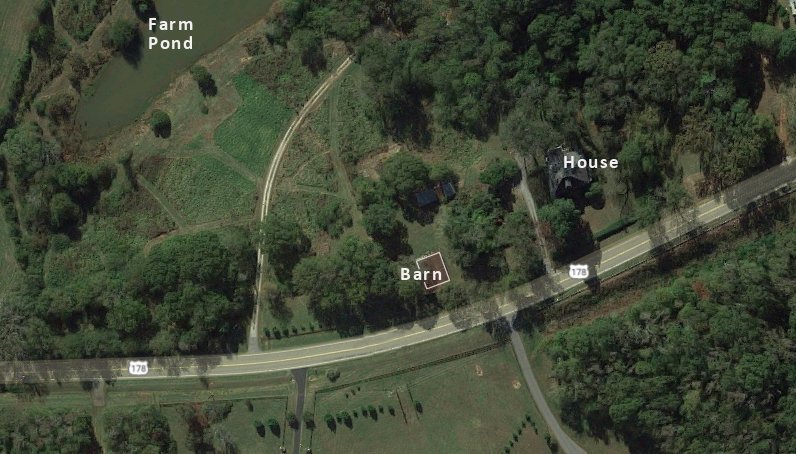 • SCREENSHOT FROM GOOGLE MAPS, "AERIAL VIEW" •
I do hope the owner of the barn will keep it in good condition, as it is a pretty landmark along this stretch of highway!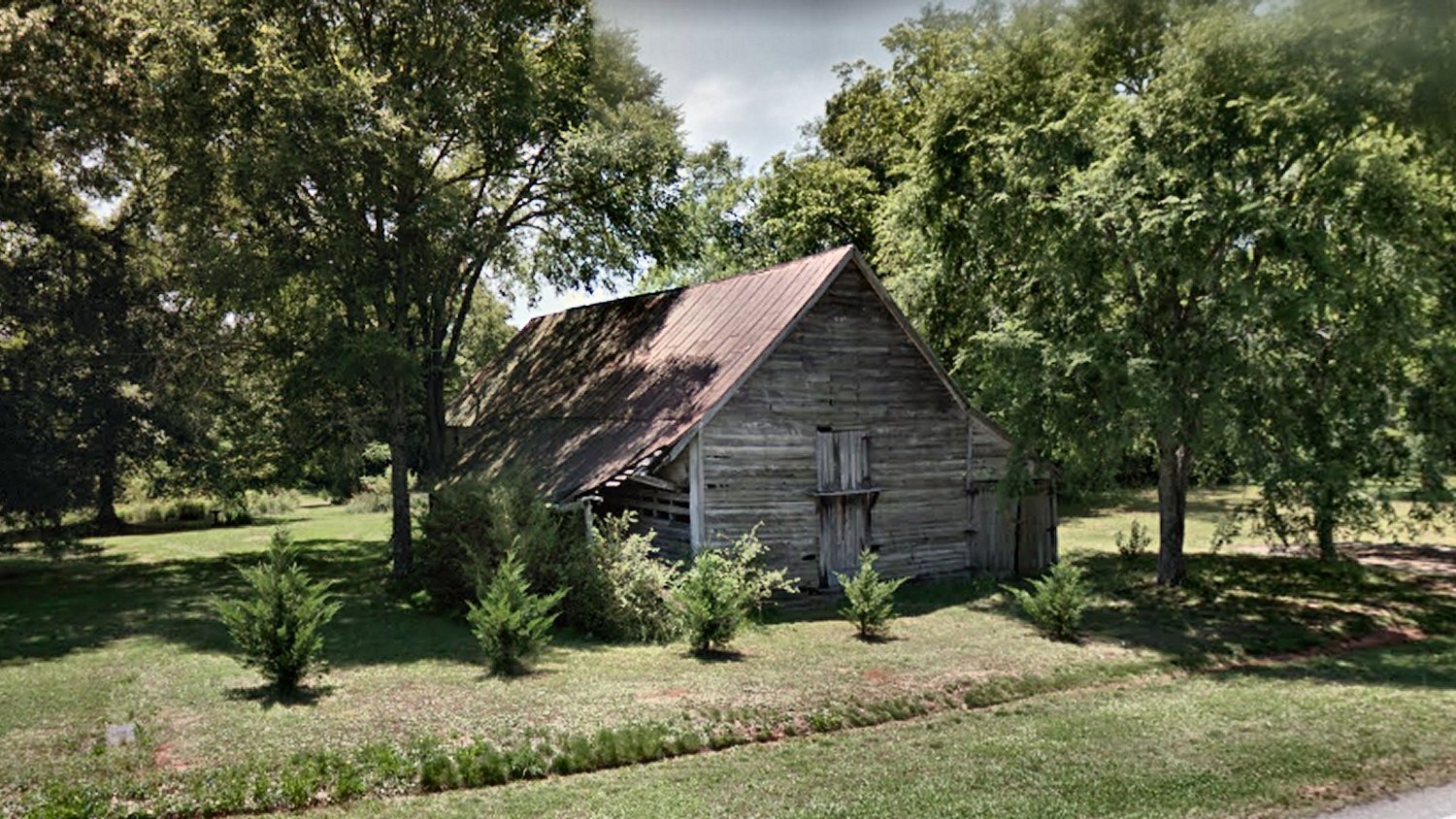 • SCREENSHOT FROM GOOGLE MAPS, "STREET VIEW" •

 😊
!steemitworldmap 34.646461 lat -82.698059 long Anderson County, SC D3SCR

OLD BARN № 019 • OLD BARNS № 016, 017, 018 • OLD BARN № 015
OLD BARN № 014 • OLD BARN № 013 • OLD BARNS № 011 & 012
OLD BARN № 010 • OLD BARNS № 008 & 009 • OLD BARN № 007
OLD BARN № 006 • OLD BARN № 005 • OLD BARN № 004
DAY 5/7, B&W Photo Challenge
OLD BARN № 003 • OLD BARN № 002 • OLD BARN № 001


a big hug is due to @enginewitty for designing the following personal banner for me 🤗