Live and Direct Reporting for today 3/8/2021 and Tomorrow 4/8/2021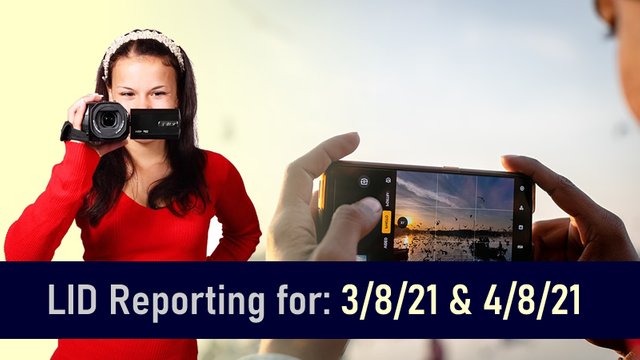 Introduction
We are really excited to welcome your friends back to our LID reporting project. We took a well-deserved 1 week break to put our house in order. LID has been an interesting project which brings much value to our community. It encourages engagement and originality. We thank all our LID reporters that have gone through the verfication process and gotten the label.
We wish to remind you that from today, LID reporting wont be business as usual. We will strictly follow the new guidelines and wont send any reward to those that will break the rules. What we are looking out for is real quality to this project. So if you have the verified/LID Reporter label, it means you have read and understood the new LID guidelines. As a reminder, these are the few things you have to bear in mind.

General tips for Quality Reeporting
Engagement: This is top priority. Make sure that each time you drop a LID report, try to reply at least 1 other persons report. Short phrase and 1 sentence replies wont count. make sure to reply to specific things mentioned in the report.

Spotlight: Remember that if you must do the spotlight to earn extra 0.1 Steem, it must include the What3words location coordinates. Otherwise it is disqualified.

Reporting Periods: There are 3 major reporting periods. If any of your reports fall outside the reporting periods, you are disqualified. Remember that you are expected to report at least once in each period. So you should make 3 reports each LID reporting day. Here are the periods follows:

Morning: 5.30am - 11.59am
Afternoon: 12 noon - 3.59pm
Evening: 4pm-11.59pm

Length of Reports: Remember that each report you make should be at least 70 characters in length. We will count to be sure.

Spotlight for Today 3/8/2021
Each day, we ask you to include at least one recommended object or place in your report. We call it the LID spotlight. For today 3/8/2021, the spotlight is Telecoms Head office/ Branch office. So capture the head or branch office of any Telecoms networks - MTN, Glo, 9Mobile, Airtel.
Note: Like other reports, the spotlight must contain a description like location, nature, activities or any general information which will help the reader to understand the spotlight.

Spotlight for Today 4/8/2021
The LID spotlight for today is telecoms Mast. Try to capture a very nice spotlight. We we give extra prize for an outstanding spotlight.


Useful Links

Conclusion
Feel free to ask any questions regarding something that is not clear to you. We are really keen to see greater quality and improvement in the reports you will make. We will reward exceptional reporters with some prizes outside the stated prizes. We pay 0.6 steem each for your reports without spotlight or 0.7 steem fro reports with spotlight.
Thank you so much for accepting to be our LID reporters.



Subscribe:::Discord.
:::join trail