SteemFoods Contest -39- | Prepare a Special Recipe for Valentine's Day!| Traditional Heart-Shaped Chocolate Cake with Homemade Chocolate Pudding Filling
¡Saludos, apreciados steemitas y SteemFoodies!
Comparto este post en ocasión del SteemFoods Contest -39- | Prepare a Special Recipe for Valentine's Day! | | +50 LIQUID STEEM ! ❤️ 🎂 de #SteemFoods, Comunidad liderada por @steemitfoods and @alikoc07.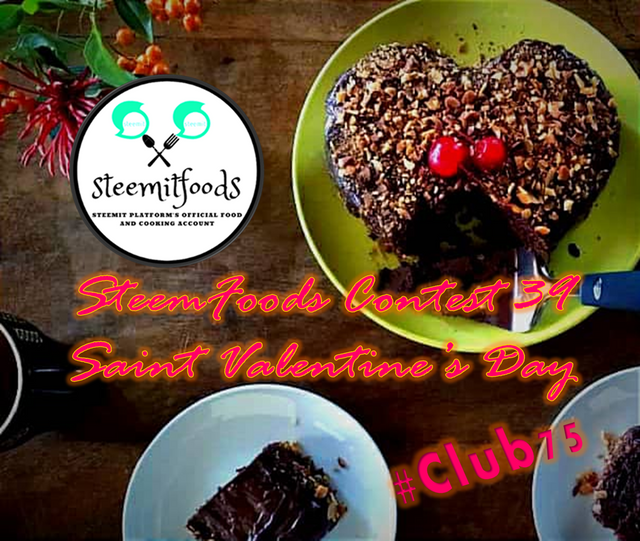 Of Valentine and Chocolate: An Edible Declaration of Love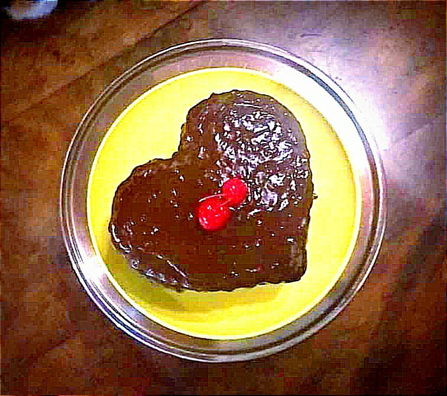 The first time I wondered about the meaning of Valentine's Day was in elementary school. I remember I was in 6th grade and I received an anonymous note that read "To: Marlyn /From: Her lover /Happy Valentine's Day". How intense a sixth grader can be! Up until that time, for me, February 14 was "The Day of Lovers" (nothing like "Valentine"), and the symbol I most associated with this day was a pair of turtledoves inside a heart. Perhaps that is the most distant memory I have of the meaning of this day.
I was so surprised and flattered by the note, I had missed for a long second the chocolate underneath. It was a Carlton, and it was tied with a pink lace bow. I must have felt very special, when that memory hasn't left me all these years. I never knew who this secret Valentine was, by the way, but from that day on, chocolate is my token of affection on Valentine's Day.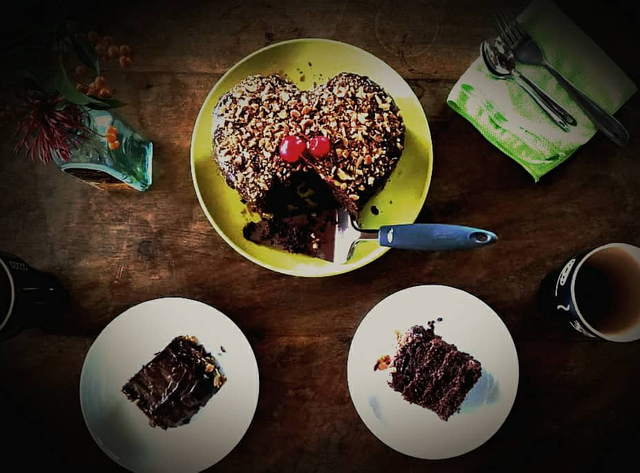 A decade later, already in college, I learned that the origins of this day can be traced back to the 14th century, and that its meaning would have to do with one or a couple of Christian martyrs, one of whom was known as St. Valentine and who in life was an Italian bishop.
The truth is that over the years, I must confess that I have not always given much importance to this day, but this doesn't mean much really , as on a couple of occasions I have forgotten even my own birthday and, luckily, someone has reminded me of it. Despite my occasional indifference, the times when I have been aware of "Saint Valentine's Day," I've had a great time, and so I keep beautiful memories of family, loves and friends.
I'm sure I must have spent some Valentine's Day alone and cried my eyes out, but I can't remember it right now, and I guess that's one of the advantages of a selective memory like mine.

Traditional Heart-Shaped Chocolate Cake with Homemade Chocolate Pudding Filling

To make this Valentine's chocolate cake, you'll need: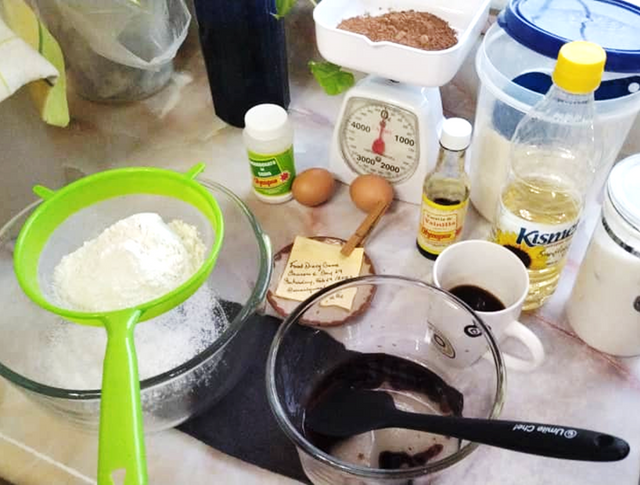 1 cup granulated sugar
1/2 cup sunflower oil
1/2 cup beaten egg
3 teaspoons vanilla essence
1/2 teaspoon of nutmeg
1 teaspoon ground cinnamon
1/2 teaspoon fine salt
1/3 cup unsweetened cocoa powder
1/2 cup of hot coffee
1 1/2 cups all-purpose flour
1 teaspoon of soda
1 tablespoon white vinegar
To make this Valentine's chocolate cake, you'll have to:
Mix one by one all the ingredients in that order. When adding the soda and vinegar, make sure that the vinegar falls on the baking soda, so that it reacts and makes air bubbles. This will make the cake fluffy.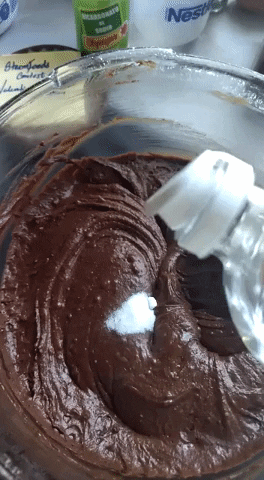 Distribute the mixture in two baking trays. I used 2 18'' pans and baked each cake for 20 minutes at 250 degrees Fahrenheit.
Then with the help of a paper mold, cut out the shape of a heart.

Once the cakes are ready, it is time to make the chocolate pudding. to fill the cake between the layers.
To make the pudding, you will need:
1 cup of milk
1 cup of condensed milk.
1 cup of coffee
1 cup condensed milk
50 gr of Savoy chocolate powder and 150 gr of Savoy chocolate bar for desserts.
1/2 cup cornstarch mixed in 1/2 cup of milk
1 egg and 2 egg whites
2 tablespoons of butter
Use only chocolate which flavor and aftertaste you like very much. I used Savoy.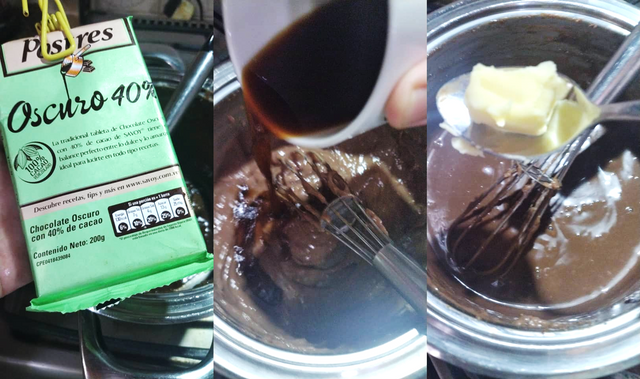 To make the chocolate pudding, you will have to:
Mix the coffee, condensed milk and all the chocolate until you have a homogeneous mixture.
Then, add the cornstarch and milk mixture.
After it has thickened, turn off the heat and continue beating; add the butter and the egg and egg whites.
Beat until you get a homogeneous mixture.
Cut each cake into two layers and fill with the still warm pudding. In this way, the pudding will integrate with the cake, giving it firmness and you will avoid having a tower of Pisa.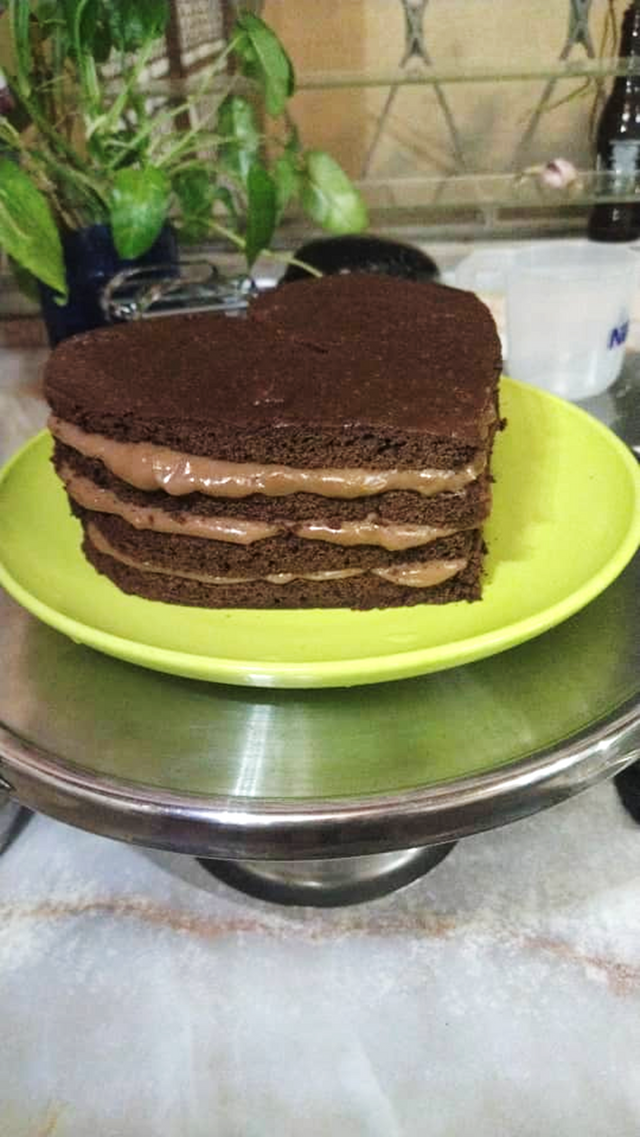 Pour the hot pudding all over the cake and cover it with the help of a paddle. Then sprinkle with toasted sliced almonds, and place the candied maraschino cherries, to give a touch of passion.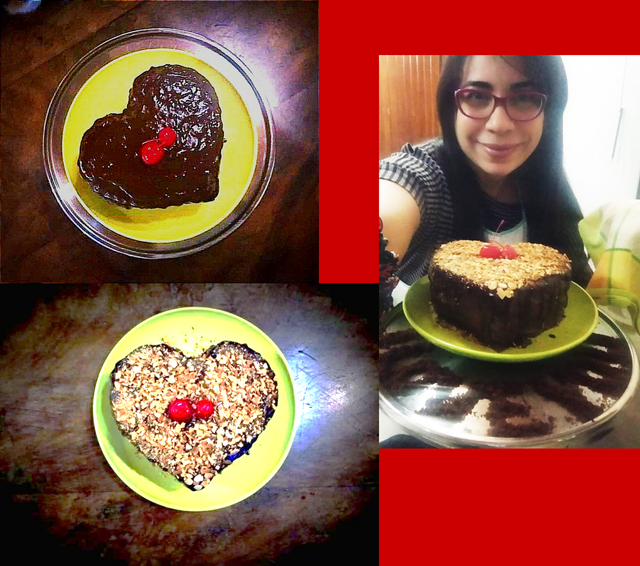 You won't believe the fluffy, soft and moist texture of this cake.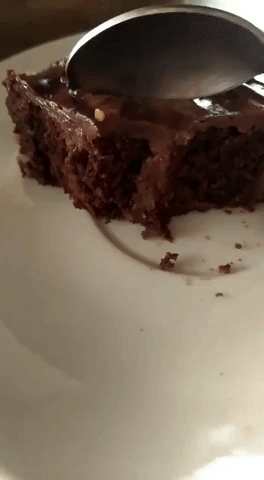 Powering Up all of my rewards every week...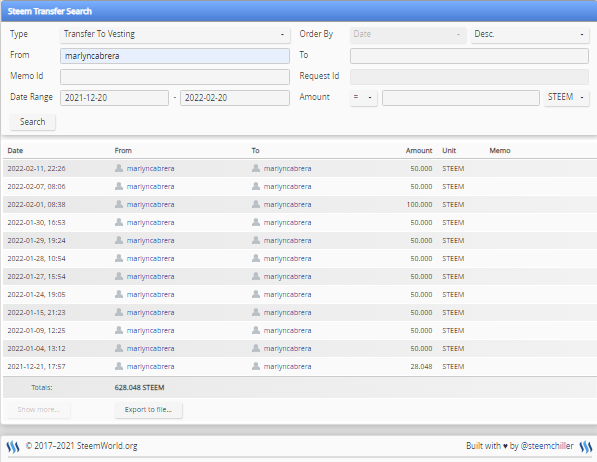 Text and pictures are mine.
If any GIFs here, I have used Gifmaker
Thanks for the visit.


Some of my most recent recipes on #SteemFoods

Algunas de mis recetas más recientes en #SteemFoods


My Recipe of Orange Donuts


My Recipe of Citrus Cake




Roscón de Reyes

My Recipe for Apple and Yogurt Cake

Venezuelan Black Round Roast

Fruit & Cream Cake