NEW CONTEST: STEEMIT INSPIRES 🎨 // NUEVO CONCURSO: STEEMIT INSPIRA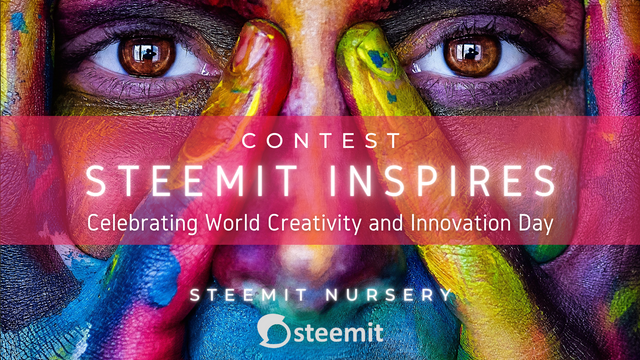 English
NEW CONTEST: STEEMIT INSPIRES 🎨
---
Celebrating World Creativity and Innovation Day
---
In the context of the World Creativity and Innovation Day, Steemit Nursery joins a new contest where we will put our creativity to the test for Steemit!!
On April 27, 2017, the United Nations Organization recognized this date as a day when creativity and innovation are celebrated, making reference to the different ways that exist to express ideas, feelings and emotions. Source
---
What's the contest about?
The contest consists of writing a sentence where you explain why Steemit inspires you or what inspires you to do. That sentence may be handwritten or by computer, but one fundamental detail is missing:
You have to present it creatively and add a short explanation of your phrase.
You can write by hand and make some good letters if you are a , or a banner designed in an application, or whatever you can think of that is creative (collage, photos, etc.)
The 5 most creative participants will win!!
---
Rules are the follow:
---
Prizes:
---
All entries must be submitted by Saturday 24/04 - 23.59 Hrs UTC
We hope you like the proposal and we are waiting for reading your posts!!
---
---
With love!
Steemit Nursery Community
---

---
Español
NUEVO CONCURSO: STEEMIT INSPIRA 🎨
---
Celebrando el Día Mundial de la Creatividad y la Innovación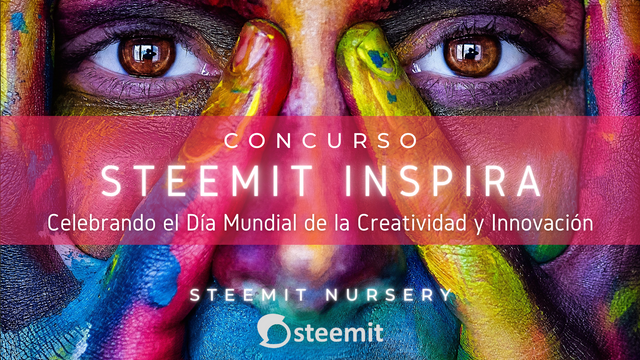 En el contexto del Día Mundial de la Creatividad y la Innovación, Steemit Nursery se une con un nuevo concurso en donde pondremos a prueba nuestra creatividad para Steemit!!
El 27 de Abril de 2017, la Organización de las Naciones Unidas reconoció esta fecha como un día en que se clebra justamente la creatividad e innovación, haciendo referncia a las diferentes formas que existen de expresar ideas, sentimientos y emociones. Fuente
---
De qué se trata el concurso?
El concurso consiste en que redactes una frase en donde expliques por qué Steemit te inspira o qué te inspira a hacer. Esa oración puede estar escrita a mano o en computadora, pero falta un detalle fundamental:
Tienes que presentarla de manera creativa y agregar una breve explicación de tu frase.
Podés escribir a mano y hacer unas buenas letras si sos dibujante, o un banner diseñado en alguna aplicación, o lo que se te ocurra que sea creativo (collage, fotos, etc.)
Ganarán los 5 participantes más creativos!!
---
Las reglas son las siguientes:
---
Premios:
Se recibirán entradas hasta el Sábado 24/04 - 23.59 Hs UTC
Esperamos que les guste la propuesta!!
---
---
Con amor!
Steemit Nursery Community