Campus Connect Community Booming Report for Week 3 | August 7th till August 13th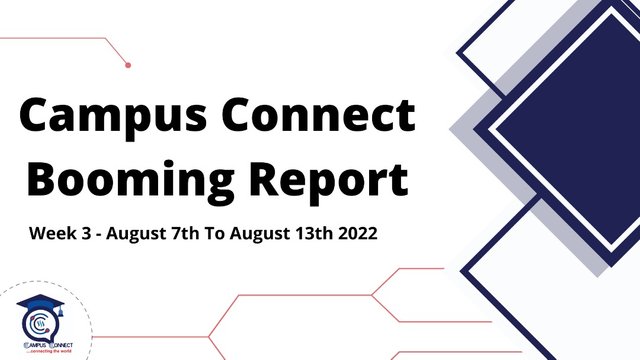 Hello friends, welcome to our featured post for the week, between the Period Of August 7th till August 13th, We have gathered some of the best quality posts for the week, which were required according to the new rules guiding communities selected for the booming program, where each community is expected to provide a weekly report of users who were supported in the community between the weekly period.
---

---
Here is our top selection for the week
---

---
---

---
Haven't met the Criteria for the Selection, Total number of 21 users were voted between the period of August 7th till 13th, we would like to thank the Steemit team for the continuous support.
For new users who are not supported with the selection program, kindly adhere to the Rules below;
Criteria for Selection
Campus connect Members must be Active on Campus Connect, Must have at least 2 Active posts at any point in Time.

Campus connect members must be at least part of the #club5050 Program

Posts must be Unplagarized and must contain the appropriate tags like- #steemexcluixsve and #campusconnect , #countrytag( for Example #nigeria)

Engagement in the community is of paramount importance. Each member of Campus Connect is expected to comment and engage with others' posts.
---

Conclusion
---
We believe this program will help us appreciate quality posts made in the community, and all Community members have equal chances of getting selected if they stick to the criteria required for the selection.
---

I am @badmus-official reporting for @campusconnectng

---

Subscribe and Join CampusConnect
Whatsapp
CampusConnect Telegram
CampusConnect Discord