Steemit Engagement Challange II | Steem Kindness Contest - Tell us how STEEM changed your life for the better life ! | Prizes 30 Steem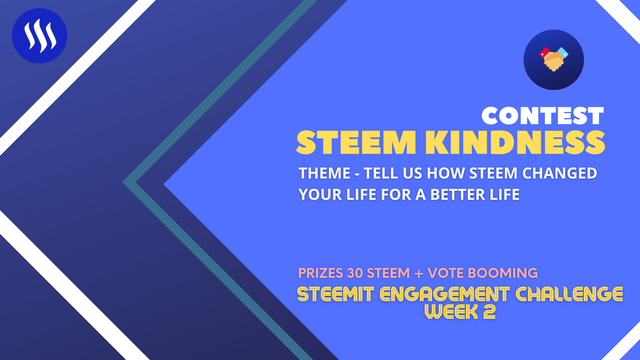 Many beautiful stories are engraved on how steem can change the life of a person and society for the better. Steemit is not only a social media place to share stories or intellectual works but more. Steem provides an opportunity for users to earn income that can change their lives. Steemit is the first and best blockchain social media that gives a new color to social media.
In week 2 in the Steemit Engagament Challenge, the Steem Entrepreneurs Community invites participants to flashback about the important role of steemit in changing your mindset and life as a Steemit user. We believe many of you are better off after joining Steemit and changing your view of social media.
Desired post type :
Write briefly and clearly how you first got to know steemit and why you decided to join the steemit platform.

Write in detail how steemit and steem change your life for the better, both for yourself personally, family, friends or society with the charity activities you do with steem. Doing a steem promo is also part of the kindness you give to others.
History records many positive things that steem gives for a better life. Many poor people are helped by Steem charities, Entrepreneurs who thrive with the help of venture capital from Steem, Students who finish college with funds obtained from Steem curation and many other positive things. We want you to explore all the goodness of steem that you get or give to others in the form of interesting and quality writing.
Contest Rules :
Subscribe and post on the Steem Entrepreneurs Community page
The writing is at least 300 words, there should be more words you can write for this contest
Write in a language you understand well
Use original photos and paste copyright free photo sources
Use the hashtag #kindness-engagement in the four main hashtags
Make sure to use the hashtag #steemexclusive
Share rewards 20% of beneficiaries to charity account @steemkindness
You can share your contest post as early as Monday 00:00 (UTC). The last time to join is Sunday 23:59(UTC)
Plagiarism cannot be tolerated
The judges' decision will be final
Submit and obey the rules of steemit.com
Please carefully read each point of the contest rules in order to fulfill the requirements for your participation in the contest. We really appreciate it for that.
Prizes for winners
The Steem Entrepreneurs Community will choose 5 winners with the following prizes :
| 1st Winner | Vote Booming | 10 Steem |
| --- | --- | --- |
| Winner 2 | Vote Booming | 08 Steem |
| Winner 3 | Vote Booming | 06 Steem |
| Winner 4 | Vote Booming | 04 Steem |
| Winner 5 | Vote Booming | 02 Steem |
Contest Aim :
The Steem Entrepreneurs community has focused on steem growth / promo steem agenda in the business sector and charity activities. This contest aims to identify effective strategies in #promosteem activities for evaluation materials in the preparation of future community programs while at the same time generating enthusiasm and the #promosteem agenda for all steemit users. Let's make steem.com and steemit.com as social media (blockchain) change for a better life for the world.
Cc : @steemitblog | @steemcurator01 | @disconnect

Open opportunities for useful contributions and collaborations with steem power delegates for community development.
Please select one from the link :
Thank you to all stemians who have supported and encouraged us to work hard to advance the Community and STEEM to reach wider people.
Kind regards,
Steem Entrepreneurs Team