How our cells protect themselves against oxidative damages and how we can influence this system through nutrition.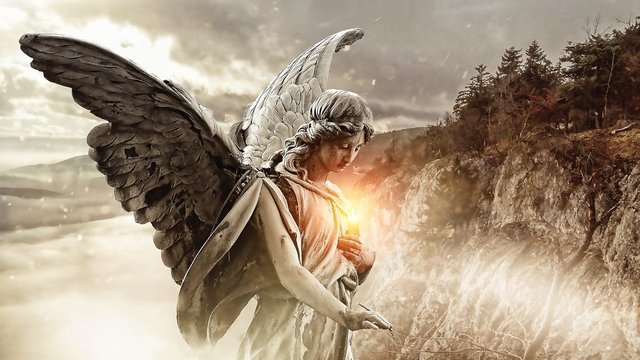 Guardian, guardian, guardian. Which means I'm finally able to use a mystic image for a science blog! CC0, from pixabay
This is the English adaption of my recent German post.
Intro
Actually, I wanted to write a "commissioned" work for the good @felixxx this week, who has already hit me on the estrogen track... for which I still don't know whether to thank him or curse him. ;-P
Anyway, I can't do the topic he suggests without clarifying a few basics in advance. Sulforaphane will arrive soon thereafter, I promise.
So what is this about here today? About oxidative stress. Yay. A buzzword in every hipster-nutritional-lifestyle-bullshit magazine aiming for the stars.
And how our cells respond to it.
Hey, ho, let's go!
Reactive Oxygen Species (ROS)
ROS are a group of small oxygen-containing molecules which are by-products of various biochemical processes, in particular metabolic reactions. These are various radicals such as superoxide (O2--), the hydroxyl radical, peroxide and alkoxyl radicals etc. but also non-radical oxides such as hydrogen peroxide or singlet oxygen.
The brainees among my readers will have noticed that the R in ROS already indicates why these are a potential problem... They are reactive. Or rather REACTIVE. They oxidize and damage all macromolecules that get in their way. And since they are mainly formed during metabolism, which takes place in the mitochondria and thus in the cells, they have quite a selection of victims immediately after their formation.
Cellular fats, proteins or - particularly nasty - our genes... nothing is safe from them.
Of course, a self-confident cell cannot accept this and produces so-called Phase II enzymes (e.g. glutathione)*, whose main task is to capture and bind ROS and other reactives before they can cause damage.
In principle, our cells are well equipped against ROS, and for some processes these are also very important, e.g. for muscle growth.
*Who wants to know which meaning phase II enzymes have in the xenobiotic metabolism, may readthis old post of mine.
Oxidative stress
The cell only gets a problem if the quantity of existing phase II enzymes is suddenly insufficient to keep the intracellular ROS in check due to external influences. This can happen in two ways:
Suddenly there are much more ROS present because, for example, substances have been absorbed that produce ROS like crazy. Are smokers present? Ah yeah, I was looking at YOU.
The phase II enzymes are needed to neutralize other reactive agents.
Both cause the ROS to suddenly be able to damage the cell, which is what is known as "oxidative stress ".
Regular or even chronic oxidative stress is associated with a number of diseases of civilization, such as cardiovascular diseases, neurodegenerative diseases (e.g. Alzheimer's), and of course cancer (since oxidative DNA damage can trigger mutations and thus cause cells to "degenerate").
Which is why antioxidants are so fashionable right now. That these probably won't help much is a different story. Today's post is about what the cell itself does when it realizes it is under oxidative stress.
The cellular defense system and Nrf-2
Cells do not simply accept the oxidative danger. The first step to defense is always to recognize that danger exists at all. As a guardian, the cell produces a protein with the somewhat bulky name "nuclear factor (erythroid-derived 2)-like 2", which (for the sake of human sanity) is allowed to be shortened with Nrf-2.
Nrf-2 is bound in the cell plasma to another protein called KEAP1 (I'll save you the long name), which ensures that Nrf-2 is constantly broken down again by ubiquitinylation.
But when the ROS get the upper hand, they attack the KEAP1/Nrf-2 complex, which leads to Nrf-2 being released. It is then no longer degraded, but accumulates in the cell and finally even reaches the cell nucleus. Once there, it binds to the DNA at a specially designed site, the so-called "anti-oxidative responsive element" (ARE).
ARE is located in the so-called "promoter region" of genes, i.e. in the DNA fragments that lie directly in front of the actual gene and thus do not code for proteins but participate in the regulation of genes. The promoter region ultimately decides whether a gene is "transcribed" (=translated into RNA) and subsequently the associated protein is "expressed" (=produced). So-called transcription factors are used to control this molecular switch, i.e. substances that can bind to the promoter region and then switch the gene on or off or increase or decrease its transcription.
Nrf-2 is the associated transcription factor for ARE, and it's an an activator, meaning that if Nrf-2 binds to ARE, it switches on the downstream genes.
Now what genes are those?
The ARE is found in front of many genes that code for the phase II enzymes mentioned above.
In other words, Nrf-2 recognises that the cell has too few phase II enzymes to keep up with the current ROS level and then ensures that the cell itself produces them more.
And so the cell defends itself against oxidative stress, without any external antioxidants necessary.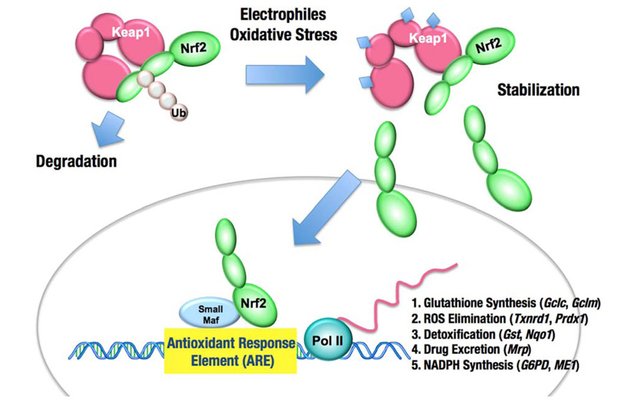 A schematic representation of the cellular defense strategy against ROS and the Nrf-2/ARE pathway. Source: Mitsuishi, Motohashi and Yamamoto,Frontiers in Oncology, CC-BY 3.0
What does that mean for us now?
Our body usually copes quite well with oxidative stress. Considering that in addition to the body's own guardian system we also take in effective antioxidants such as vitamins C and E, the logical conclusion is that an additional intake of direct antioxidants (in the sense of radical scavengers) is not really necessary.
And in fact a health advantage of blueberry, red wine etc. can hardly be determined in human studies. It is - if present at all - mostly marginal.
But there are compounds that play in a different league. If a substance is able to stimulate the Nrf-2 pathway, its regular intake can lead to permanent overexpression of phase II enzymes, which means that the body's cells generally suffer less from oxidative stress.
This concept plays a major role in the chemopreventive (=cancer-preventing) effect of certain foods.
BUT: The problem here is that a substance can only activate the Nrf-2 system if it itself causes oxidative stress. This situation may sound paradoxical at first, but it even has its own technical term: Hormesis.
"Hormesis" is a hypothesis derived from Paracelsus, according to which certain substances have a health-promoting effect in small doses, but are toxic in higher doses.
As mentioned above, a small amount of a ROS producer leads to the induction of the Nrf-2 system and thus to increased body resistance to oxidative damage without significant cell damage. If a larger amount of the same substance is absorbed, Nrf-2 is induced, but the cells are damaged in such a way that the damage exceeds the benefit.
Or to put it another way: eating broccoli sprouts from time to time can be quite healthy. Taking Sulforophan supplements in overdose is not a good idea. But more about this shortly.
Where to find Nrf-2 activators in food?
Compounds that were shown to induce the Nrf-2/ARE pathway include:
sulforaphan as mentioned above
quercetin, a flavonoid present in onions, apples and quite a view other herbs and vegetables
curcumin (from the curcuma herb)
and a shitload of others
Some of them probably even work, others have the problem of low bioavailiability. Different story, enough for today. Ty for reading and I hope it was intersting. ;-)
---
Sources:
I have had (been allowed) to deal with Nrf-2 several times during my scientific carreer, and have therefore written most of the post without reading much. I checked small details or probed for correctness at:
Mitsuishi et al., 2012: "The Keap1–Nrf2 system in cancers: stress response and anabolic metabolism", Front Oncol.
Sestili and Fimognari, 2015: "Cytotoxic and Antitumor Activity of Sulforaphane: The Role of Reactive Oxygen Species", Biomed Res Int
Ma, 2013: "Role of Nrf2 in Oxidative Stress and toxicity", Ann Rev Pharm Tox.
...and yes, wiki...naturally.

---
Disclaimer:
In my blog, I'm stating my honest opinion as a researcher, not less and not more. Sometimes I make errors. Discuss and disagree with me - if you are bringing the better arguments, I might rethink.