Last Friday , i was just browsing on my steemit feed , to check if other steemians can still post despite of the bugs and updates brought by HF20. And yes glad to see there are still who are active and posting , but most of them are those with high reputations. Then i just bumped into sir @anomadsoul GET TO KNOW ME CHALLENGE . And with no hesitations , i just told myself that i need to collect my old posts that would make other steemians know me better and definitely join his challenge. And yep! last night i was able to compile them and happy to have it posted today. So kindly check on my previous write ups that will surely bring you to my world.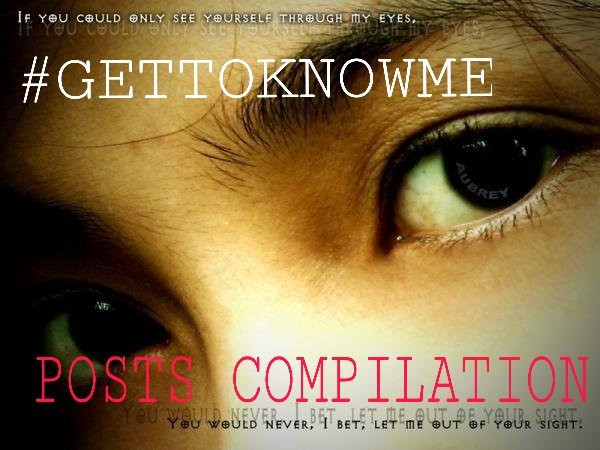 This is my very first post on steemit , most of the details are my personal details , what i like and what i do in life now, It got few welcome comments only. But during that time i was just happy i posted that , without thinking about comments and earnings
I remember when i was writing this post , i havelots of thoughts and what if's . This post will inform you who and what i am before and who i am now, both career and personal
This is actually an entry to sir @anomadsoul 's previous contest,wherein i collected and tooklots of pictures of everything about my hometown Baco. This is memorable because i think this was the post that i earned high , like $30-$40 that time , so happy about that , becuse u just usually get $1-5 per post
This post is my entry for @snowpea's loveit-shoveit challenge . You'll get to know the things i love the most and the one's i don't . Nota complete list but most of it are the top ones.
This is another entry of mine to sir @anomadsoul's contest. Letting you post about your hobby, Well i kbow this won't be considered hobby by ithers, but, eversince i started being a full time mom , i don't think i do have any hobby aside from breastfeeding and taking care of my family. I was sad that time, because this was not noticed by the host, hehe, but i moved on, LOL.
Another challenge i joined in , initiated by @steemitachievers. Finally, for those who doesn't know where my pen name @zephalexia came from. This post will definitely answer that, and you'll say it's lovely and unique 😊
This will show you my personal list of the films i would love to watch over and over again . From it's story , script, the characters , the effects and theme songs. Surely some of you might have one of my list as their favorite too
This write up will bring you to an imaginary trip. A trip to my dream country, destination eversince i was a kid. Up to now i still don't know why i love that place, i just am sure i do love it. Hoping one day, i could be there
This is a video supporting sir @surpassinggoogle's @ulogs project . This video will make you tired by just watching me do all those, LOL. i made this like 2 days of edit and 3 weeks of completing video clips
This 10th post I included , will give you my own reasons why i love to have my family and why i am proud and happy that they aremy family. Will never trade them for anything in this world❤️
So there is my compilation of my old posts that surely will make other steemians know me better and hopefully love me for that, hehe. Thank you sir @anomadsoul for coming up with this another awesome and fun contest. Well you always come up with those kind of contest anyway, you are amazing! This just made me reminisce my not so very old times in steemit. Will be 1 year this December and still hoping for the best for this platform. I would like to nominate my girlfriends @avhyaceulip , @sunnylife , @bloghound to join in @anomadsoul's challenge, lezzgo girls! Again sir @anomadsoul, thanks for this opportunity. I hope you'll notice this, hehe. More powers to you and the while steemit community.
much love,