Hello Fellow Steemians all over the world!!
Here's my official entry for @nuoctuong 's dream vacation destination contest , you may check it and join too , here's her i want to be here/dream destination contest link . Thanks my dear @nuoctuong for coming up with this awesome contest , i love it! ❤️❤️❤️👏. Hope you'll enjoy and my entry will make you smile as well as @lenancie , @for91days. Have a great time guys!
Aubrey, Where do you want to go? Where is your dream place to be? Me : SWITZERLAND!!! SWITZERLAND !!! , LEZZGO SWITZERLAND!!!
Eversince i was a child ,( i chose to say i was a child instead of i was little , because up to now i am little, literally, LOL) i am already dreaming of stepping into the land of Switzerland. Honestly , i am trying to remember the reason ,or when did i actually started to love Switzerland. But i cannot say that it's because i've watched a movie where the location is in there? no! , or because of the fresh milk i drank before , no! or because i have relatives who are livinf there, definitely not, for i have no relative nor knows someone who's residing there. So why then i really want to be in Switzerland?? i don't know as well . What i know is that i really really wanna be there someday.
The truth is , i haven't done any research about it, don't know the weather there , if it has four seasons or what? what of type of government , what type of people , religion , their main source of living , and everything about it . All i know in my mind and heart that it's like paradise. And i remember, back when i was still a student , when my teachers and professors ask where is my dream destination , it has always been Switzerland . And funny times with my family ,especially with my siblings , since we don't live in one roof anymore and i am far from them , we have this group chat , and whenever we do video chats or even simple chats , we pretend to be in different countries and asking how's the weather and life , and I was always like , "Oh, here in Switzerland , we got nice weather , oh here in Switzerland we got lots of milk supply , so i will send some for you guys" , things like that , that's why even my family knows that Switzerland is really my dreamland.
What are the things i imagine about Switzerland?
I'll experience four season in there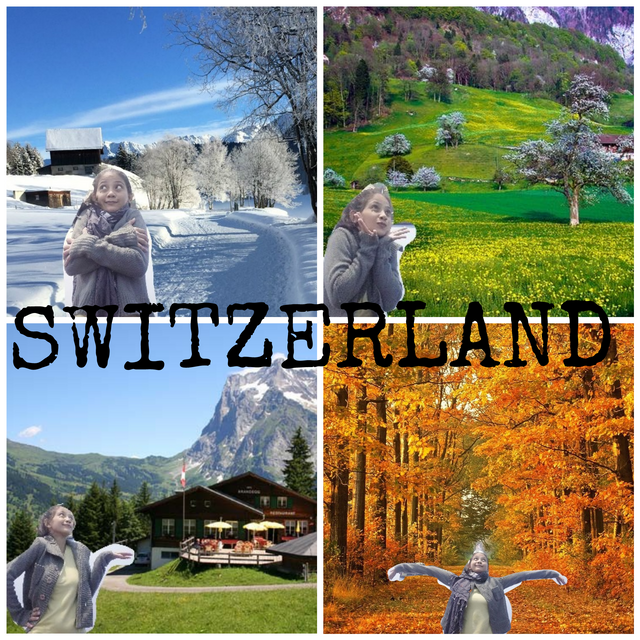 background images winter ,spring ,summer ,fall
Imagining myself experiencing , winter , spring , summer or fall, oh no! that's a song , right? Well yeah , i think it would be very nice feeling the snow , leaves falling in my head while spreading my arms wide, seeing all flowers bloom and trees bear fruits, yum! and summer! oh i know
the feeling but would be probably different in Switzerland
Here's a short video of me singing
Lots of cows (LOL)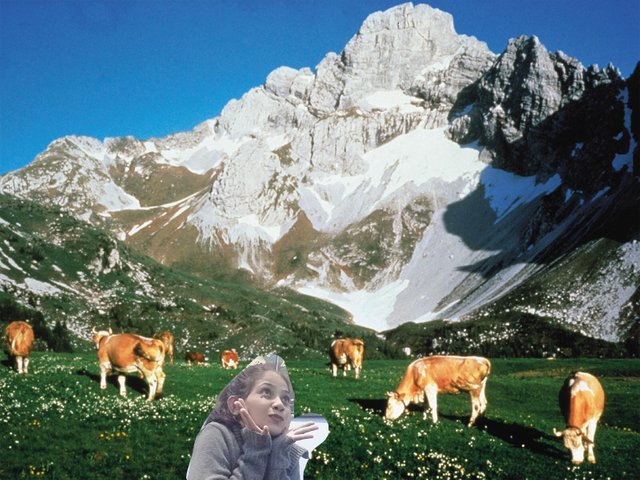 i think Switzerland is one of the known country for producing milk , so i can see in my mind that if i'll be there , i gotta see more more cow, and will be seeing people milking them
It's very greenish in color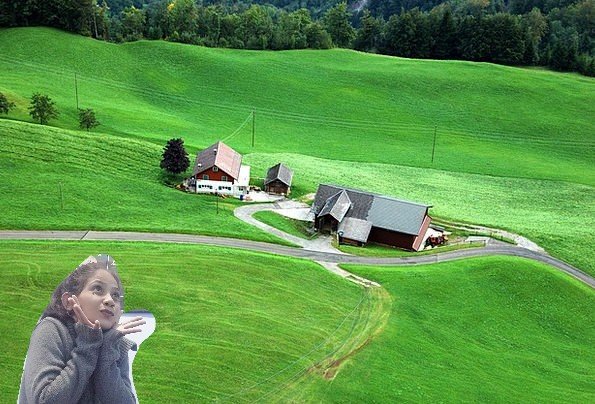 I imagine Switzerland as a very greenish country , like lots of trees , then those kind of grass that is like foam when you lay down on it while watching stars at night , or having a picnic with my family
I have my own house And lot in Switzerland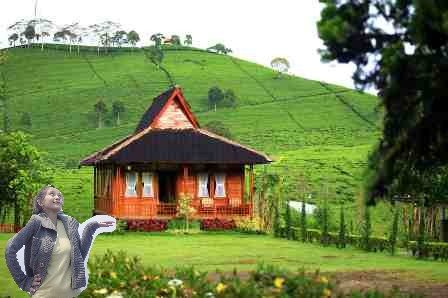 I always dream to have my own house and lot , and i would love to have it there in my dream land . Living a simple happy life with my family.
Another video of me , dreaming to be in Switzerland
Up to now that i am already 29 years old and havemy own family , i still imagine and dream to be in Switzerland. Well, as they say, it is free to dream . So i am just dreaming big and far, LOL. Nothing's impossible. Who knows, i might be there because of steemit.
I LOVE SWITZERLAND!!!

Thanks for dropping by!