The Yard Transformation Continues...A Path and a Patio
The weather has been beautiful lately and it has afforded us the opportunity to work in the yard. It couldn't come at a better time since we just barely cleared up the schedule enough to get to working in the yard. Previously we worked on the front yard flower bed.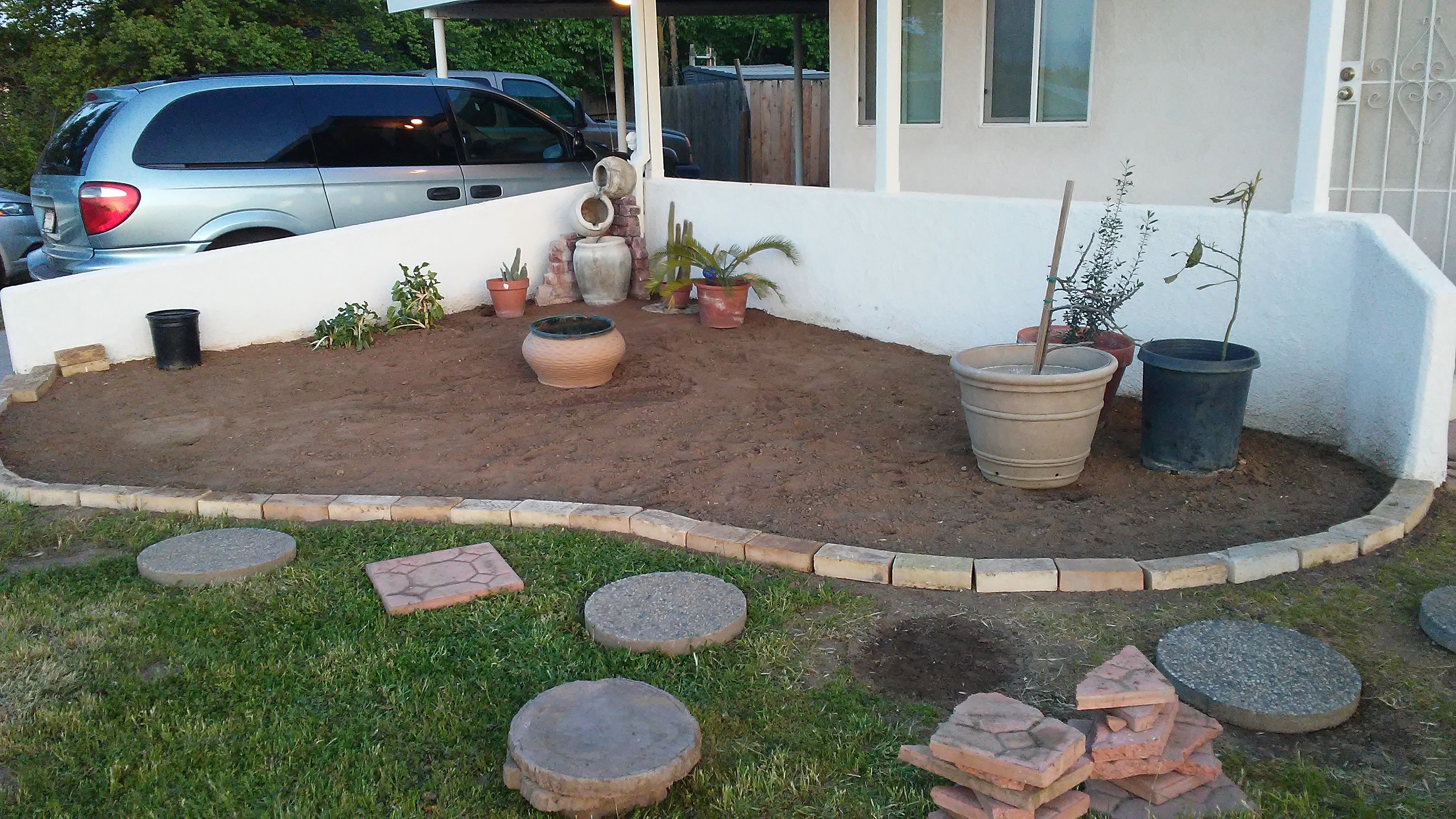 There is still more work to be done here - we are going to lay down some yard fabric and then put down wood chips and river rock - we are also putting in a a walkway and a small patio the we are making from repurposed pavers.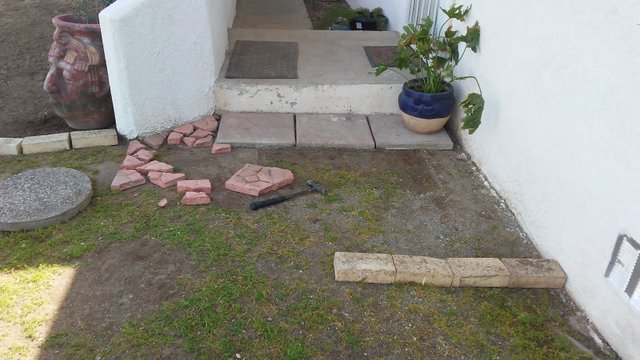 This was our starting point - my wife wanted to put a small patio off the porch - This area always gets muddy when it rains and we thought it would be nice to have a small patio to put in front of the porch to make a nicer entry way than it currently is. As you can see - we have three large pavers set down - we just put those there when we cleaned up the front yard a few days ago .. and decided to keep them there.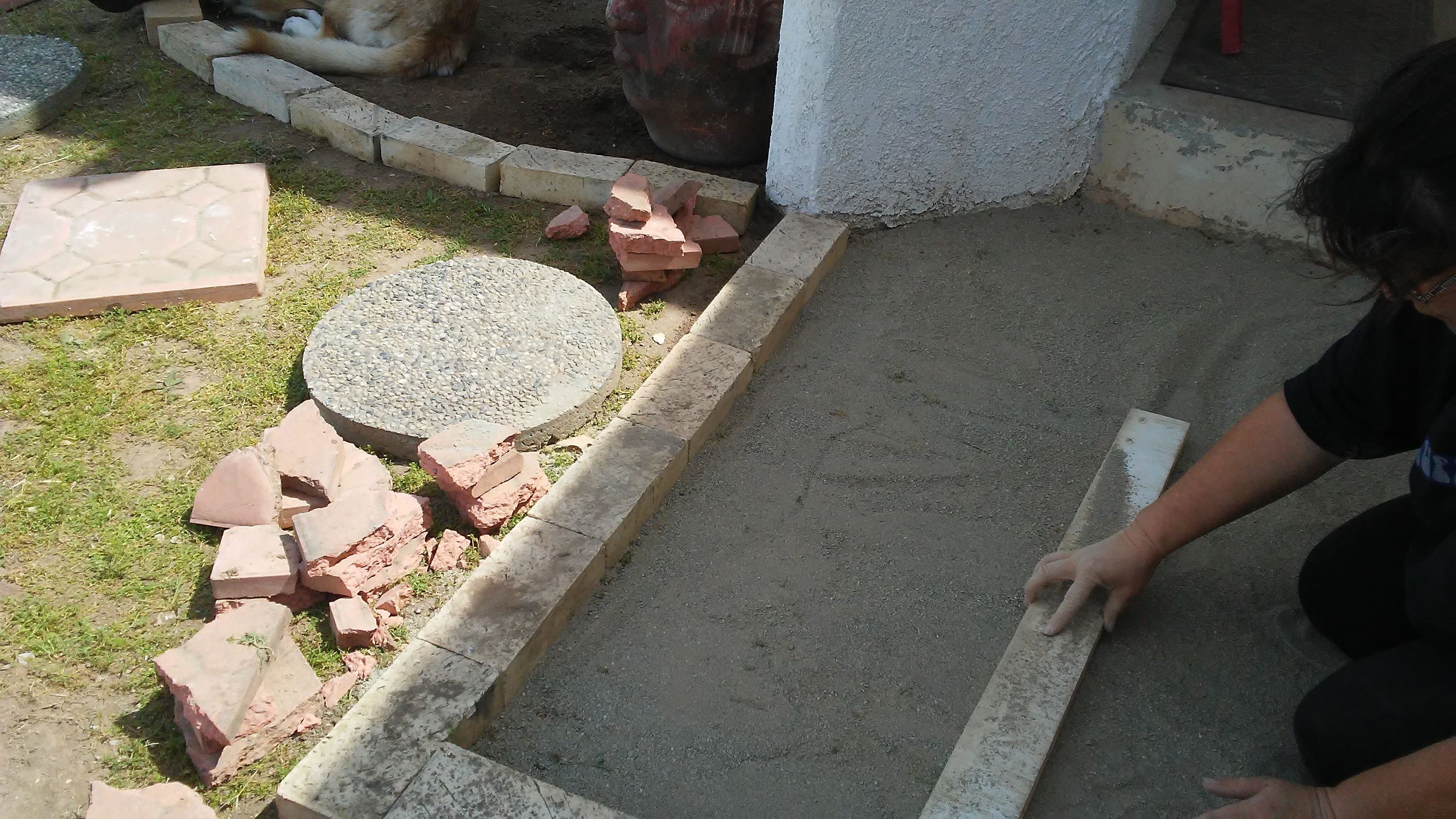 My wife put down the bricks to define the area that would be the patio. Once that was done we poured sand into it and began to level it. We just used a 1x6 board to screet the sand and I used my level to make sure we were level with a slight slope away from the house. This part took awhile and required two bags of sand to cover it about 2 inches deep. Can you find the dog in this picture?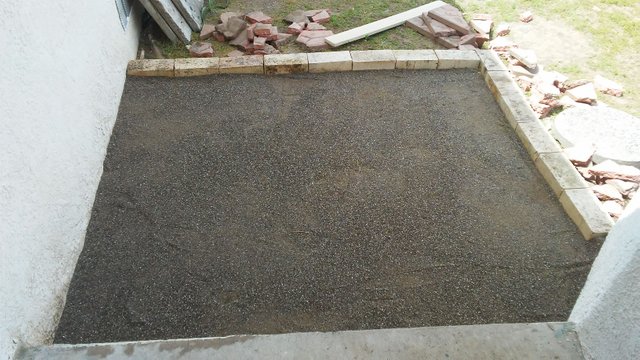 Once leveled, I sprayed it down with some water to tamp down the sand and provide a good surface to put the pavers down on.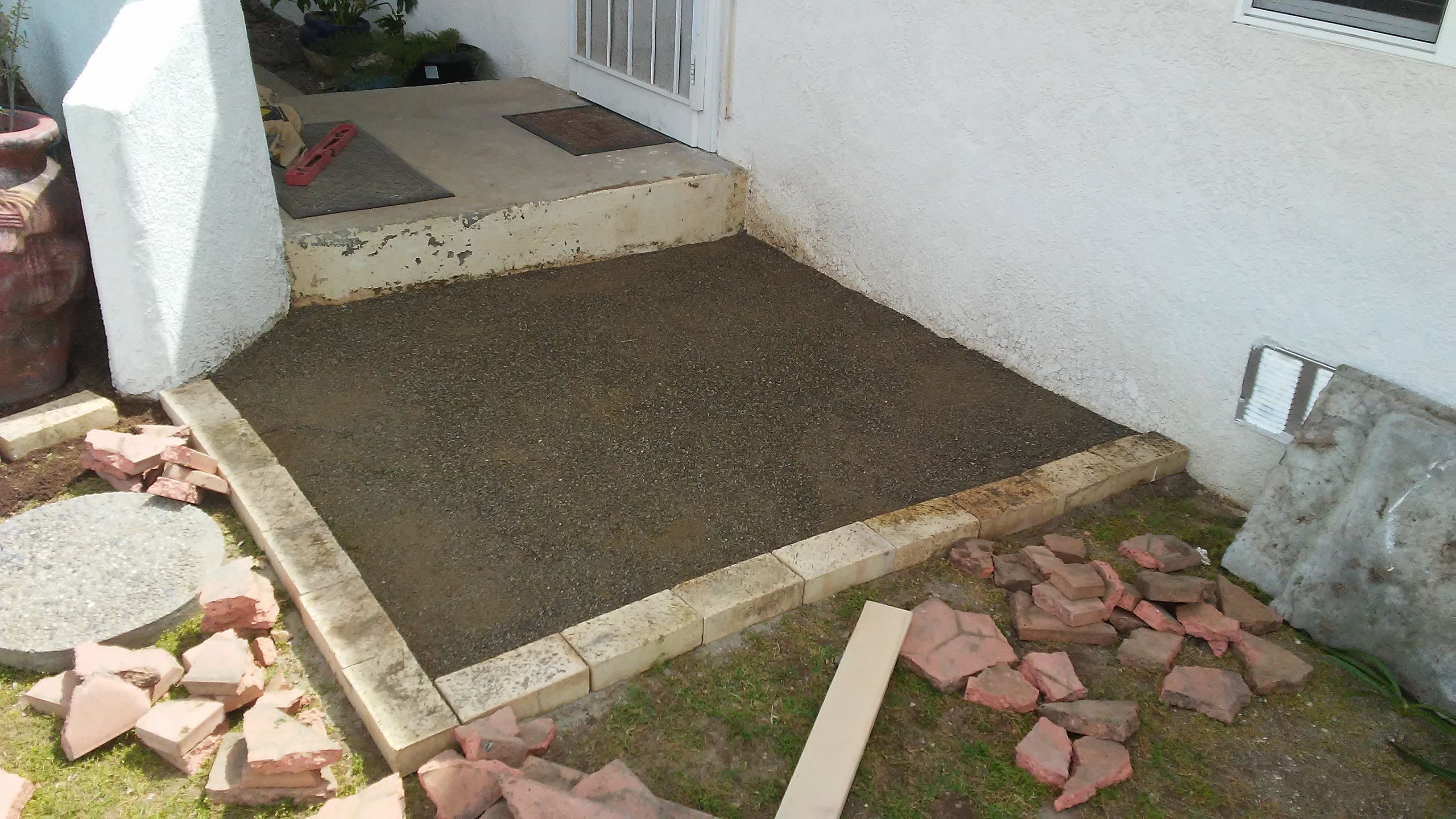 Now we have a nice flat surface to work from.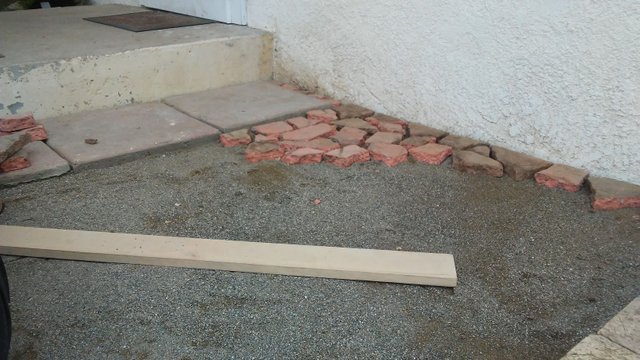 We put the three large pavers back and start to lay down the broken pavers. There were these pavers all over the yard when we moved in - many of them were buried and most of them were broken. We have made pathways before using broken bricks and we thought this would be a great opportunity to do it again. It's a great way to save on materials and to repurpose items on hand so we don't waste anything. So we busted up all the pavers and started laying them down randomly with the flat edges towards the wall.
Meanwhile.....
I got started on the walkway that we plan to fill in with pavers and pea gravel - before I can do that, I need to clear out the grass and lay the bricks down. We already laid out the pavers where we want them to be and we are going with an alternating pattern of round and square. I will try not to disturb them too much as I clear the areas around them.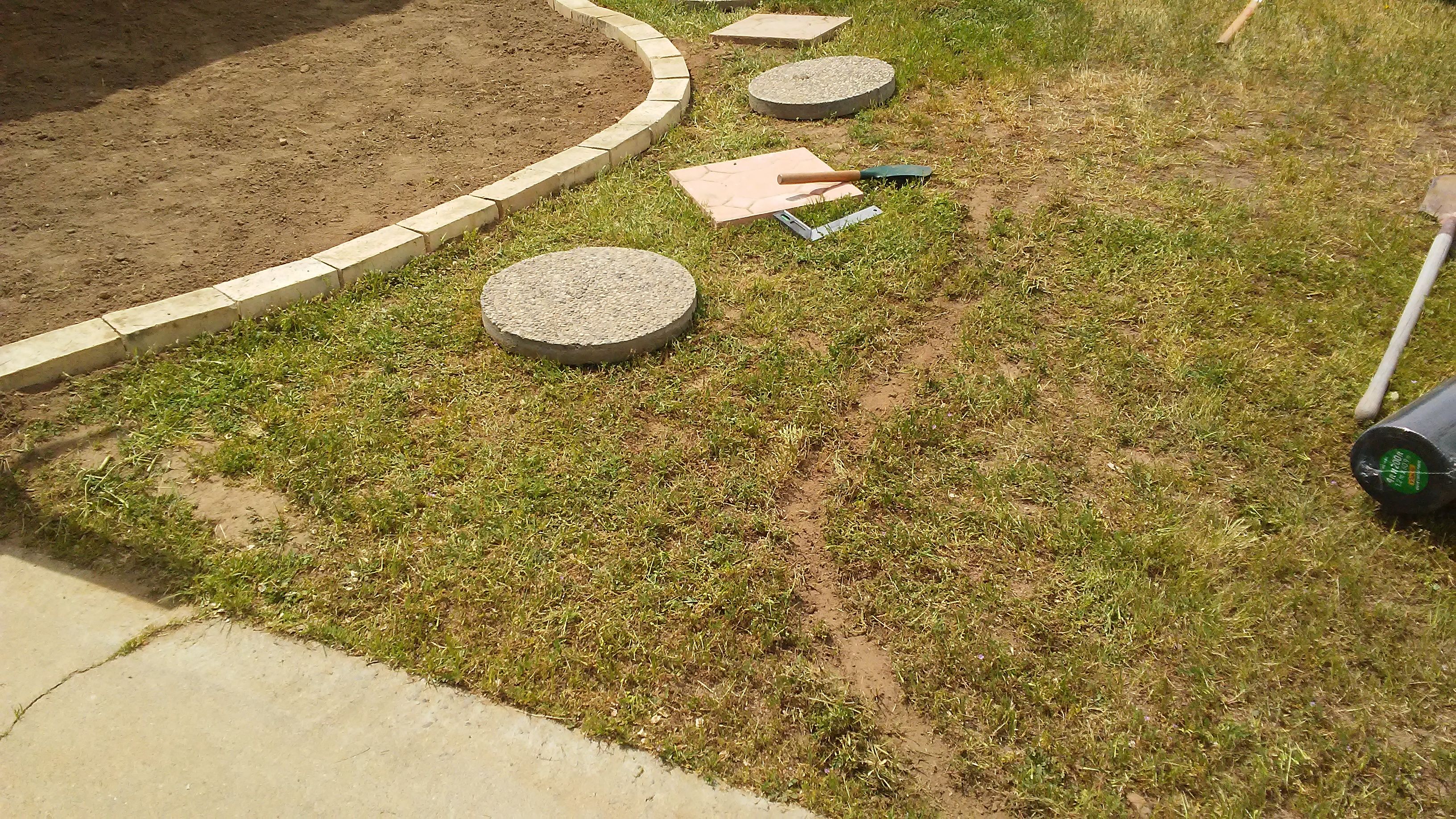 I start it off with carving out the lines in the grass so I have a pattern to follow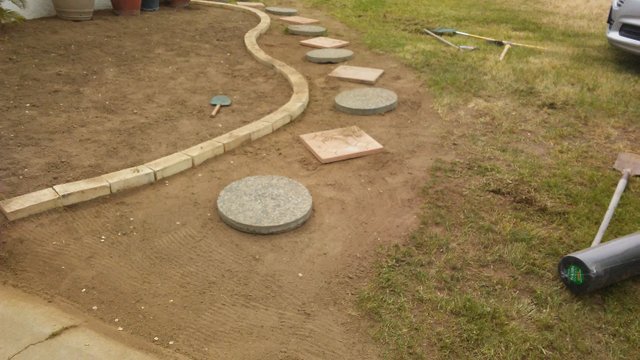 After clearing away the grass, you can see the path starting to take shape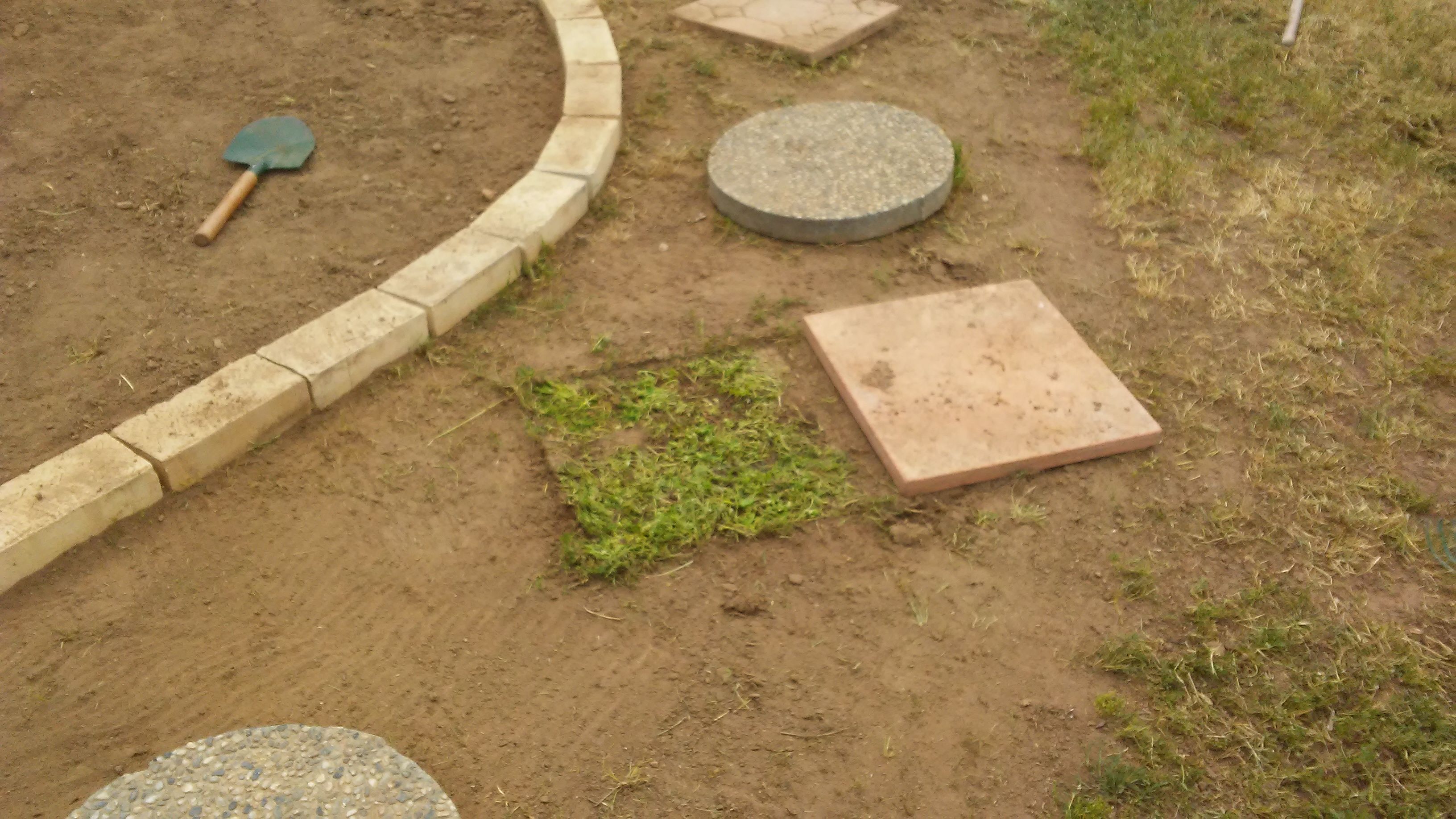 Even the pavers need the grass underneath them the be cleared out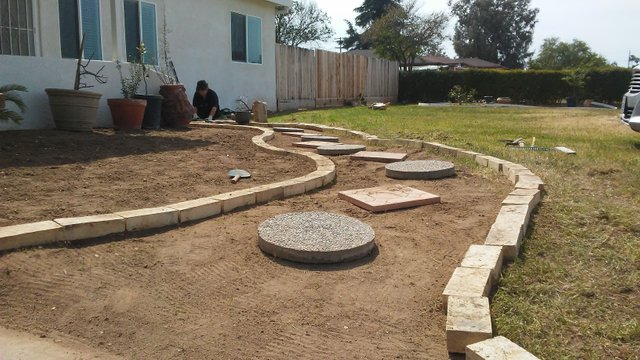 Laying down the bricks - not level yet - just getting roughed in
Back at the patio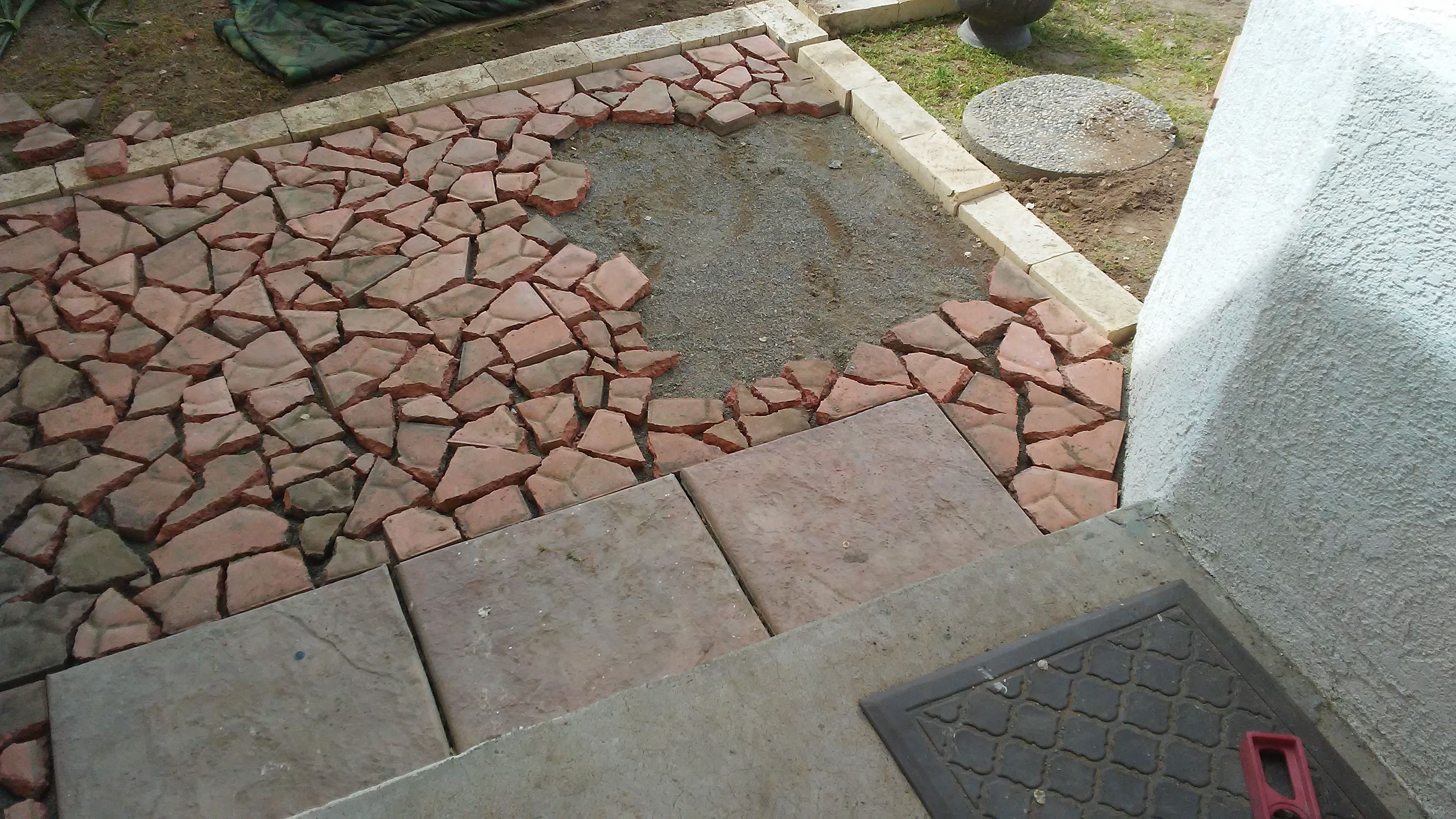 Back at the patio - my wife has got most of the pavers filled in -simply using a bunch of used pavers that were cracked and broken, she laid out a sort of mosaic type design of random pieces fit together - when there was an odd space that was hard to fill- she would simply rearrange a few of them or find/break up the pieces into smaller ones and make them fit.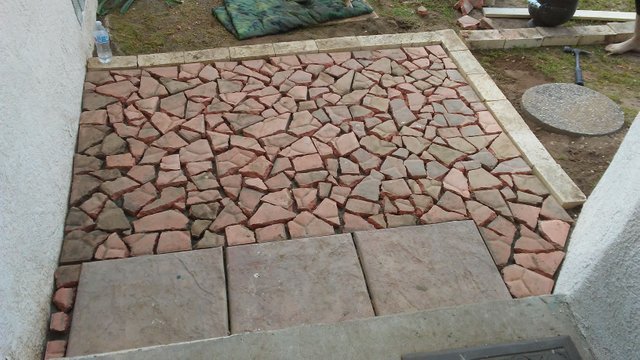 Filled all the way - it's starting to look really good. I'm proud of what a great job she did.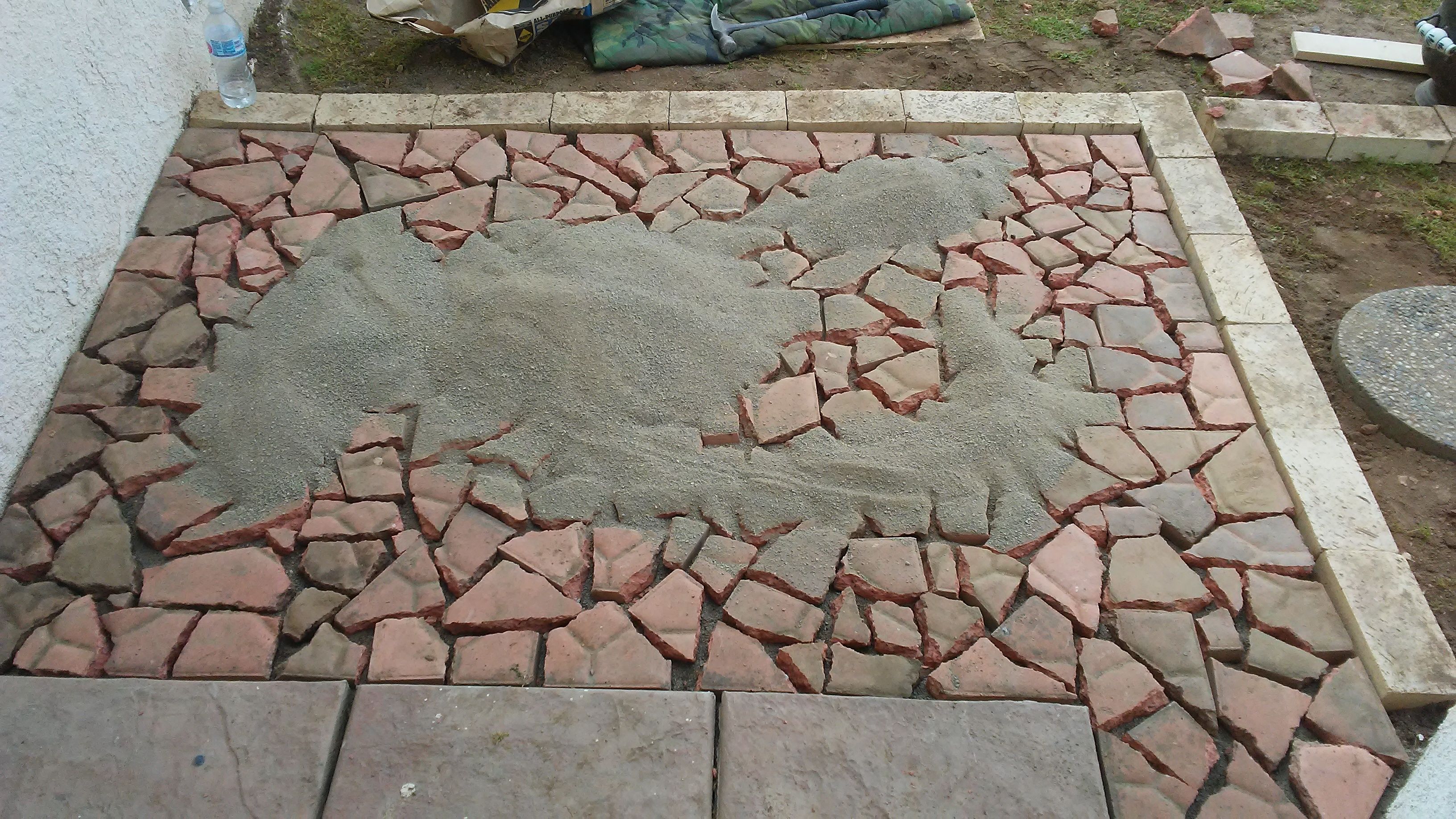 I Love this part!
We dump a bag of sand onto it so we can fill in all the spaces between the pavers - this is when this is really going to come together. This is my favorite part - I get to sweep the sand into all the nooks and crannies as it transforms right before my eyes.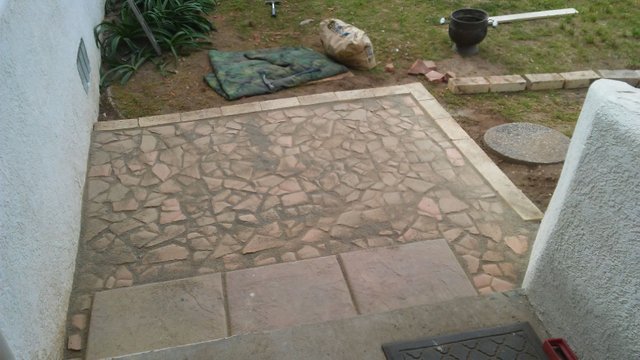 Swept into all the cracks and crevices - it starts to become like one solid piece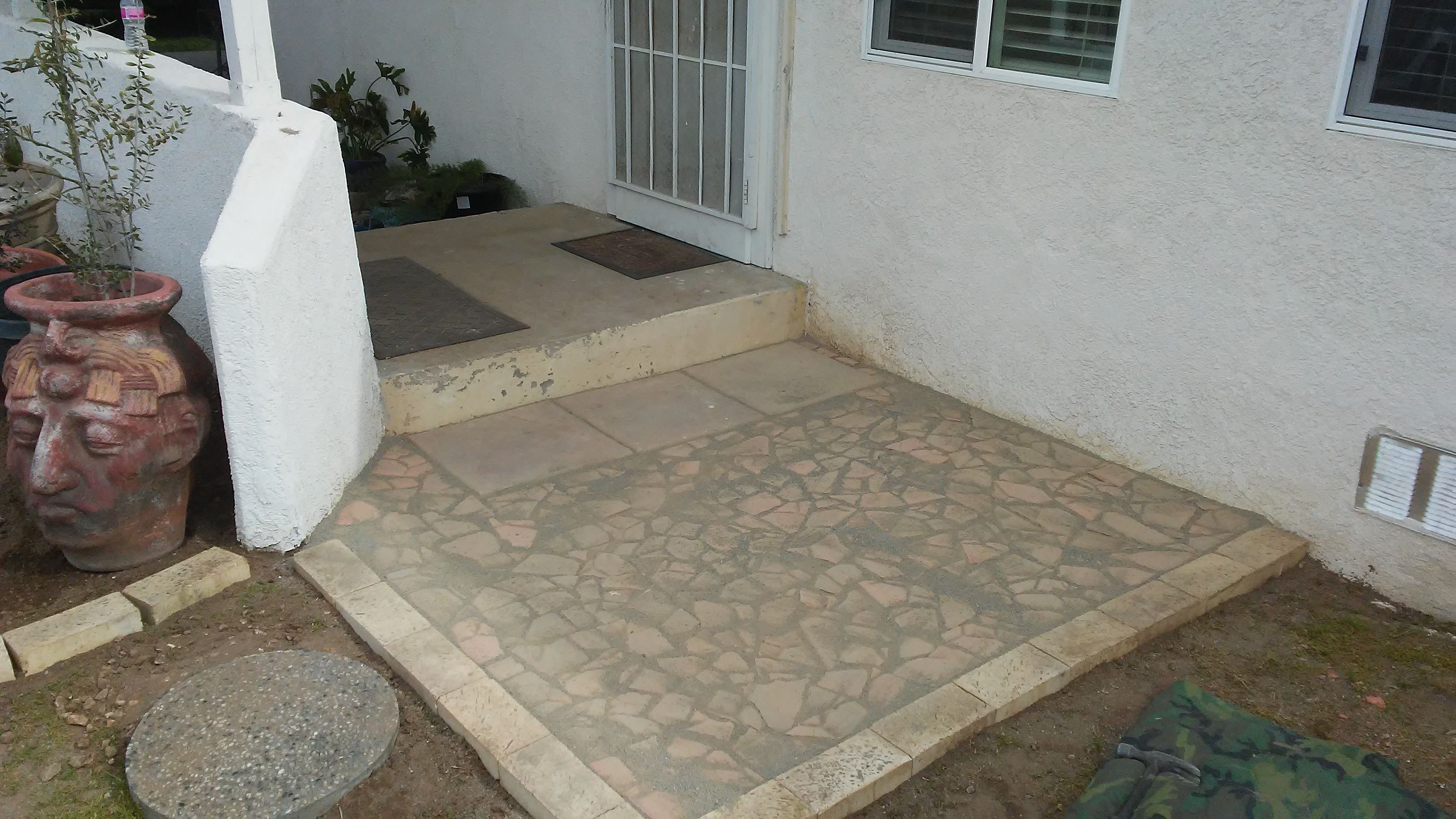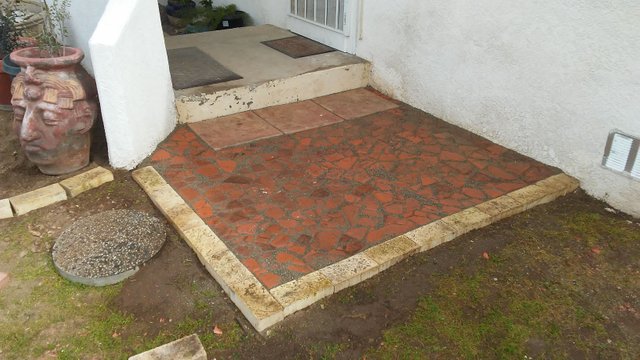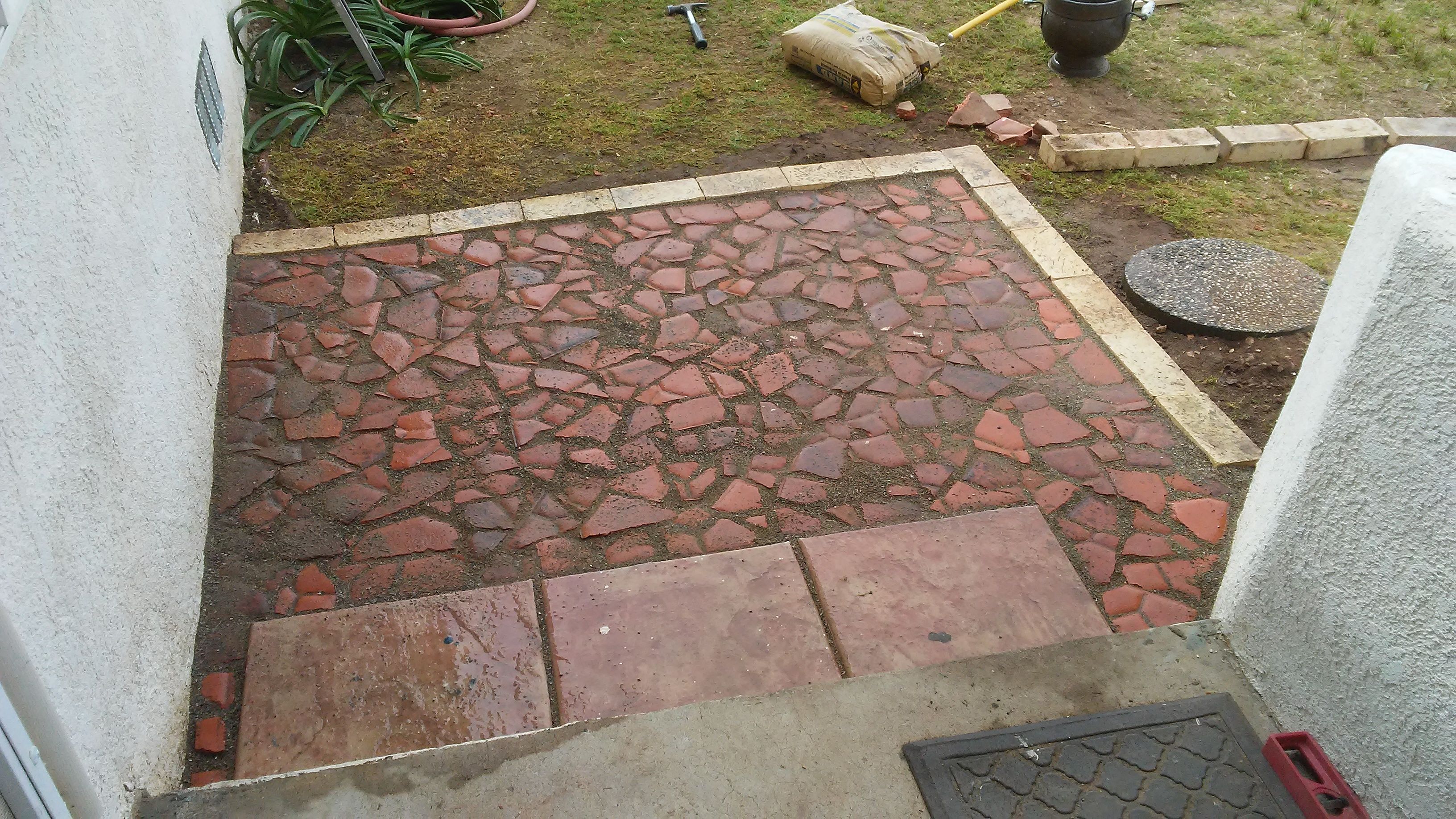 A quick spray down with some water and the beauty shines through.
Thank you all for checking out my blog and following up with my landscaping efforts
---

Please be sure to check out my others articles on real estate, investing , and cryptocurrency ( and some other random dog stuff)
I always upvote comments to my blog posts