My 50 favorite video game trailers (1-5.)
Hello Everyone!
I have to say I really like to read/watch top lists of all kinds (PC games, movies, TV series etc.). I use IMDB regularly, I read Metacritic or the yearly Gamespot and IGN lists about video games. In my opinion, reading reviews and top lists can help you choose better products most of the time and it's a fun activity (at least for me).
I always wanted to make top lists myself, so I've figured out, it would be a good idea to make various top lists and share them in my blog posts with my viewers.
So this is my 5 favorite video game trailers ever! In my opinion they are all incredible, I hope you'll like them too!
(you can find the previous posts here: 46-50. ; 41-45.; 36-40.; 31-35.; 26-30.; 21-25.; 16-20.; 11-15.; 6-10.)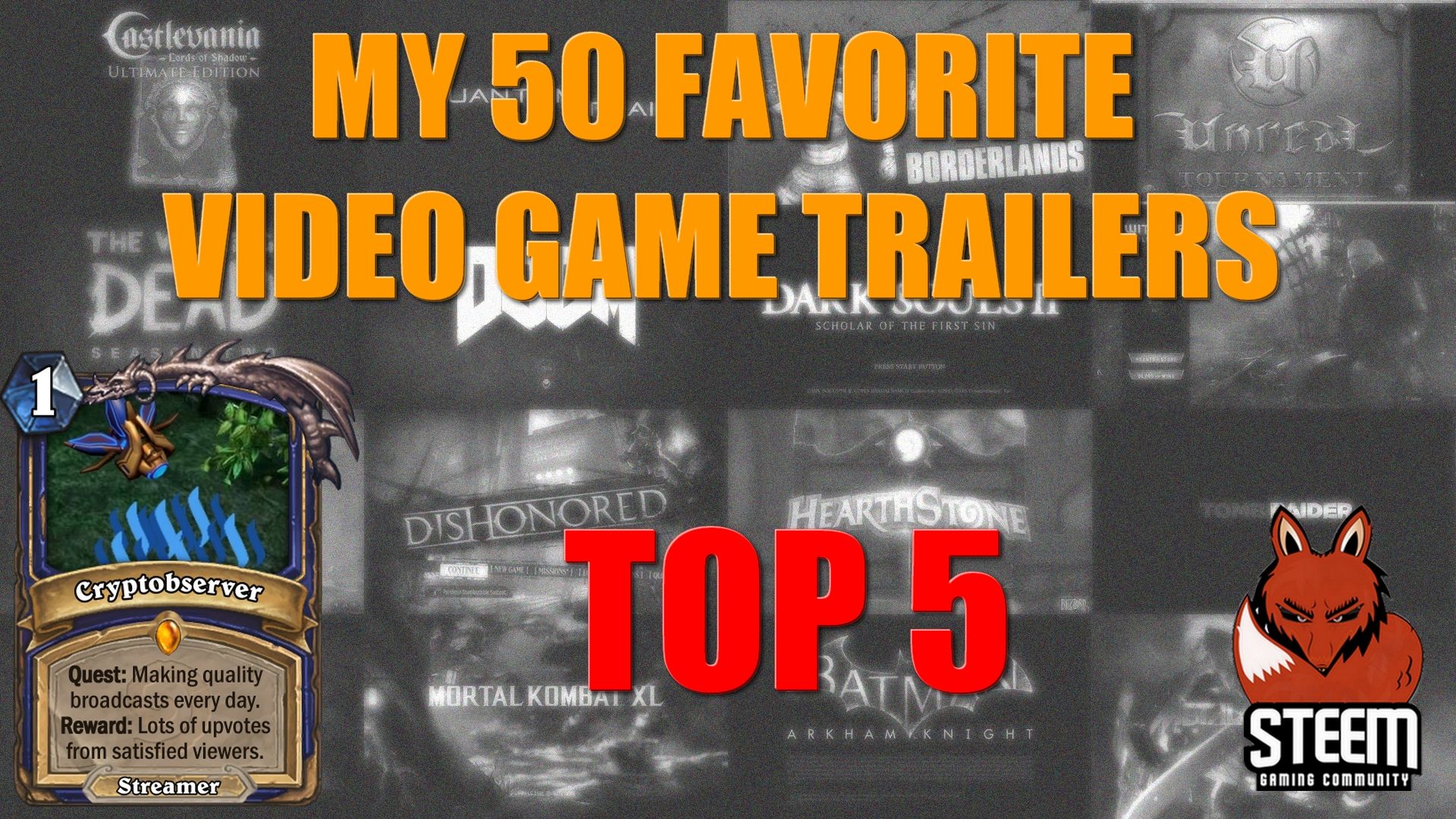 An important thing first: The whole list is my subjective opinion. Sometimes it was difficult to correctly rank them, and hell, I'm not even sure if I would make this exact same list in 2 weeks! I hope you'll enjoy watching these trailers and you'll find some valuable among them. (Watch out though, they can induce impulse buys! :D )
5. Dead Island: Official Announcement Trailer (3:07)

I don't really like zombie movies and zombie games (lately I'm less sure in this because of Telltale's The Walking Dead and Left 4 Dead 2 with friends), it is absolutely not my favorite genre. The thing is, it doesn't matter, I loved this trailer anyway. It shows that it's possible to tell a sad, heartbreaking story in 3 minutes. I've never played Dead Island (and I probably never will... as far as I know it isn't really a good game), but this trailer and its music are just incredible.
4. Mass Effect 3 - Take Earth Back Cinematic Trailer (3:35)

This trailer was the reason I started the Mass Effect trilogy (and it was such a good decision). Of course, it contains some major spoilers, if you didn't play the first two episodes. Great CGI, awesome music (Two Steps from Hell: After the Fall - which is incredibly similar to E.S. Posthumus - Nara in my opinion; and Two Steps from Hell: Black Blade), great action scenes and it was so close to make it into my Top 3!
3. Torment: Tides of Numenera - Story Trailer (2:26)

This is how you present an interesting story! The narrator deserves every praise (why can't I have a voice like this... ), just like the people who were responsible for the drawings/art/animation. The music is good too, it fits the narration and the story it tells really well. This is the game I play at the moment, I'm halfway through it and I really like it. I can't recommend it to everybody though. If you don't really like to read, this is clearly not your game. In the 16-17 hours I've played, there were only 3 fights, so it isn't action-oriented at all. It's similar to a good - interactive - book. If you have no problem with that and you liked the trailer, you'll enjoy the game too probably!
2. The Witcher 3: Wild Hunt - The Sword of Destiny E3 2014 Trailer (2:21)

It was such a difficult decision between the first two... The Witcher 3 is one of my favorite games of all time and this trailer is so great, but it's still "only" 2nd on my list. I think just like in the case of the Mass Effect 3 trailer, this was the video that made me start the Witcher series (and again, it was a really good decision :) ). Since that, I've played the whole trilogy with DLC's and I've even read Sapkowski's books too. I have to tell you the series deserves every praise it gets and if you call yourself a gamer, you just have to play it sooner or later!
1. Dark Souls III - Launch Trailer (2:57)

"Ashen one, hearest thou my voice, still?" - Goosebumps.
And here we are, my favorite game trailer of all time! Amazing music selection, awesome pictures, incredible narration and a perfectly cut trailer! I think there isn't a song that would fit it better than Hozier's In the Woods Somewhere!
It spoils a lot of boss fights, but somehow I couldn't care less. Thankfully it doesn't really mean it spoils the story too at the same time (well in the case of Dark Souls even a full playthrough isn't really enough to understand the story completely), so it isn't a problem in my opinion.
I don't know how many times I've seen this trailer in the last 2 years, but it's probably an unhealthy amount above 30. I can't help it, I just watch it from time to time because it is so great.
The funniest part is: I have the game, but I'm still in the middle of Dark Souls II, so I haven't played it yet. Still, I already know it will be a glorious, awesome playthrough! I have to pick up DS II again, finish it and finally play this game...
So this was the last part of my game trailer series. Tell me in the comment section which was your favorite from my Top 50 (or you can even write 3, 5, 10 or as many as you like), I'm really curious about it! Of course, you can tell me about other trailers I should've included too! I hope you enjoyed these great videos and found at least one really memorable among them, maybe even a new favorite! See you later!