My 50 favorite video game trailers (16-20.)
Hello Everyone!
I have to say I really like to read/watch top lists of all kinds (PC games, movies, TV series etc.). I use IMDB regularly, I read Metacritic or the yearly Gamespot and IGN lists about video games. In my opinion, reading reviews and top lists can help you choose better products most of the time and it's a fun activity (at least for me).
I always wanted to make top lists myself, so I've figured out, it would be a good idea to make various top lists and share them in my blog posts with my viewers.
So here are 5 trailers from the top 20!
(you can find the previous posts here: 46-50. ; 41-45.; 36-40.; 31-35.; 26-30.; 21-25.)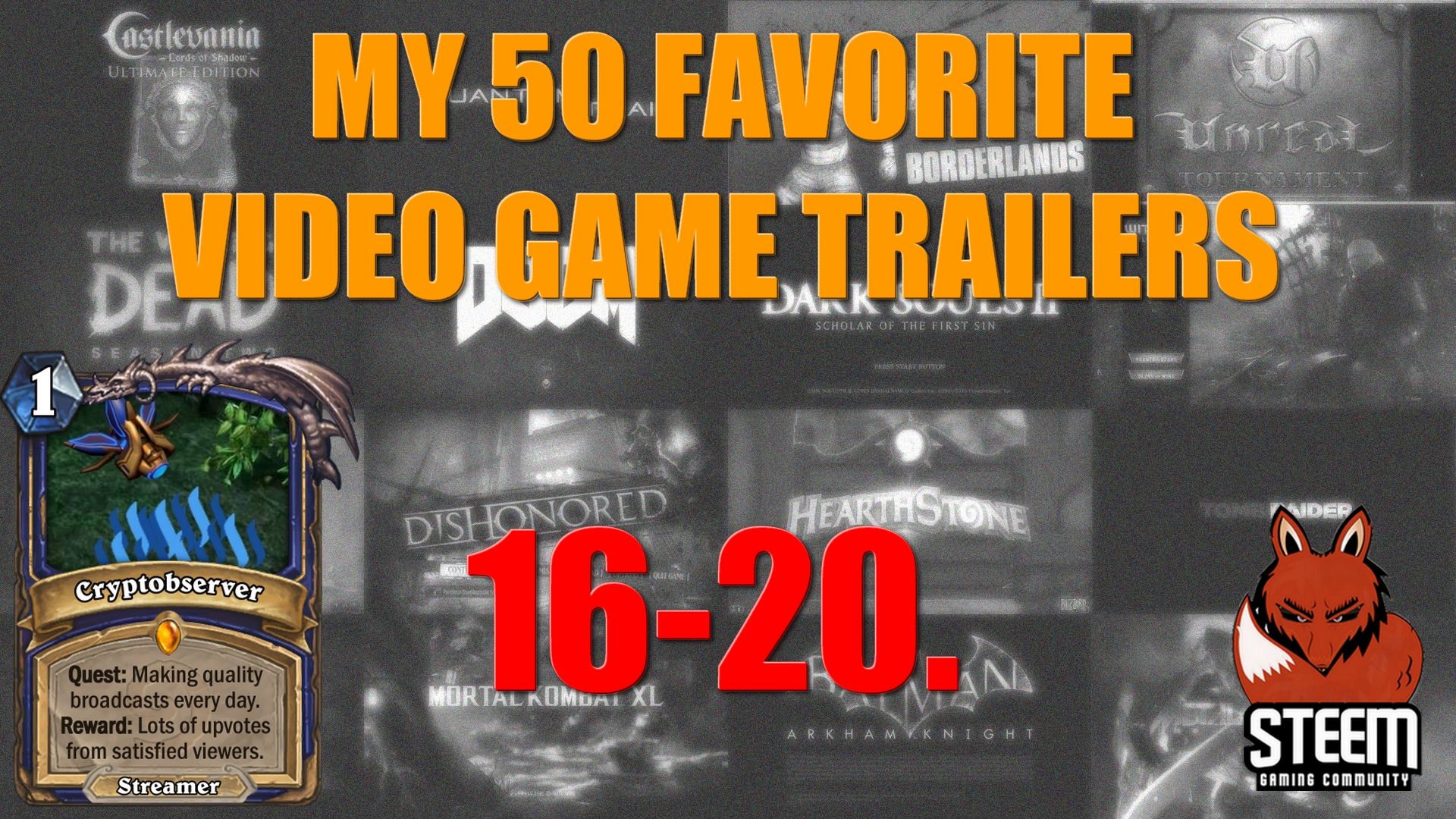 An important thing first: The whole list is my subjective opinion. Sometimes it was difficult to correctly rank them, and hell, I'm not even sure if I would make this exact same list in 2 weeks! So if you don't agree with it, or if you think there are titles, that should've made into my top 50, let me know in the comments! Some of those will surely pop up later in the series, but it's possible, that I didn't even see your favorites yet. I hope you'll enjoy watching these trailers and you'll find some valuable among them. (Watch out though, they can induce impulse buys! :D )
20. Tomb Raider - Day One Trailer (0:53)

4 out of today's 5 trailers has incredible music, this is one of them. Jack Trammell's Echelon and the action scenes in Tomb Raider's Day One Trailer are just as freakin' awesome as the game itself!
19. Gears of War: Ultimate Edition - Mad World Trailer (1:11)

Mad World is one of my favorite songs since Donnie Darko (which is one of my favorite movies). It was my (and my friends', lol) wake up alarm music for years in college. It wasn't probably the best choice because I just stayed in bed and listened to it. It is a far better choice for this trailer though.
18. Shadow of War - Dominate the Open World Trailer (2:00)

And the music again... Probably I'll never figure out who is the composer and what is the song's name (if anyone knows it, please tell me). Shadow of Mordor was a cool game, although a bit easy and boring towards the end of my achievement hunt (I went for 100%), so I'll pick up the complete version of the sequel too in the future.
17. League of Legends: A New Dawn Cinematic Trailer (6:26)

There are lots of amazing League of Legends trailers out there, but in my opinion, this is the best. Even though I don't play the game anymore, it will always remain a nice memory because I've enjoyed it with my brothers and friends for hundreds of hours. Other LoL trailers that are worth watching: The Climb, The Light Within, A Twist of Fate.
16.Ori and the Blind Forest: Definitive Edition - Trailer (1:46)

This is another incredible game with gorgeous visuals (there are no words for its art style) and beautiful music, what you can hear in the trailer too. There are very few games that I would recommend to basically anyone; women, men, children, elderly people, casual and hardcore gamers or even to people who don't really like platformers, but this is one. I also liked the original Launch Trailer, but this is even better. I've almost cried during my playthrough. Yeah, almost. I'm not lying!
I hope you liked these trailers, next time I'll come back with five from the top 15. See you soon!