My 50 favorite video game trailers (31-35.)
Hello Everyone!
I have to say I really like to read/watch top lists of all kinds (PC games, movies, TV series etc.). I use IMDB regularly, I read Metacritic or the yearly Gamespot and IGN lists about video games. In my opinion, reading reviews and top lists can help you choose better products most of the time and it's a fun activity (at least for me).
I always wanted to make top lists myself, so I've figured out, it would be a good idea to make various top lists and share them in my blog posts with my viewers.
So let's continue my series with another 5 trailers!
(you can find the previous posts here: 46-50. ; 41-45.; 36-40. )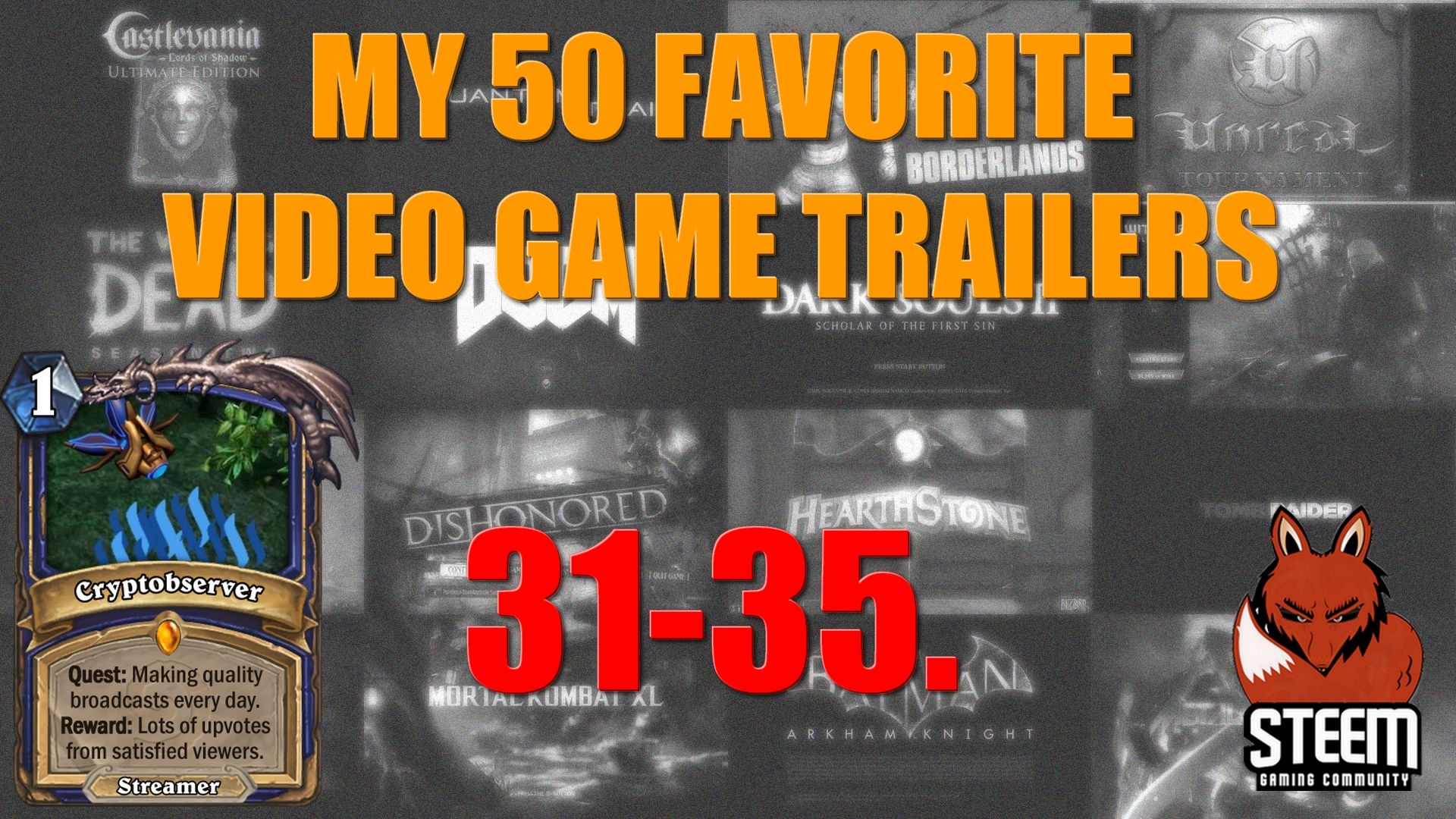 An important thing first: The whole list is my subjective opinion. Sometimes it was difficult to correctly rank them, and hell, I'm not even sure if I would make this exact same list in 2 weeks! So if you don't agree with it, or if you think there are titles, that should've made into my top 50, let me know in the comments! Some of those will surely pop up later in the series, but it's possible, that I didn't even see your favorites yet. I hope you'll enjoy watching these trailers and you'll find some valuable among them. (Watch out though, they can induce impulse buys! :D )
35. Valiant Hearts - E3 2014 Trailer (2:20)

Ubisoft's Valiant Hearts is a game about the First World War. This memorable, emotional trailer is beautiful and sad at the same time.
34. The Last of Us Remastered - E3 2014 Trailer (1:44)

This game is one of the reasons why I would like to have PS4. But there are just way too many games in my Steam library. Maybe one day...
33. Hellblade: Senua's Sacrifice - Official Trailer (2:10)

I really liked Ninja Theory's "Enslaved: Odyssey to the West" and "DmC: Devil May Cry" and they are back with Hellblade, a game I'll clearly play in the future. The visuals and the sounds are great, as you can experience it in this trailer too.
32. Battlefield 1 - Reveal Trailer (1:19)

I think there isn't a single gamer on Earth, who didn't see this amazing trailer yet. 57+ Million views on a video game trailer, that means something.
31. Doom - Campaign Trailer (1:09)

Doom (1993) from id Software was among the first PC games I've ever played. I really hoped that this new incarnation of the game would be amazing. I have to say, it didn't disappoint me (well, the multiplayer did a little bit)! The single-player campaign is one of the best things in the last few years, the music is awesome and the trailers like this one were able to deliver the same feeling as the game.
I hope you liked these short, amazing trailers, next time I'll show you 5 new from my top 30! See you soon!