My 50 favorite video game trailers (26-30.)
Hello Everyone!
I have to say I really like to read/watch top lists of all kinds (PC games, movies, TV series etc.). I use IMDB regularly, I read Metacritic or the yearly Gamespot and IGN lists about video games. In my opinion, reading reviews and top lists can help you choose better products most of the time and it's a fun activity (at least for me).
I always wanted to make top lists myself, so I've figured out, it would be a good idea to make various top lists and share them in my blog posts with my viewers.
Let's go and watch today's 5 trailers!
(you can find the previous posts here: 46-50. ; 41-45.; 36-40.; 31-35.)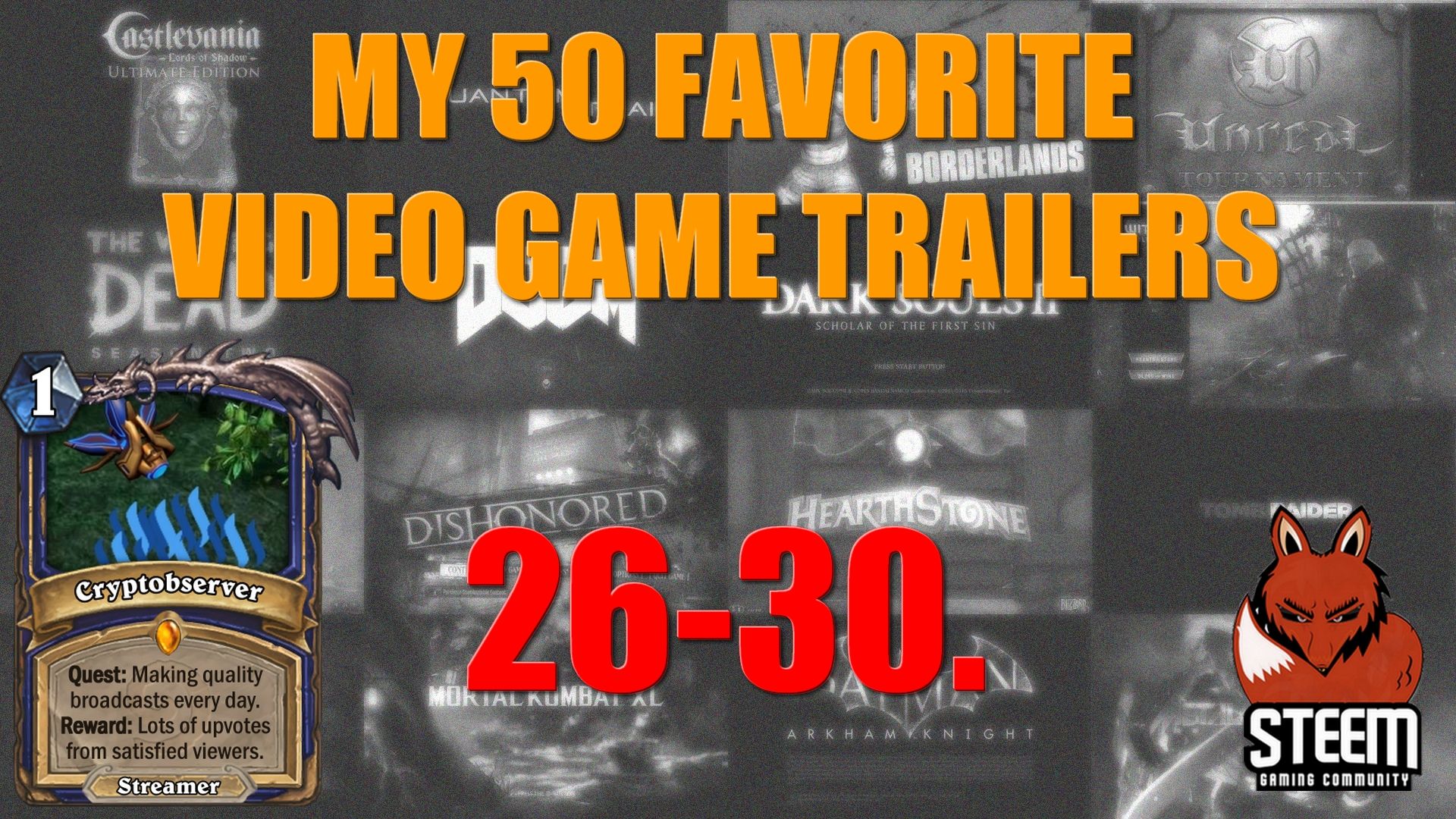 An important thing first: The whole list is my subjective opinion. Sometimes it was difficult to correctly rank them, and hell, I'm not even sure if I would make this exact same list in 2 weeks! So if you don't agree with it, or if you think there are titles, that should've made into my top 50, let me know in the comments! Some of those will surely pop up later in the series, but it's possible, that I didn't even see your favorites yet. I hope you'll enjoy watching these trailers and you'll find some valuable among them. (Watch out though, they can induce impulse buys! :D )
30. Star Wars: The Old Republic - "Hope" Cinematic Trailer (5:41)

I didn't really like any Star Wars game I've tried besides Jedi Outcast (but that one was mindblowing). Even though I think that the Star Wars universe/world building is great, I'm not really a big fan of the Star Wars movies either. I didn't even play Star Wars: The Old Republic. But! I still remember this trailer. It's 8 years old and it still looks great today and the action sequence is awesome in it.
29. Divinity: Original Sin 2 - Trailer (1:25)

God, this music... I haven't played the first D:OS yet, so I couldn't play the sequel either (I never start any series with a sequel, I play the games in order), but this trailer truly shows how good this RPG possibly can be.
28. The Witcher 2: Assassins of Kings - Intro Cinematic Trailer (4:20)

Probably the Witcher 2 had the smallest impact on me from the trilogy, but it's still an incredible game! If you haven't played it yet and you want to know who is this badass in the trailer, I strongly advise you to get this game (and the first episode too, they are literally for pennies on sales)! You won't regret it!
27.World of Warcraft: Battle for Azeroth - Cinematic Trailer (4:29)

Warcraft III and its expansion are among my all-time favorite games and I like Hearthstone too (my last stream was an exception... I didn't like HS there), but WoW is just not my cup of tea. Lots of my friends played it in college, but I didn't want to start any endless MMORPG. I still must admit, that the trailers for this game are amazing! Probably this is the best, but you should check out the cinematic videos for the Warlords of Draenor, Wrath of the Lich King and Legion expansions too.
26. Prey - E3 2016 Trailer (2:00)

The first Prey, in my opinion, is an underrated, hidden gem. Although I really didn't like the idea, that this game won't be a sequel, but an entirely different thing, this trailer just won me over. I'll probably get the GOTY version of it (I think there is a DLC in the works for it) because I love sci-fis like this.
So you already saw the half of my list, I hope you liked it. These were all great trailers, but the top 25 is even better, so stay tuned!