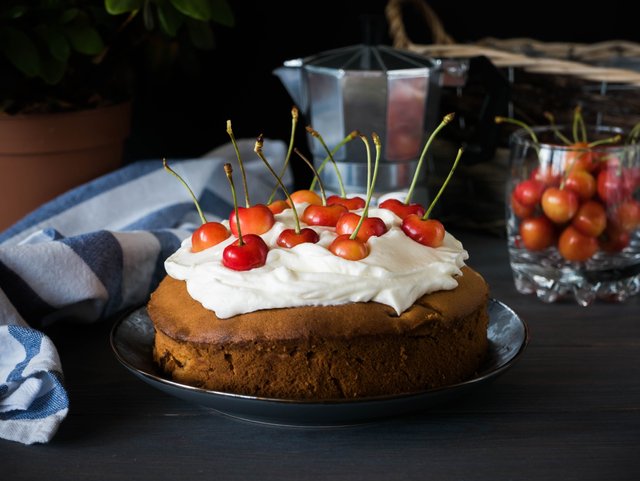 Dear ones, today I finally got a bit free from everyday affairs and I had time to make a delicious pie.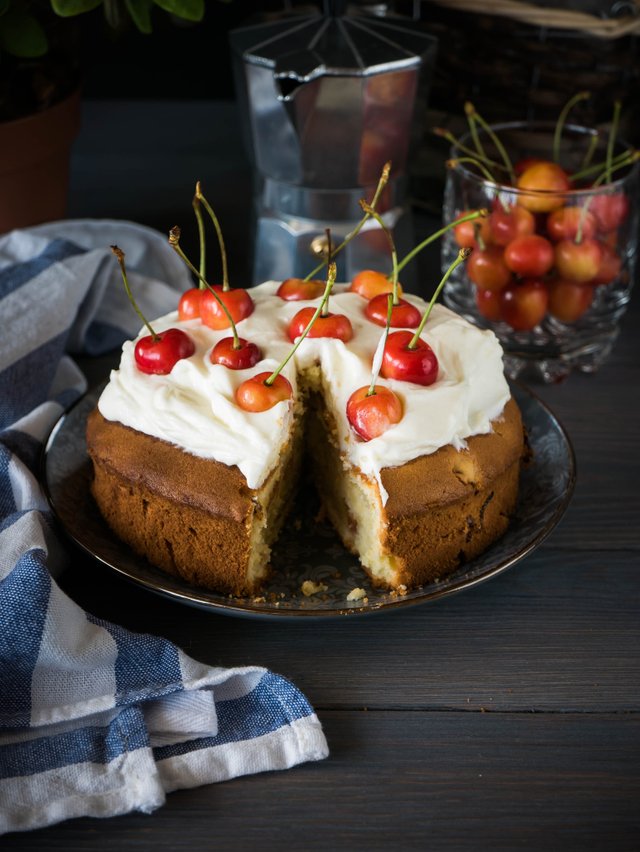 Now in many countries the cherries season has come and it can be bought in every store. Cherries are my favorite berry, which I have loved since childhood. So today, as you probably already guessed, I decided to add the cherries into the pie.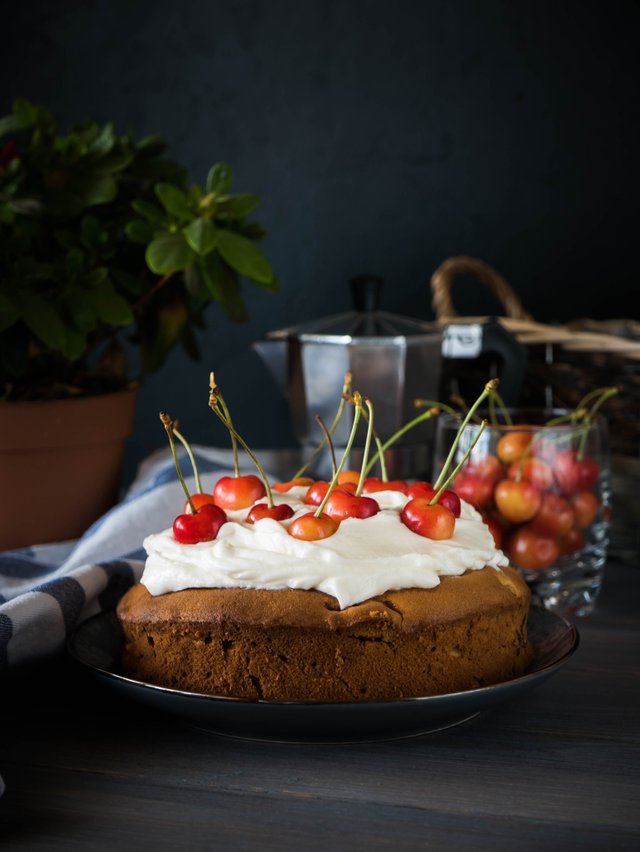 In the store I noticed a few varieties of cherries and I decided to try the yellow-red cherries. This kind of cherries is a bit different from the dark red color. The cherries of this variety are slightly smaller in size and color, but they are just as sweet and juicy :).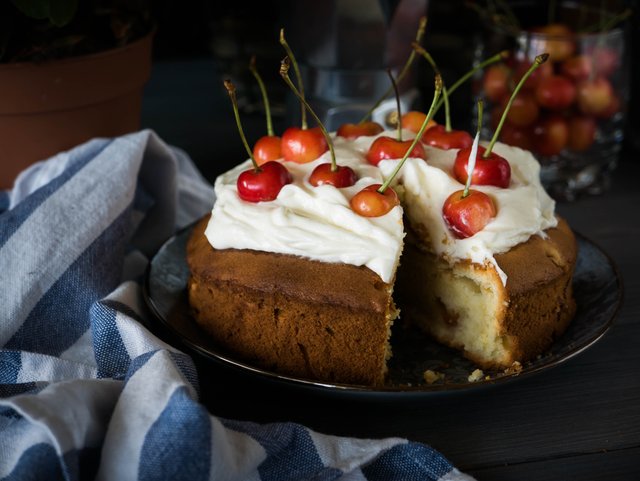 I added the cherries into the ready-made dough and mixed it lightly, so that the cherries completely joined the dough.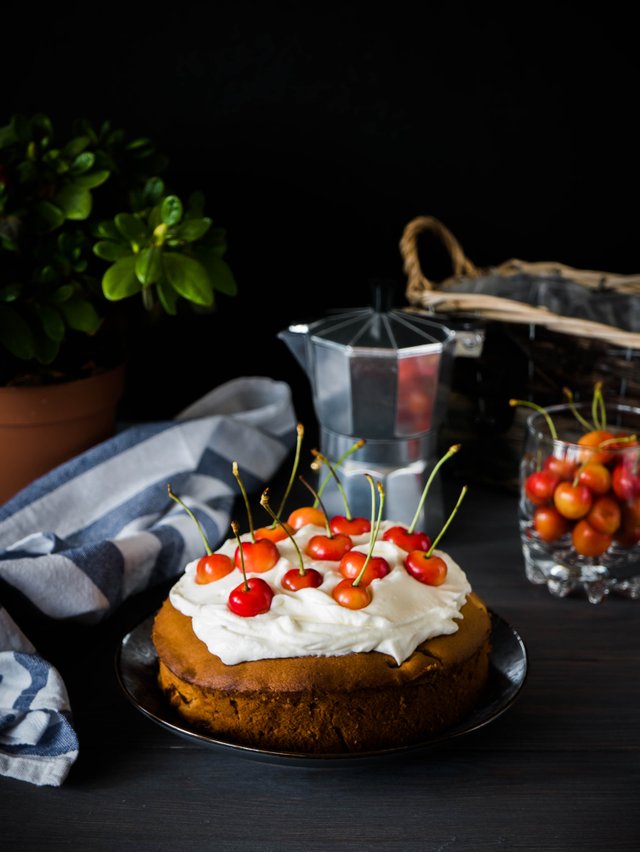 The pie with cherries turns out terrificly tasty and aromatic. Cherries perfectly conveys its taste to the whole pie and makes it very juicy.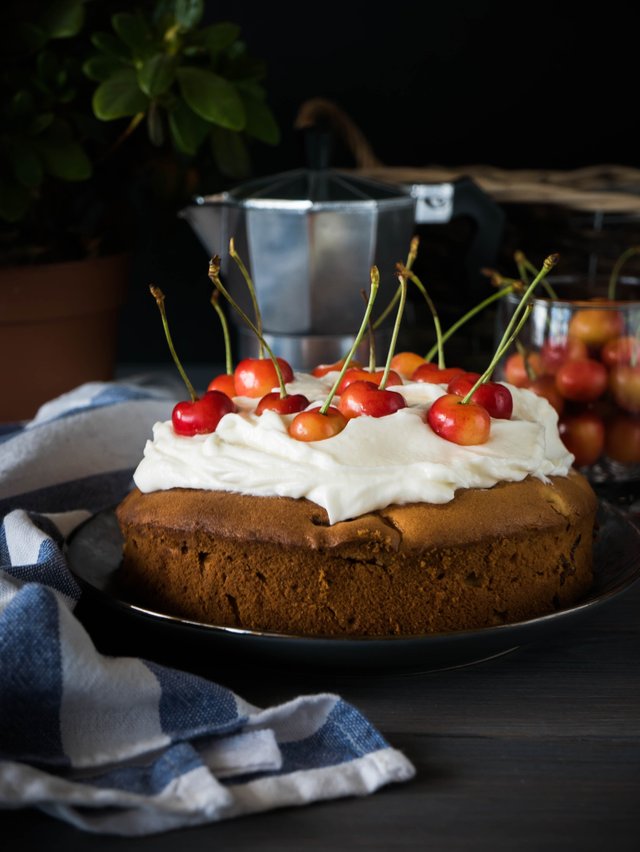 Also, I decided to decorate the pie with curd cream and added the cherries as an ornament to the top of the pie. I hope you'll like my new idea of ​​making a pie, because this pie is not only very tasty, but it looks amazingly beautiful :-) ...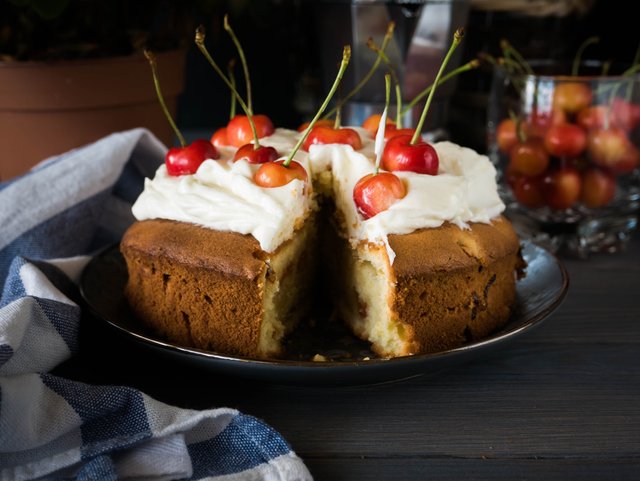 Ingredients:
Flour - 1,5 cups
Eggs - 2 pcs.
Butter - 180 g
Vanilla sugar - 2 tbsp. spoons
Sugar - 1 glass
Cherries - 1 glass
Curd cream:
Curd cheese - 200 g
Sugar powder - 3 tbsp. spoons
Preparation:
1. Eggs mixed with sugar and vanilla sugar until smooth.
2. Add soft butter and mix again.
3. Gradually add flour and knead the dough.
4. Remove the cherries from the bones and add them to the dough. Mix everything lightly.
5. Lubricate the baking dish with butter and gently lay the dough.
6. Bake the pie at a temperature of 180 degrees 20-25 minutes.
7. Mix the curd cheese with the powdered sugar until smooth.
8. Decorate the pie with curd cream and add the cherries.
Enjoy!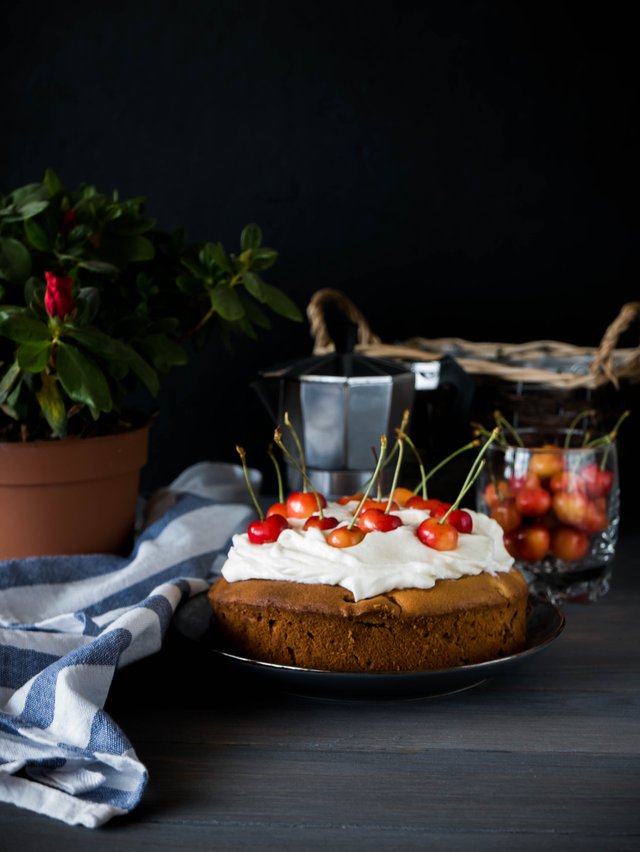 Camera: Panasonic Lumix DMC-LX100
---
Bon Appetit!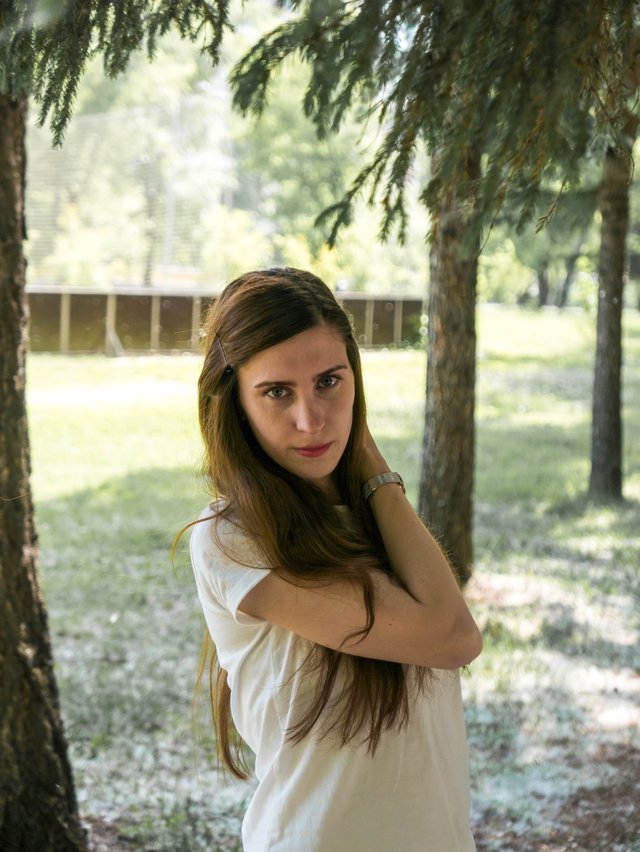 Thanks for watching and your time, I always appreciate it!
---
Here you can see some of my recipes:
1. Healthy Cupcake
2. Pumpkin Cream Soup
3. Pizza with Tomatoes
4. Milkshake with Strawberries
5. Brownie with Mint
6. Tortillas with Nutella and Bananas
7. Cakes with Cream and Banana
8. Oatmeal Pancakes
Enjoy excellent day, friends!
---
P.S. Have you tried Presearch yet? You can get money by searching !

Click Here
---