Expanse (EXP): A Two Year Long Correction Coming to an End?

SUMMARY
As a whole, Expanse (EXP) has actually been correcting since February of 2016! Talk about a Hurry Up & Wait syndrome! Price had been moving sideways for this long as shown by the blue wxyxz labels. The the height and depth of the price moves have been quite broad and wide, the lateral sidways action is aquite apparent. For two years, it has literally gone nowhere in appreciation and basically returned to the February 2016 price levels!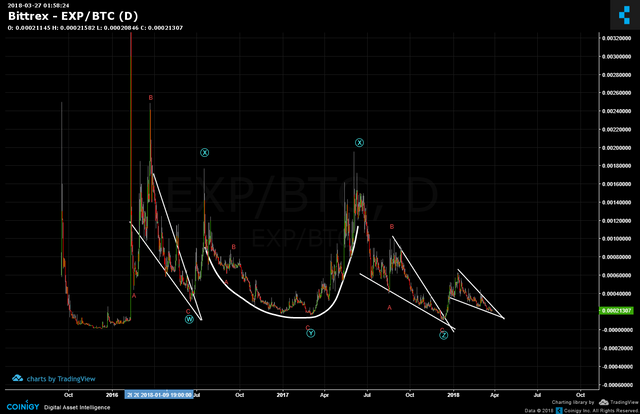 However, it doesn't means EXP is a dead coin! The fractals can tell quite a bit of information. Price goes sideways and even that too has a termination point. IF the blue wxyxz markings are correct and if Z wave is complete; then a sizable impulsing of price can be expected. The below chart was waves 1,2,3,4,5 providing the impulse potential; however, this is if there is no more lower lows generated. IF a lower low occurs, it would be indicative of additional time extension to this correction; as if more would be needed!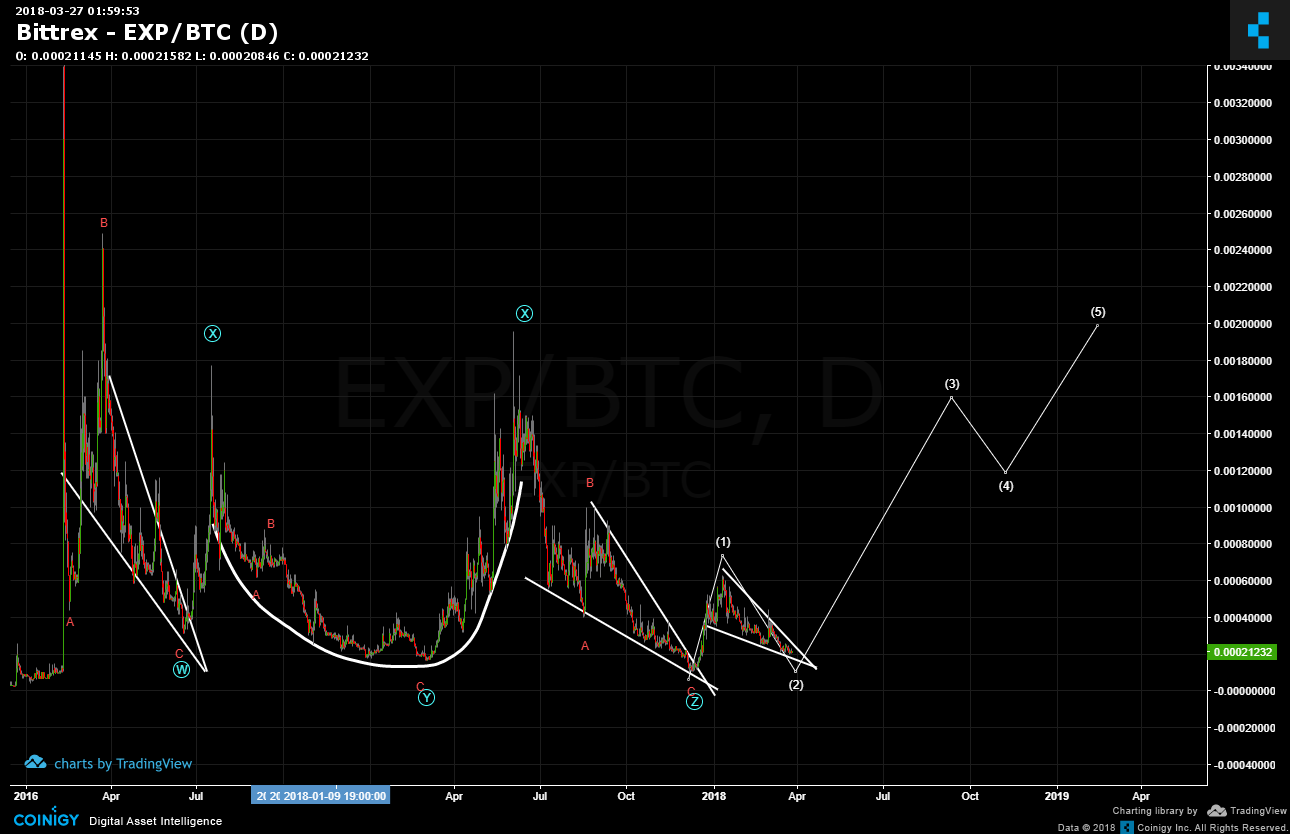 Legal Disclaimer: I am not a financial advisor nor is any content in this article presented as financial advice. The information provided in this blog post and any other posts that I make and any accompanying material is for informational purposes only. It should not be considered financial or investment advice of any kind. One should consult with a financial or investment professional to determine what may be best for your individual needs. Plain English: This is only my opinion, make of it what you wish. What does this mean? It means it's not advice nor recommendation to either buy or sell anything! It's only meant for use as informative or entertainment purposes.
Please consider reviewing these Tutorials on:
Elliott Wave Counting Tutorial #1
Elliott Wave Counting Tutorial #2
Elliott Wave Counting Tutorial #3
Laddering and Buy/Sell Setups.
Laddering Example with EOS
Tutorial on the use of Fibonacci & Elliott Waves
@haejin's Trading Nuggets
Essay: Is Technical Analysis a Quantum Event?
Follow me on Twitter for Real Time Alerts!!
Follow me on StockTwits for UpDates!!
--
--