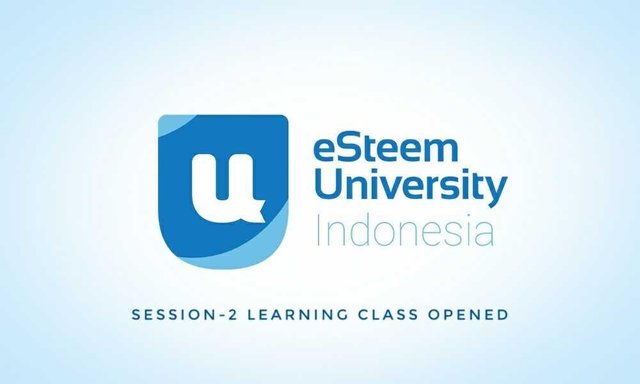 Halo eSteemian
Setelah sukses kelas eSteem University Sesi-1 dengan mengusung 5 tema pembelajaran sekaligus. Hari ini Tim eSteem University Indonesia kembali membuka kelas belajar dan berbagi ilmu seputar dunia platform eSteem.


Penting
Sahabat #esteem-university-indonesia & #esteem dimanapun anda berada, Hari ini (Kamis) tepatnya jam 20.00 WIB pembukaan kelas diskusi dan Sharing eSteem University Indonesia sesi-2 akan dibuka kembali di channel #esteem-university-indonesia tentunya dan bagi sahabat eSteemian yang mau ikutan belajar bersama tim educator @eu-id di persilahkan untuk mendaftarkan diri dengan menghubungi nama educator dibawah ini, sesuai dengan pasion(bakat) yang anda miliki:
Pembukaan Kelas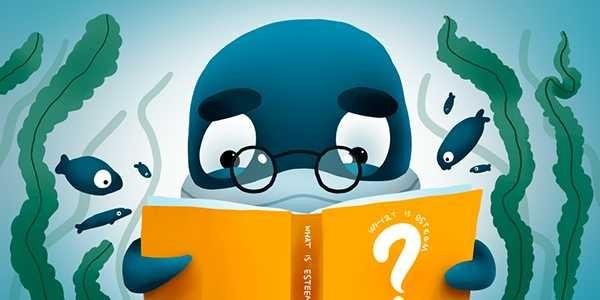 Creative image by fill @dunsky

Kelas Pembelajaran eSteem University akan dibuka oleh @owner99 selaku pimpinan dari eSteem University Indonesia dan akan didampingi oleh seorang pakar ilmu dibidang Blockchain yang akan menjelaskan dasar pemahaman tentang Steem Blockchain sampai tuntas, beliau adalah @dodybireuen dibantu oleh @helmibireuen dan @yandot yang bertugas sebagai Moderator di Acara malam nanti.
Tujuan Kelas eu-id
eSteem University Indonesia memiliki tujuan agar esteemian mampu menggunakan platform dan berselancar pada steem blockchain dengan melahirkan karya terbaik dan jauh dari sebutan plagiat. Sehingga eSteemian yang keluar nanti dari kelas pembelajaran mampu menampilkan semua karya mereka sesuai dengan bakat (pasioan) yang mereka miliki dan diterima oleh seluruh pemilik proyek di steem blockchain.
Kami membuka kelas ini untuk seluruh pengguna eSteem dan tidak dipungut biaya (GRATIS)
Jangan Pernah Malu dan Takut Untuk Belajar Bersama eSteem
Baca Semua informasi tentang kegiatan eSteem University Indonesia dibawah ini:
1. eSteem University - Indonesia - Siap Mencetak Konten Kreator Berkualitas
2. Mengapa Anda harus memilih @good-karma sebagai saksi? (Indonesian Translate)
3. eSteem University Update#3 - Reward Bulanan Untuk eSteemian Aktif Discord eSteem
4. eSteem University Update # 4 Hadiah Kontes Twitter
5. eSteem University Update #5 - Jejak eSteem di Indonesia
6. eSteem University Update # 6 - Kenali ilmu dasar Steemit dan Blockchain
7. eSteem University Update # 7 - Apa yang bisa Anda postingkan ke Steemit dan eSteem?
8. eSteem University Update # 8 - Cara Kerja eSteem dan Reward
9. Struktur Organisasi eSteem University Indonesia
10. eU-id Writting Challenge Contest # 1- "Pengalaman Menggunakan Aplikasi Esteem / Surfer Surfer" (Billingual ENG-ID)
11.Result - eU-id Writting Challenge Contest#1- "Pengalaman Menggunakan Esteem App/Esteem Surfer"
12.eSteem University Indonesia "The Classes Started!" - Kelas dibuka!
13.eSteem University Update#13 - Report Class "Basic Knowledge of Blockchain Technology"
---
Kami Mengundang anda semua Untuk Ikut dalam Forum Diskusi di Channel Discord

We expect support from all users of Steem Blockchain Indonesia to support this Program
"Success in your own hands and use the application wisely"

info@esteem.app
IHomepageI IGithubI IYouTubeI ITelegramI

Posted Using eSteem Surfer
Meet the eSteem Family | Blog, Vote, Share and Get Paid. info@esteem.app