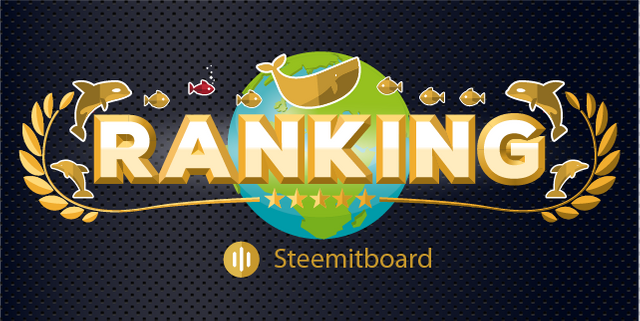 New key indicators have been added to the SteemitBoard Ranking
Few days ago, @steemitboard introduced its new ranking tool which enable you to compare yourself to your fellow Stemians.
Here are the new features in this release: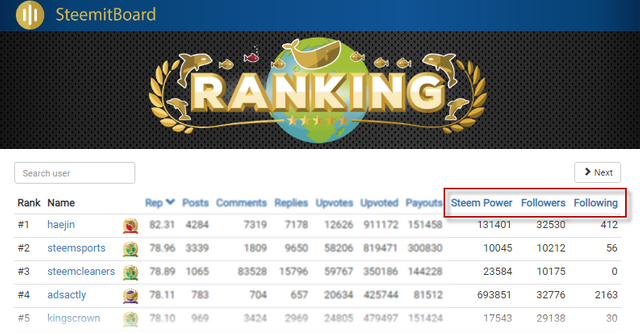 Steem Power is displayed instead VESTS
Many users were confused by the VESTS value displayed on the ranking.
The VESTS is the exact number of shares of the platform you own.
Steem Power is a representation of your VESTS, but relative to the total number of STEEM issued by the blockchain.
Users are more used to Steem Power because it is the value that they see in their wallet.
Therefore, we have replaced the column VESTS with Steem Power. However, for accuracy, the sorting is still done on the base of the VESTS.
Follower and Following
We added two new columns in the ranking
Followers: displays how many users are following an account
Following: displays how many accounts a user follow.
Of course, these new columns are sortable like any other.
Note: These values are not updated in real time. They are recalculated approximately every hour, so it might slightly differ from the value displayed on your Steem client (steemit.com, busy.org, partiko, eSteem, …)
How to access your SteemitBoard Ranking
In the top right corner of your board on SteemitBoard's website, you will find a hamburger menu. Click on it to open it then select "Ranking"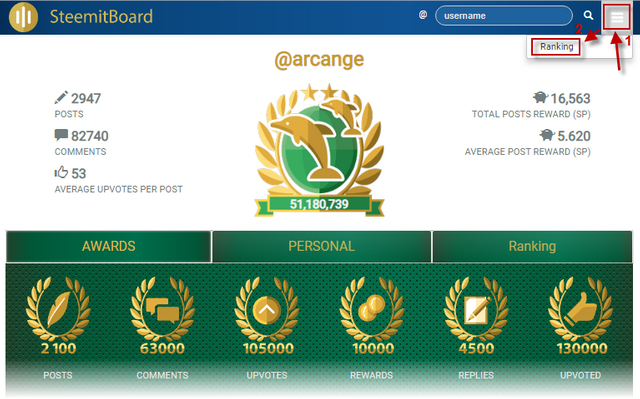 When you access the SteemitBoard Ranking via your own board, your account will be automatically searched for and the page with your name will be displayed directly.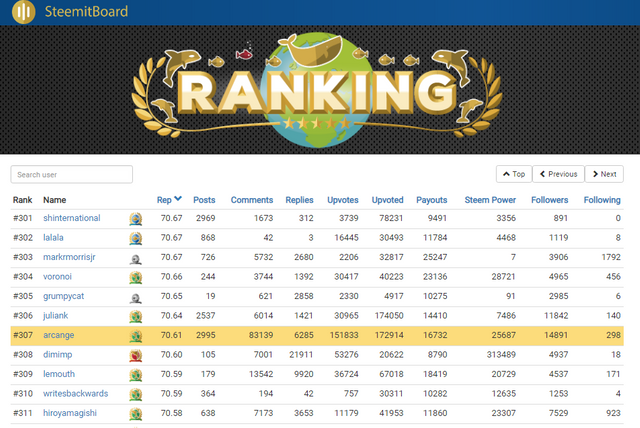 You can also go to https://steemitboard.com/ranking
Future roadmap
Here are the features we will add in the next releases:
display who is powering down
display account UA
Split payouts to author and curator
---
SteemitBoard need your help!
@steemitboard is slowly recovering from the HF20 thanks to your support.
A BIG THANK YOU to @roelandp, @mcfarhat, @loshombresdepaco, @tarazkp, @creativetruth, @ana-maria, @sergiomendes, @jeenger, @amvanaken, @flauwy, @encryptdcouple, @alaqrab, @consciousangel7, @daily.johny, @kriptonik, @flemingfarm , @michealb, @fakoand @jossduarte for they delegation or donation.
A special shout out to @ana-maria who is campaining to support SteemitBoard and published an amazing post where she perfectly describes the underlying phylosophy of our team and project. Thank you so much!
We are still missing a lot of SP to be able to operate at full throttle. If you can afford it and want to support @steemitboard with more delegation, click on one of the following links:
Delegate 1 SP 2 SP 3 SP 4 SP 5 SP 10 SP 20 SP 30 SP 40 SP 50 SP 100 SP
Thank you for your support!
---
Support the project and vote for its witness!


Read here why to support @steemitboard as a witness
Read SteemitBoard's latest witness report here
---
Steemitboard is a project created by @arcange