@entrust Update | Getting Better for You.
We've had some serious updates with you to provide a better user-experience into using our service. We've been very much excited to give back the rewards and promotional services @entrust can offer. We're a post-promotional service that provides the following :
100% of the Bid rewards gets distributed to the delegators.
Minimum bid is decreased from 0.1 to 0.05 Steem/SBD now.
New fully functioning website at : https://entrust.netlify.com/
Payouts for delegators are during every round.
Fixed Max ROI issues. Bids higher than our upvote value gets returned.
If the bids are currently full in a round and you sent your post promotion, it will be added on the next round.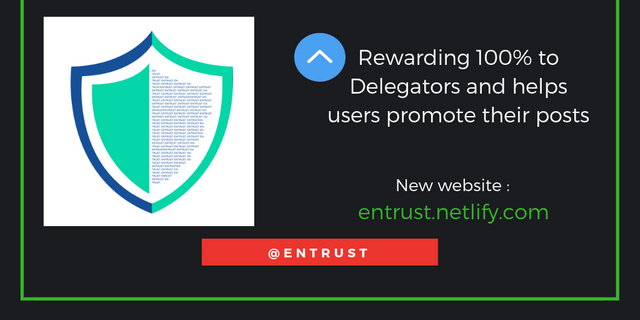 Bid now and Delegate with @entrust
We're looking forward to see you. Thank you for supporting @entrust, rewarding 100% to delegators and focusing Maximum ROI to post promoters.