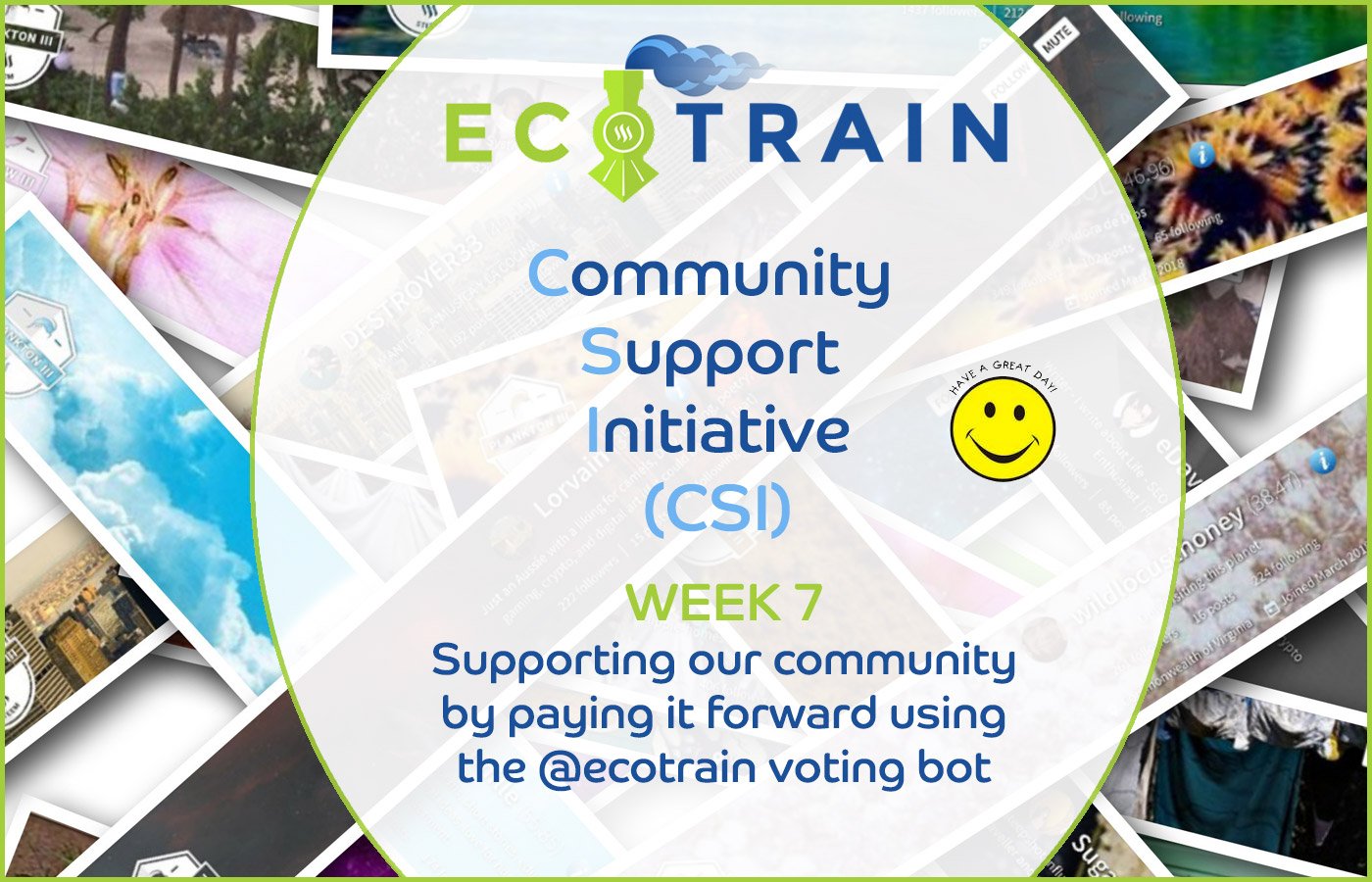 If you've been posting using the ecotrain tag and have very few rewards you will highly likely have received a ~$1.15+ upvote from the @ecotrain voting bot curtsey of the Community Support Initiative! I'm happy to say that I have found some really great posts from many of our community to support. That is what makes the @ecotrain voting bot great, I Pay It Forward every day from the rewards of the bot, this post, and donations...
So I would like to Congratulate all of you who are creating great posts and encourage you to keep going! My best advice to you all is to write because you enjoy writing and let it work for you, instead of it being like work! Writing to try to please others is very tiresome, and you can't keep that up for long! Writing to share something about your real authentic self is always more interesting for everyone and will bring more engagement. I'm sure that with some time, and , maybe a little help from the @ecotrain, you can find the people you are looking for!
A collage of everyone who was supported this week <3




This week the following people received an upvote from the @ecotrain community support initiative. I'm happy to say it was time well spent as you are writing some great content!
DRIVER'S PICK OF THE WEEK
@smokeymcpot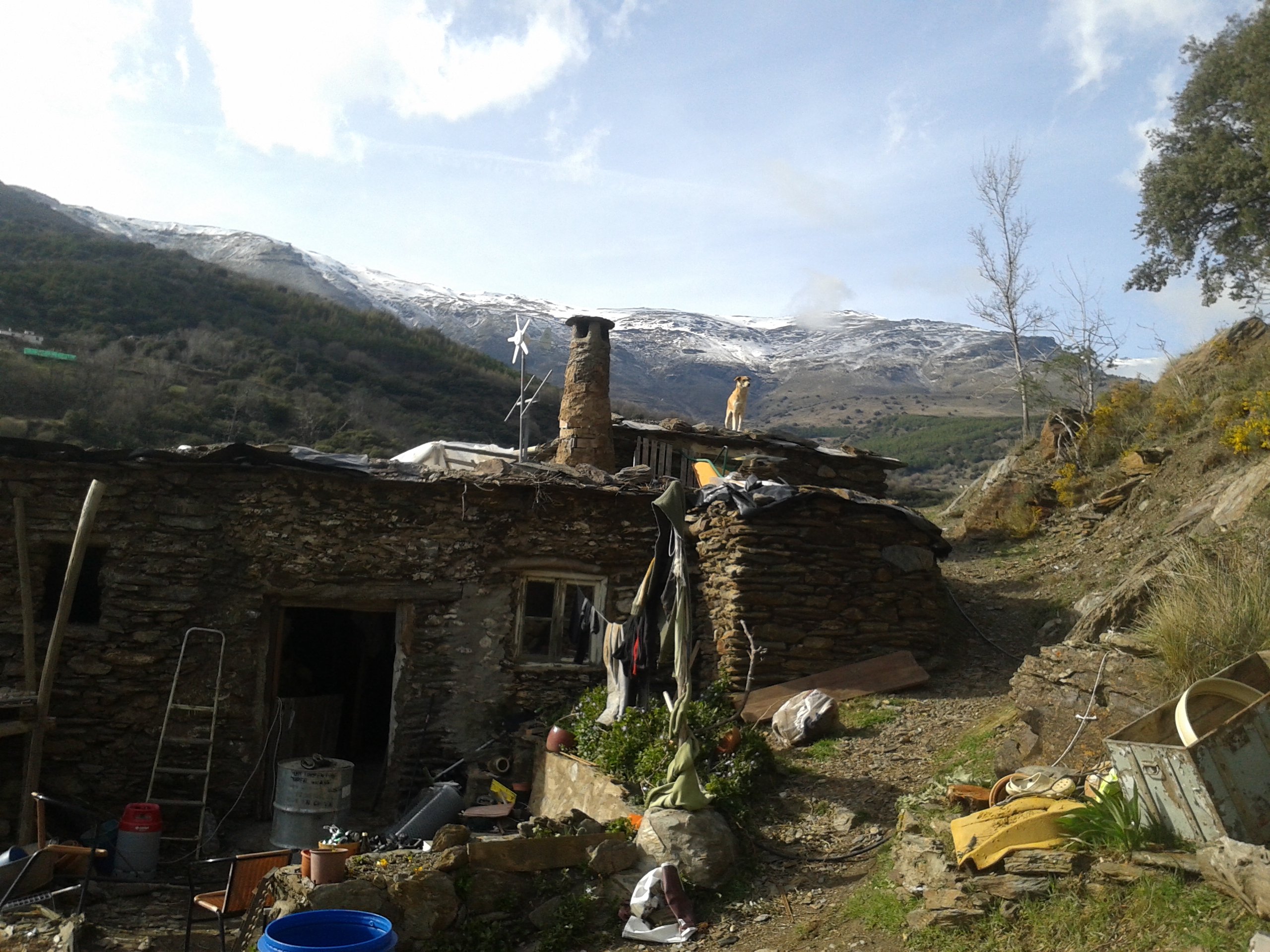 Around 6 years ago, I have suffered a terrible motorbike accident, which broke most of my bones.Both my legs were crushed and rebuilt with tons of titanium.X-Men's Wolverine got nothing on me. I'm somewhat bionic too ;)

In this life-changing experience I learned who I was. I separated myself from pain, which gave me a start to traveling within, discovering the infinity of my inner multiverse. I stopped being my thoughts. I was becoming less interested in superficial lifestyle and moved to smaller and quieter towns. The last civilized place I lived in was surfer's paradise, Tarifa, Spain. I've set up an organic, vegetarian bar with help of my friend. After 3 months of having amazing times, we found out that our partner was delusional and there was no way of cooperating with him. This was kind of the last straw for me. I needed some time to think. I decided to try another life and wanted to learn what most humans have forgotten; how to live with nature, being a part of it and becoming self-sufficient.

Congratulations to everyone this week who was selected for an upvote for great post


HOW TO SUPPORT THE PAY IT FORWARD COMMUNITY SUPPORT INITATIVE (CSI)?
1. Up-vote This Post!
By up-voting this post I can use the rewards to PAY IT FORWARD next week to some more great people!.
2. Please follow my @eco-alex curation trail
Please visit https://steemauto.com to add me to your up-voting. That way all the votes I make will be boosted by you and bring even more attention and rewards to our amazing ecotrain passengers! This includes my voting on the @ecotrain and @tribesteemup who are an amazing group of Steemians. Your support goes a long way to making so many people's day brighter and full of joy and you will also make great curation rewards as a result.
3. Please delegate to me, @eco-alex
I spend most of my time on Steemit curating and finding great people to support. You won't have to look far to see the quality and quantity of people I have supported here. The past few months have seen most of my delegtion move to other places and so my voting power is quite low! I really want to be able to reward great people, and to do that I need your delegation to really allow me to manually curate with a simple upvote! You can see many of the posts from the ecotrain and friends at #ecotrain. You can also read our weekly highlights magazine from our @ecotrain passengers @ecotrain.

4. Delegate Steem Power To @ecotrain for 65% ROI
If you need to earn rewards for delegating, with fair profit sharing to the community then please delegate to the @ecotrain voting bot which is the first whitelisted bot on steembotracker.com that only upvotes and supports great posts! Not only that but I give a fixed 11% ROI to anyone using the bot so everyone is happy and we add great value to the Steem blockchain! This is a unique opportunity to get involved and support a bot that is so ethical and supporting such great steemians. Just visit https://steembottracker.com/delegation.html and delegate any amount of Steem Power in one minute.

To delgate to me just go to https://steembottracker.com/delegation.html and send any amount of Steem Power to @eco-alex
THANK YOU FOR YOUR SUPPORT!

If you write great posts on the theme of
THINGS THAT MAKE THE WORLD A BETTER PLACE...
And want to have a chance of receiving our up-vote please use the #ecotrain tag in your post.

Supporting People Who Help
Make The World A Better Place

Discover previous ecoTrain magazines at @ecoTrain




The 8 Pillars of @TribeSteemUp