Running on STEEM Episode#37 - Does Your Content Suck?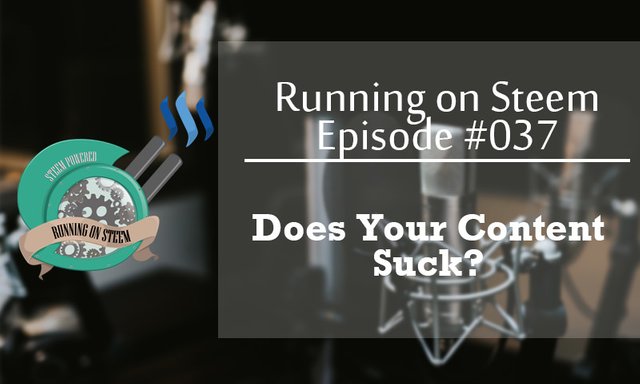 ---
Hey, guys!
Most of us non pros go through this phase.
Why you might think that way because
Low payout/Low upvotes
Low or no engagement
I think as long as you create content with effort that you're either passionate about or there's a good strong message behind it, it's decent content. It DOESN'T suck.
I've read and still read content from users/writers that don't necessarily have the best command of English but because of the point and message that they're trying to make, and the value that it gives me, I find it to be great content.
Seen some videos where the video quality is amazing but the message not very strong get huge upvotes.
I've seen Dmania posts get 80+ SBD
So why am I not getting any engagement and why are my upvotes and payouts low?
STEEMIT is where people come to make money. Not look for content.
You need to comment more on others' posts. Give to receive. I'm guilty of not doing this enough - Have to sort of market yourself
Maybe it's a case of early adopter of a platform. - My case with dsound
You need good connections with dolphins and whales. - bad content that can be seen.
At the end of the day, good content is subjective. Pewdiepie to many is just a Swedish man cursing and yelling in English. To 40 million others, he's a god.
Great content writers are those that have a name and write for prestigious magazines and have their own brand and contribute to websites like Entrepreneur.com or people like Tim Ferriss.
STEEMIT is made up of mostly aspiring content creators. Can't compete with the best just yet. So if you're trying real hard to produce content and giving it a lot of thought it's probably decent. Can it be better? Most probably yes.
I believe that steemit is a platform for us low-mid tier level bloggers/content creators to hone the craft and still get paid. So keep creating and getting better at it!
Hope you enjoyed this one!
Thanks for listening!
---
Want to start your own podcast show like us?
Or maybe you're a music producer and create your own sick remixes?
Start uploading your awesome content on @dsound for free and join the @dsound community on discord today!
---
Soundcloud Link
---
STEEM Geek Podcast
---

---
@branlee87 SUCKS at
---
BranLee Vlogs!
---
Movie Reviews by @branlee87
---
► Listen on DSound
► Listen from source (IPFS)