Sadsunday #14 - Songs zu der Legende "Brendan's Voyage" - IONA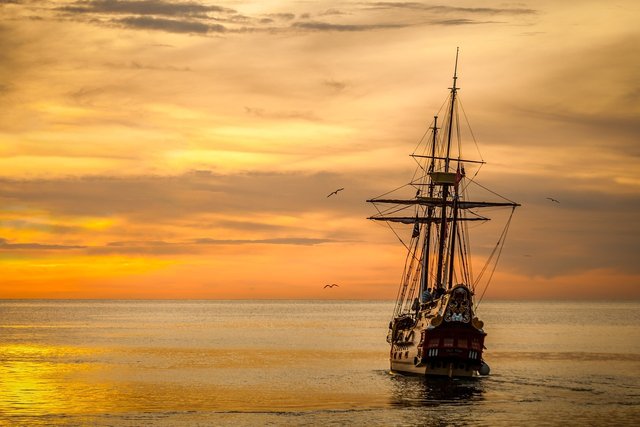 Eine ungewöhnliche Reise per Schiff mit 13 Affen
Bei meiner Suche nach Songs aus dem Jahr 1993 für die x-daysofmusic challenge von @backinblackdevil ist mir dieser Song in die Hände gefallen. Er ist einfach zu schön, um nur ein Teil meiner Sammlung zu sein: Gänsehautstimme Joanne Hogg, viel Instrumentales und eine schöne Melodie. Deshalb wähle ich den Sadsunday aus, um ihm einen würdigen Platz einzuräumen.
Es sind eigentlich zwei Songs zu einer legendären Reise: der Anfang und das Ende des Konzeptalbums Beyond These Shores
Saint Brendan is primarily renowned for his legendary journey to the Isle of the Blessed as described in the Navigatio Sancti Brendani Abbatis (Voyage of Saint Brendan the Abbot) of the ninth century. Many versions exist that narrate how he set out on the Atlantic Ocean with 16 monks (although other versions record 14 plus 3 unbelievers who joined in the last minute) to search for the Garden Eden.
Let the journey begin!
IONA - Brendan's Voyage, Brendan's Return
Dies ist mein Beitrag zum SadsundaySong von
@flipstar
He has created a new tag: #sadsunday and everyone can join him. What is your favorite sad song?
Foto: pixabay

SundaySadSong-Sammlung
1 I walk alone - Tarja
2 My Immortal - Evanescence
3 Frozen - Within Temptation
4 Inch'Allah - Adamo
5 Mysteries Of Love - Stomu Yamashta
6 Great Spirit - Nahko
7 Send Me An Angel
8 Down The Road - Coig
9 Within Temptation & Piotr Rogucki - Whole World is watching
10 Grönemeyer und Tote Hosen
11 Child IN Time - Deep Purple
12 Into The Wild
13 Savior - Peter Maffay