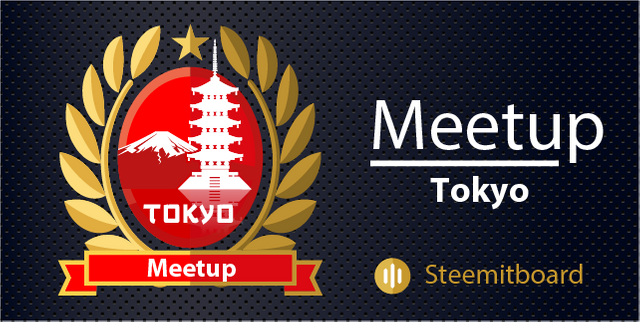 Here we are with another meeting of the Japanese community that took place today in Tokyo.
本日、日本コミュニティのミートアップが東京で開催されました。
These meetup haven been regularly organized by the @yoshiko and several Steemians have attended the last occurence of this meetup. For more information about this events, read this post (if you can read Japanese or have a good translator 😉)
このミートアップは@yoshikoによって定期的に開催されており、コミュニティのSteemianたちが今回のミートアップに参加した。このイベントの詳細については、この記事を読んでください。
To celebrate it and reward all participant, @yoshiko asked us to prepare a new commemorative badge that attendee will receive when participating in the meetup. The badge attribution is manage by the meetup organizer @yoshiko and anyone getting the badge will be able to display it on his/her board of honor.
@yoshikoからは、参加してくれた全員にご褒美となる記念バッジを用意していただきました。このバッジはmeetupオーガナイザーの@yoshikoが管理しており、バッジを手に入れた人は自分のsteemitboradに表示されます。

Thank you to all participant of this Steem Meetup. We hope they had a lot of fun together and that they will come back to the next edition!
このSteem Meetupに参加してくれた皆さんに感謝します。皆さんが大いに楽しまれて、また次回、参加されることを願っています!
Happy Steem meetup!
ハッピーSteemミートアップ
---
If you are a meetup organizer and want to reward participants with a personalized badge, do not hesitate to contact SteemitBoard's creator @arcange on discord or on steem.chat.