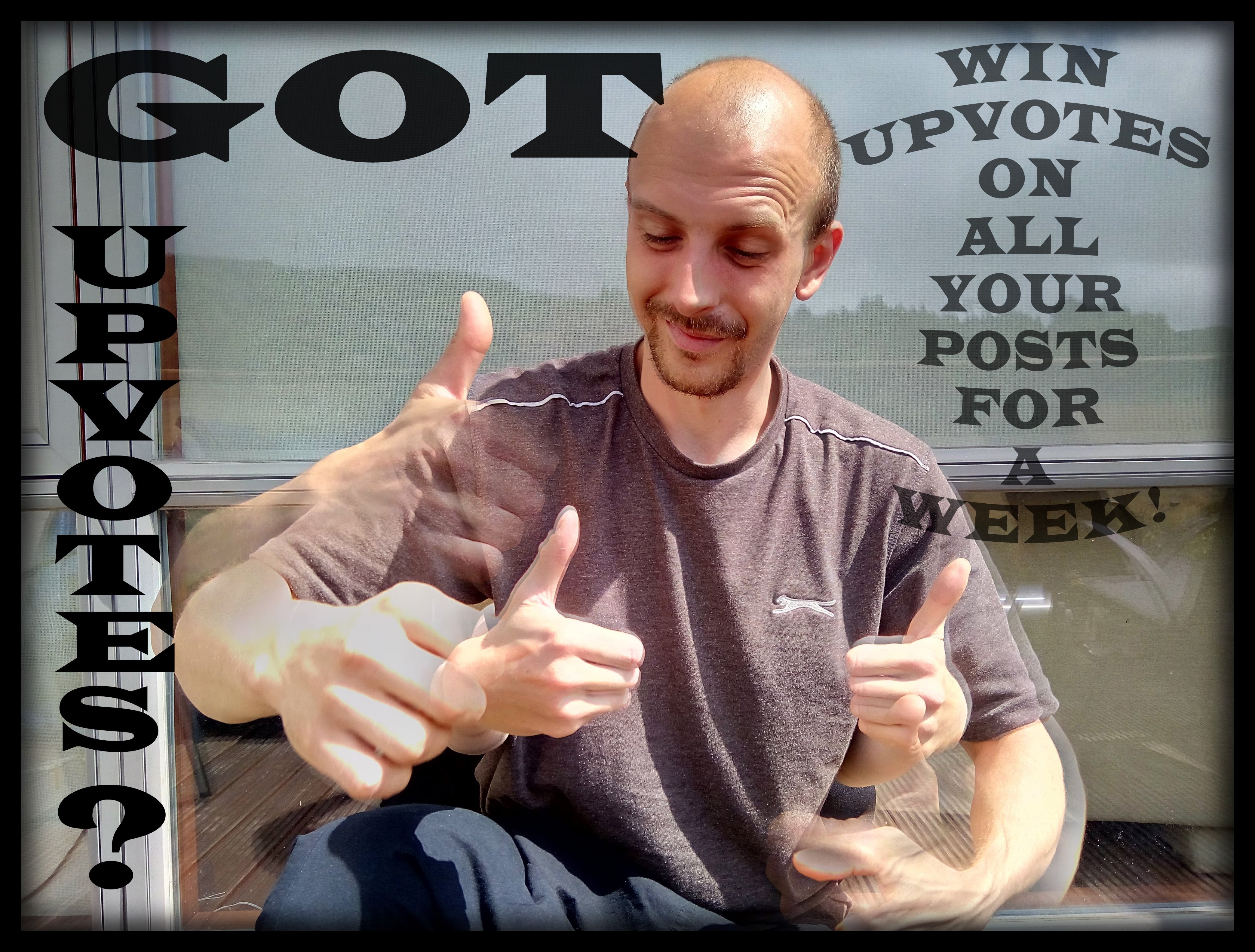 Small giveaway where you can earn weekly upvotes on all your posts.
Next Sunday I will choose two most interesting answers from comments bellow and place respected authors on auto upvote list (manual or bot, depends on the time I have) till upcoming Saturday on 100% upvote (maximum of 2 upvotes a day). I will also post names of the winners for the upcoming week and a new question for you to answer if you want to enroll for the week after. It may not be much earning for start, but it's the best I can do for now and the more I invest and earn more you will be payed, so it's a win-win situation for you and me; also hoping to incorporate more people for rewards as time goes on.
I might start a conversation and if it goes into discussion in civilized manner you will get extended time of upvotes for more days, weeks... and who knows, maybe years to come.
Also, I will try to make sure that new people get involved all the time (this might not always be the case) but it all depends on the numbers of contestants and authors.
Rule is simple:
Comment bellow on this post (to get enrolled for next week auto upvotes) with an answer to my question; you don't need to upvote!
...and remember,
"There are no stupid answers, just stupid questions!"
What does LIBERTY mean to/for you?
---
Last week winners (upvoting starts today and ends on Saturday):
@marjanko - For small conversation
@beeridiculous - For trying to answer my questions
If you would like me to remove you from post tags, please comment and I will do so; sorry for the inconvenience caused by this.
---
Why do I do this?
The reasons are simple; I would like to give something to the community. As in life, you need to give happiness to receive it. It is not something you search for or look for, that is a waste of time and resources; to be happy is something you get from others and to get it you first need to give it.
I like to learn new things, look from other perspectives, try to be as opened to new ideas and thoughts, hear other people opinions, discuss, engage in talk on a specific topic; all for the sake of self-improvement.


MM Photography Series on Flickr:
MM ExplorE Series:
--Palmetum (Tenerife)--Belfast--My balcony view--Amsterdam--
MM Creative Series on Flickr:
MM Contest Series:
-4 SBI shares-
Got Upvotes? (weekly) -1-2-3-4-5-6-
---
Enquiries about anything are welcome!
Upvote, comment and follow if you like!
Have a great life!
---
Work presented on this page is original and authentic; made by me with little help from my wife and internet.
Any redistribution or reproduction of part or all of the contents in any form from this page is prohibited without the permission of the copyright owner, in this case Milan M. (@psyceratopsb)
---
If you want to donate, I will gladly appreciate!
All revenue will be used as funds for opening "MM Art Workshop Studio".
ETH
0xca86490aBf420d625113adA810A05E1977dAF11e
NEO
Abpds5NQLxwFnPfg7RkFw8CFzvNF9WxiMn
---
One small sentence of gratitude to my wife Martina for all of Her support and inspiration!
You can check some of her work HERE
---

---
© All Rights Reserved by @psyceratopsb 2018 ©