WINNERS - STEEM BASIC INCOME CONTEST "THANK YOU ECONOMY" WEEK 6 WINNERS | 6 SBI SHARES
THE "THANK YOU ECONOMY" WEEK 6 SBI CONTEST
WINNER ANNOUNCEMENTS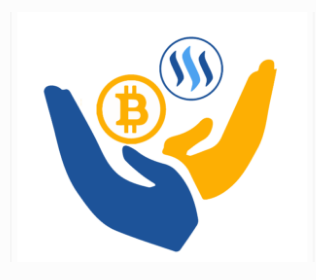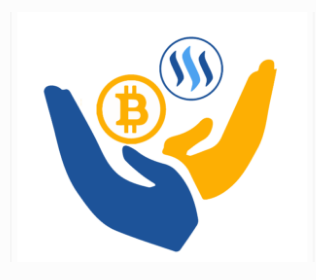 First let me say THANK YOU to everyone who Participated, Commented, Upvoted and Resteem the post.  This is a lot of fun for me and I find a lot of interesting amazing people to follow and new communities.
The level of engagement this week was great, we had a total of 116 comments, and a total of 8 Participants.  
@marblely @stever82 @cicisaja @headchange
They wanted to thank all of these wonderful people for their love and support
@cryptocariad @bengy @headchange @viking-ventures
I love this contest and we had the awesome support of @freedomshift from the #ccc who both sponsored a share of SBI and @ecoinstant with his Small Fish Games who both sponsored two shares of SBI,  So be sure to drop by their blogs and give them some support and check out the #ccc growth initiative and #smallfishgames projects they are supporting.  I am going to continue this contest, I really am having a lot of fun and meeting a ton of new people. We have a couple sponsors for next week's contest, but if you are interested in sponsoring a week just give me a shout out and we will see what we can work out. 
ON TO THE WINNERS !
!!!!!! DRUM ROLL PLEASE !!!!!!
ON TO THE WINNERS !
!!!!!! DRUM ROLL PLEASE !!!!!!
The Winner For The Most Engaging and Interesting Entry
And His Consistantly Creative and Curating Choice
Both will be sponsored by the amazingly engaging @ecoinstant
The Winners by Rando Wheel Selection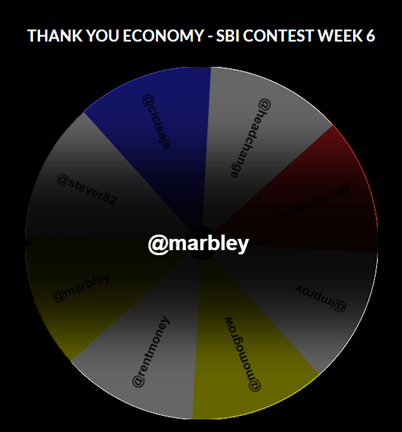 AND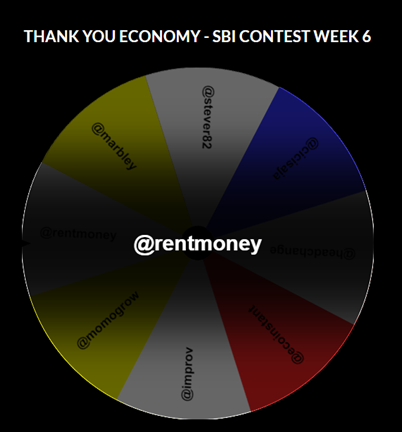 And
Each will receive one share of Steem Basic Income
SPONSORSHIPS
@freedomshift if you will please sponsor @marblely  
I have already sponsored @cryptocariad,  @rentmoney and  @o07

Bonus Round
We had two entries for the #ccc Bonus round from @freedomshift:
We did not have the 6 valid entries we needed, but @freedomshift has adjusted the rules, these entries will now be cumlative. So when we have a total of 6 entries over the next 3 weeks they will all be added to a drawing for a SBI share. @freedomshift is pretty awesome!
Congrats to all the winners!!!! If you guys really enjoyed The Thank You Economy, or have any suggestions let me know in the comments and the WEEK 7 CONTEST IS OPEN
Just Incase You Don't Know What SBI Is.
In the interest of saving space you can learn more by visiting @steembasicincome.  It is a pretty cool project with several people working on it. The brains behind the operation and main sponsor is @josephsavage #steembasicincome  
AND NOW A WORD FROM OUR SPONSORS......
(In my best tv host voice!!!)
What is The Small Fish Games? It is the brain child of @ecoinstant, who is currently beta testing an initiative to create some fun and engagement here on steem. I have a feeling it's going to be a lot of FUN and he is talking about some great prizes: Delegated SP, SBI shares, Treeplanter Upvotes....
You can check out the beginning of the Small Fish Games in this post: Hidden Contests and the start of the Small Fish Games! The post has paid out but, He is accepting entries, comments, suggestions, clarification, notification, queries, confused looks and complaints in the comments section!
________________________________________________________________
#ccc stands for Curation Circle Creed.
The "Curation Circle Creed", the "honor code":
I will post original contents of original writing.
I will clearly and properly source references, text and other media, abiding by copyrights.
I will respect other people's opinion, nationality, religious belief, language, and culture.
I will abide by rules laid out in the FAQ and generally accepted by the community.
You can learn more about the #ccc in this post : The Honor Code - the Creed (Conditions and Limits Inside)  
REMEMBER TO SAY  "THANK YOU" TO SOMEONE
Like maybe our sponsors...  drop by their latest post and give them a little support to say thank you.  
Thank You Everyone For Another Great Week
If you enjoyed this please Follow Upvote and Restream
You can also catch me on 
LinkedIn  Yes I'm a super-nerd computer geek who likes nature and gardening.
Twitter   Mainly use this for airdrops and other things I enjoy scoping out.