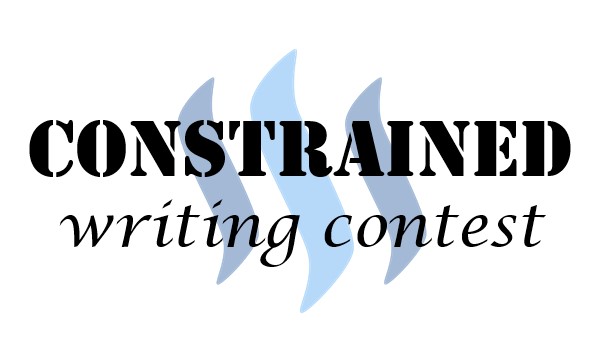 ---
Most writing contests give you a writing prompt or at least a couple of words to work your idea around, which is why I decided to host a slightly different contest.
---
A constrained writing contest
Instead of giving you an idea or a writing prompt, I will allow you to choose the topic completely by yourself. But, varying from week to week, I will come up with different challenges.
You will be required to omit certain words, use a specific word in every second sentence, use a given sentence unchanged, write a story with a certain amount of words... or a combination of all.
---
Winners of constrained writing contest #10
This week we had a guest judge joining us. @dfrankle picked this week's constraint and the winners of this contest. @dfrankle studies English at Harvard and is working on writing his own novel! A well qualified judge indeed.
There were a total of 6 amazing entries this week. I thank everybody again for their entries, I had a very good time reading them, but it ultimately boiled down to this week's judge @dfrankle to pick out the winners.
And here they are:
Judge's note: I loved the setup and the slow reveal, and using the second person really paid off. When I figured out what had happened, I had to read the whole thing again, and I had chills reading it again. The fact that the speaker was dead really caught me off guard, but I think that it really worked.
Judge's note: The setting and the speakers only became clear partway through, and I loved the effect of the darkness creeping in throughout. It's like the voice was there, but just barely -- it gave it a sense of realism that I loved. And the voice spoke, but was not heard -- "Ma, can you hear me?" that nobody responded to. There seemed to be some misplaced gender pronouns, like a few times, "he and him" seemed to apply to "Ma," when it should have been the female identifiers, I think, but that only slightly inhibited my comprehension and would be easily fixed with a little editing.
Judge's note: This read like a very realistic and honest journal entry, and I could hear the speaker slowly realizing that he was the source of his own problems, that he was the one getting in his own way. Very good!
Congratulations to the winners!
Honorable mentions in no particular order:
Judges overall note: Overall, there was a very good pool, and I was very impressed by all the entries 🙂
---
Proof of payment:


Or you can always check our wallets ;D
---
With that out of the way, onto constrained writing contest #11!
---
Rules:
Tell a fictional story from (at least) two different perspectives
The entire story must be at least 300 words long
Upvote this post
Resteem this post
Post a link to your entry in the comments below
Include tag #constrainedwriting among your other tags
An example story will be posted shortly. I will edit the link to it here.
edit: You can find the example story by clicking here.
---
Prizes
I will pay out the post's payout in full, both SBD and STEEM!
---
That way your upvote is directly tied to the prize pool and hopefully there won't be too many 5% upvotes.
1st place: 45% of post's payout
2nd place: 27% of post's payout
3rd place 18 % of post's payout
Judge takes 5 % for his/her efforts
I will take 5 % for hosting, writing and editing the contest
I also resteem all contest entries.
*In case I receive any donations for the contest, the payout percentages apply to the donation itself as well.
---
Judges
This week we had an external judge join us; Let's give a round of applause for @dfrankle! :D
Since no one else contacted me to be a judge yet; it's all me this week.
I will pick a winner based on my own preference.
I will try to be as objective as possible.
If you wish to apply for a judge and make up your own rules, send @svashta a hearty hello on steemit.chat.
*Disclaimer: I will only allow fellow writers as judges to keep the competition high quality.
---
Deadline
Entries are accepted until this post's payout
Your entry post must be newer than this post
---
Good luck!
---