SUMMARY
NEBLIO (NEBL) is quite attractive! Why? Well, when is the best time to buy? At the terminal end of a correction! And, NEBLIO is nearing that stage!
The below chart outlines the massive Cup & Handle pattern. The handle is being formed in the shape of a descending wedge pattern..this is bullish! Sellers were plenty at the beginning of this wedge and now they have been selling at all their might for several days. They have a problem....the number of sellers are dwindling and soon there could be nothing but buyers left. What happens when there is not a seller to be seen? Price explodes!!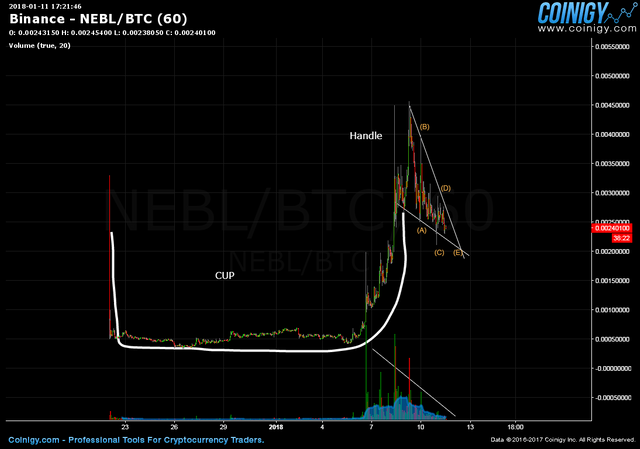 This chart includes the Elliott Wave projection for Wave 3 at 0.0102 BTC and wave 5 at 0.0121 BTC. Bear in mind that the NEBL/BTC pair could increase in price in two modes. First, BTC could decline and that naturally would raise ALL the /BTC pairs. Or, the BTC could also rise but the rate of demand for NEBL far exceeds the rate of rise for BTC. I believe many often don't consider this and hence the primary reason why it lags the dollar pair which NEBL doesn't have. I believe exchanges have started providing an automated USD translated charts as I see these more and more in Tradingview.com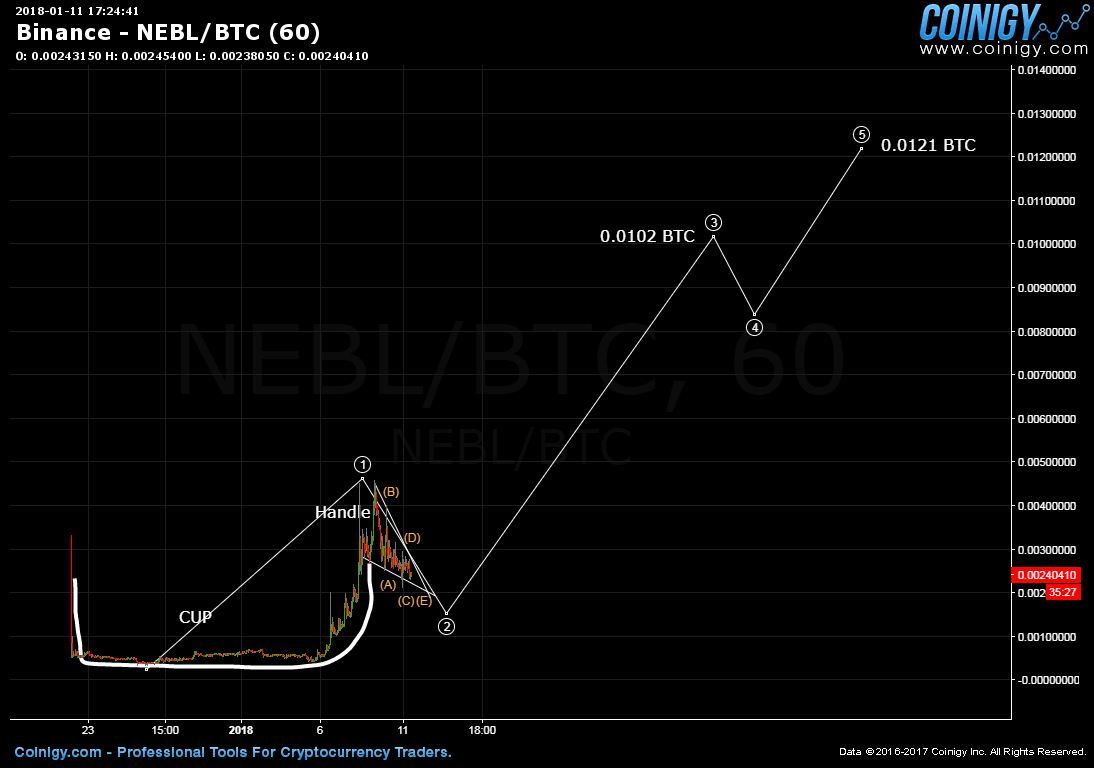 The NEBL/ETH pair is nearly identical to the NEBL/BTC pair. This often means that sentiment is quite uniform. Or, perhaps, NEBL had its ICO in ETH. Either way, the high similarity index in pattern reflects similar bullish indications! The Cup & Handle with the a,b,c and wedge at the same time!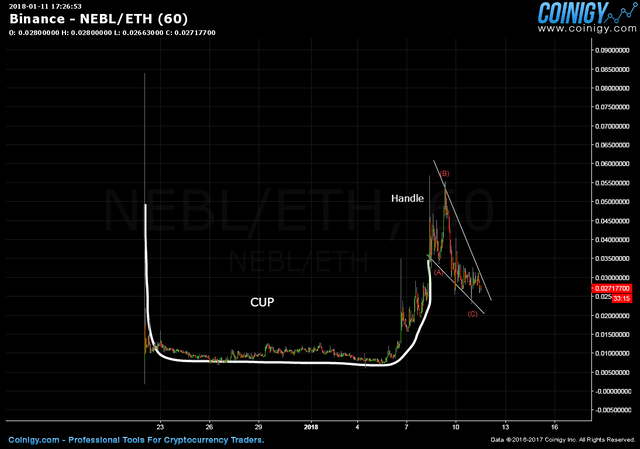 Here is the projected targets that the Elliott Wave impulse could raise NEBL/ETH to: 0.149 ETH!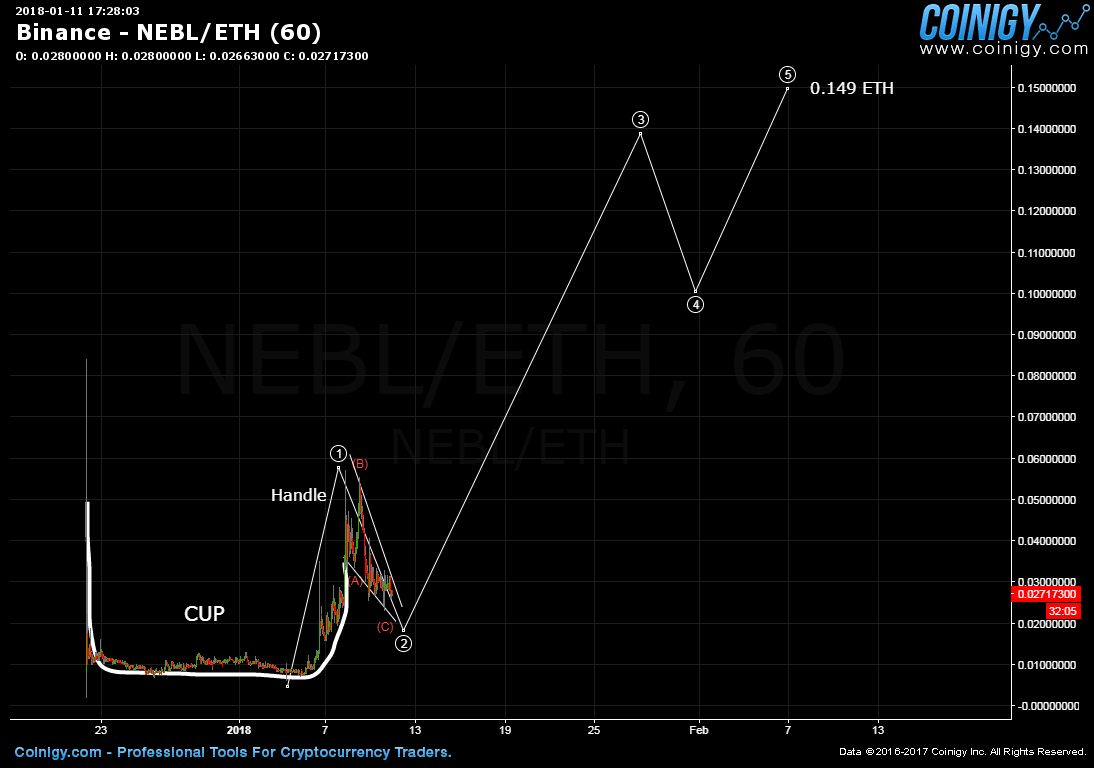 Please consider reviewing these Tutorials on:
Elliott Wave Counting Tutorial #1
Elliott Wave Counting Tutorial #2
Elliott Wave Counting Tutorial #3
Laddering and Buy/Sell Setups.
Laddering Example with EOS
Tutorial on the use of Fibonacci & Elliott Waves
These Technical Analysis Books: Elliott Wave Priniciple & Technical Analysis of Stock Trends are highly recommended
@haejin's Trading Nuggets
Essay: Is Technical Analysis a Quantum Event?
Follow me on Twitter for Real Time Alerts!!
Follow me on StockTwits for UpDates!!
--
--


If this blog post has entertained or helped you to profit, please follow, upvote, resteem and/or consider buying me a beer:
BTS Wallet - haejin1970
BTC Wallet - 1HMFpq4tC7a2acpjD45hCT4WqPNHXcqpof
ETH Wallet - 0x1Ab87962dD59BBfFe33819772C950F0B38554030
LTC Wallet - LecCNCzkt4vjVq2i3bgYiebmr9GbYo6FQf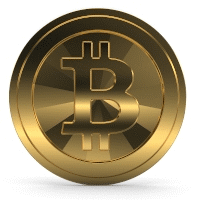 Legal Disclaimer: This is only my opinion, make of it what you wish. What does this mean? It means it's not advice nor recommendation to either buy or sell anything! It's only meant for use as informative or entertainment purposes.**