Bitcoin (BTC) Morning Update: The Short & the Long of It!

SUMMARY
Zooming in and out between short and longer term timeframes often helps prevent myopia which is a dangerous trap for any analyst. Too often, constant focus onto a single zone of timeframe prevents wider scoped data points from impacting trade decisions.
The below chart shows the short term and the greater likelihood of an ABC correction. The blue upward pointing wedge shows that perhaps one more incremental stab towards $9,453 or so could mark the red B wave and onset the minor decline for red C wave towards $8,500 or so.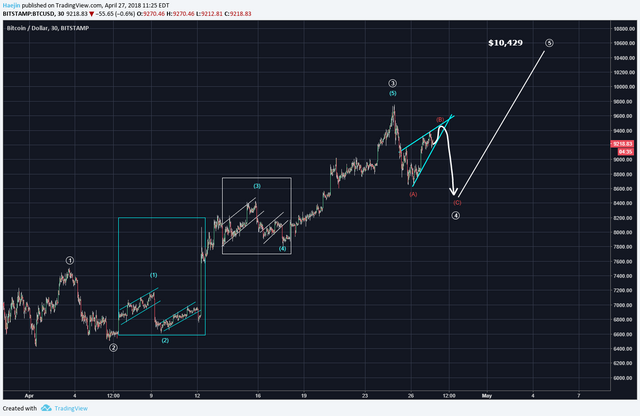 Zooming out a bit, once can clearly see a channel developing. When price moves within a channel between parallel lines, it's a very good confirmation of an impulse status. So the short term red C wave could retreat to touch or perhaps temporarily pierce the lower white trend line.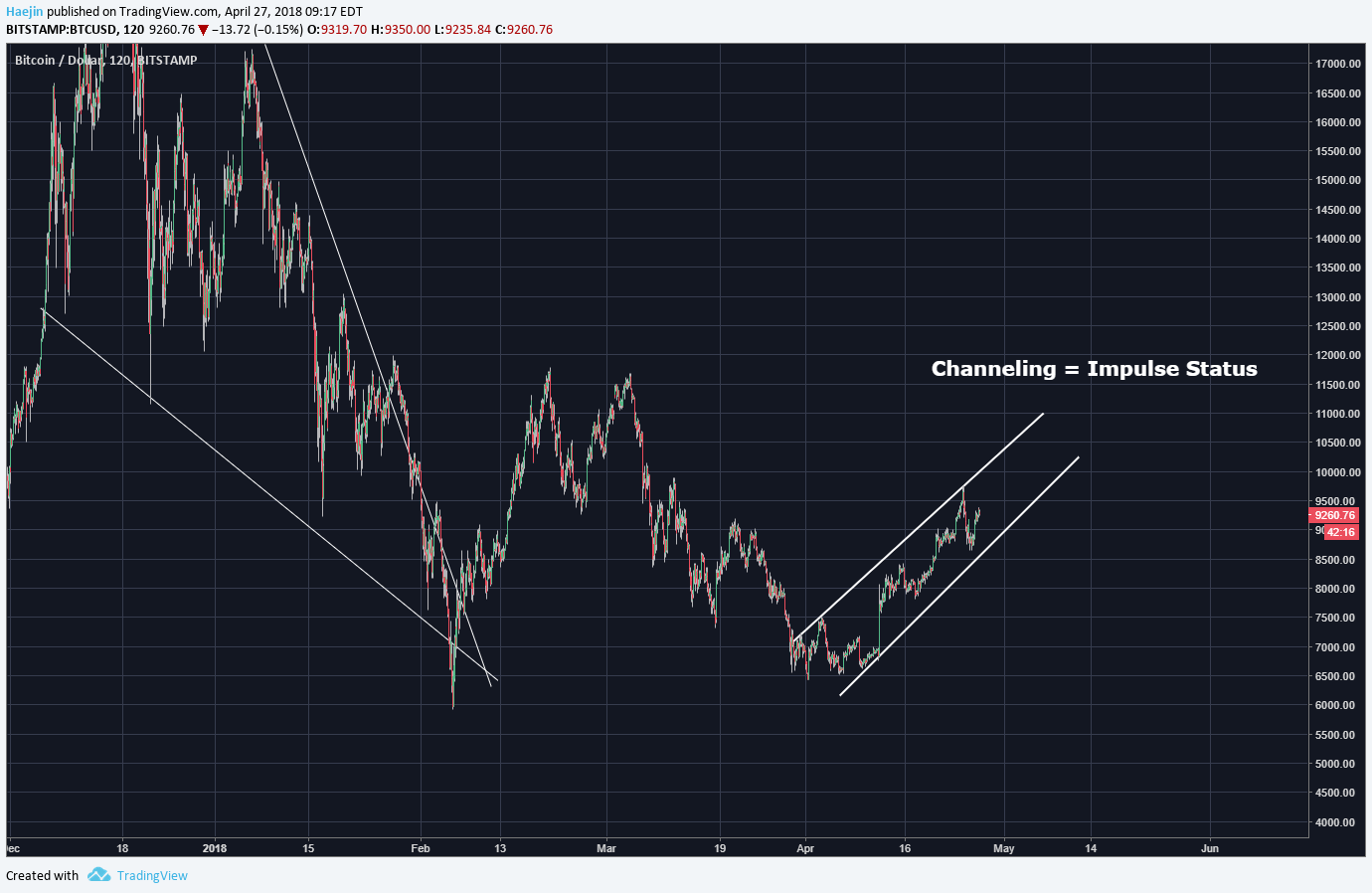 Another iteration is that there is an uncanny contour of price bars shaping out to be a rounded price formation. IF this is the Cup portion then forward discerning the Handle pattern would make good sense.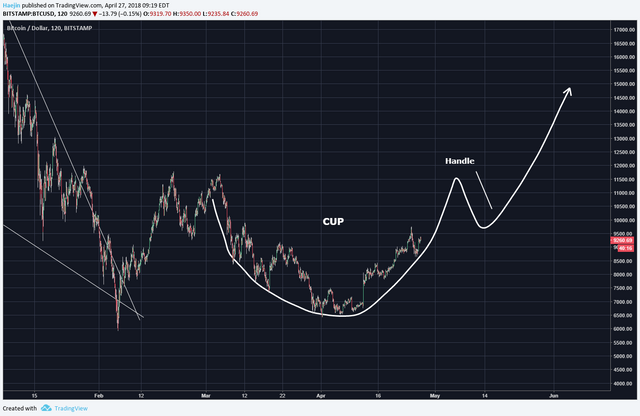 Another bullish pattern that jives well with all the above is also an Inverted Head & Shoulders pattern. This looks quite attractive. Volume thus far confirms (yellow boxes). IF the RS (Right Shoulder) forms; it jives well with the Handle portion of the Cup & Handle. The minimum target shows to be $16,758 and the reason why it's called a minimum is because it's usually overrun. That would set the gates open to re-attin the $20k and beyond!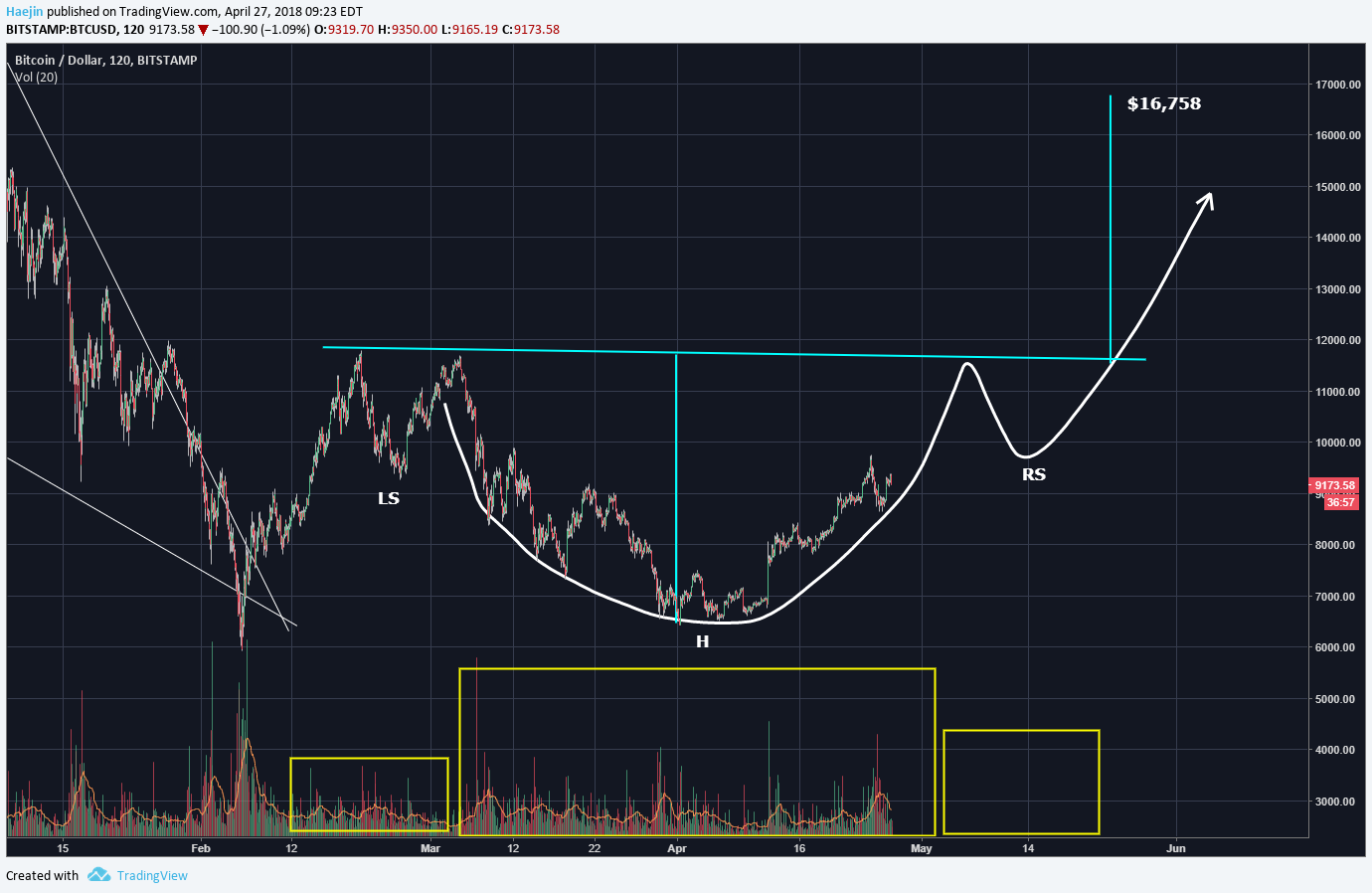 So, this post took you through the short term to the longer time frame perspective. What's clear is that all patterns, indicators and Elliott Waves seem to be pointing in the same direction....UP!
Legal Disclaimer: I am not a financial advisor nor is any content in this article presented as financial advice. The information provided in this blog post and any other posts that I make and any accompanying material is for informational purposes only. It should not be considered financial or investment advice of any kind. One should consult with a financial or investment professional to determine what may be best for your individual needs. Plain English: This is only my opinion, make of it what you wish. What does this mean? It means it's not advice nor recommendation to either buy or sell anything! It's only meant for use as informative or entertainment purposes.
Please consider reviewing these Tutorials on:
Elliott Wave Counting Tutorial #1
Elliott Wave Counting Tutorial #2
Elliott Wave Counting Tutorial #3
Laddering and Buy/Sell Setups.
Laddering Example with EOS
Tutorial on the use of Fibonacci & Elliott Waves
@haejin's Trading Nuggets
Essay: Is Technical Analysis a Quantum Event?
Follow me on Twitter for Real Time Alerts!!
Follow me on StockTwits for UpDates!!
--
--