SUMMARY
Last night, it was amusing to see many panic so quickly from Bitcoin's $400 air pocket drop. With more experience and ability to proficiently identify primary and alternate price pathways, one learns to depart away from reactionary emotions. The video analyis addresses this much more in detail.
The below chart represents my primary count for higher highs. I've updated the Elliott Waves to reflect last night's decline to be wave 4 and so now, wave 5 of circled blue five of white iii should take place.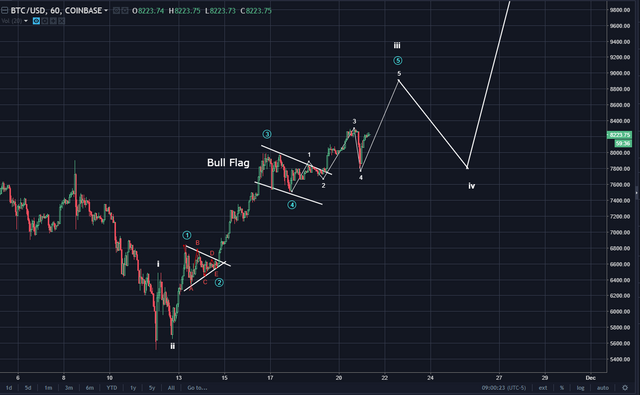 The top alternate count is a relabel of Elliott Waves showing the white wave v is in and so an abc correction would ensue towards the level of prior wave iv or around $7,400.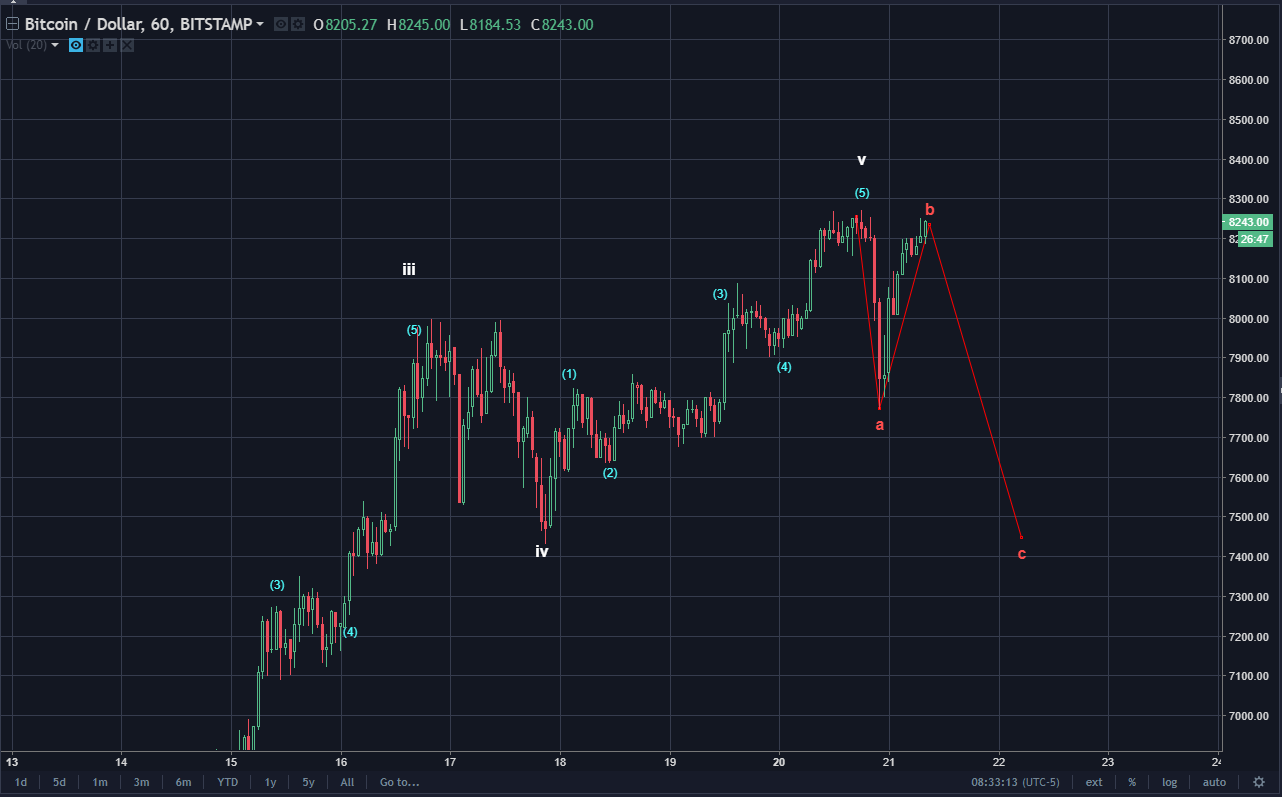 The next alternate count is for an expanded flat a,b,c correction as shown. Wave b would carry price to a higher high but wave c would decline well below red wave a.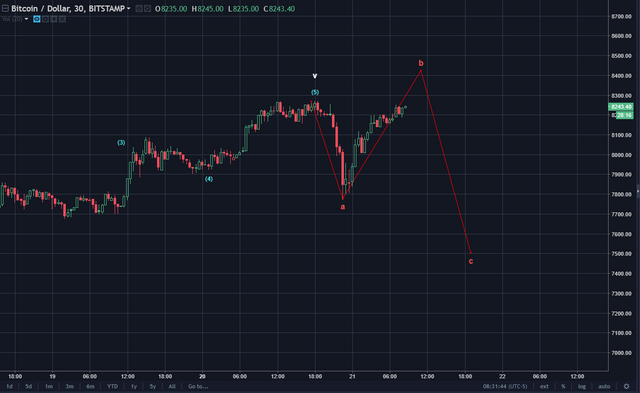 The chart for Bitcoin Cash (BCH) has also been updated. I strongly recommend you view the video on this as another of @haejin's secret sauce component is released. I believe the symmetrical triangle is near complete and price can be expected to surge out and up as shown.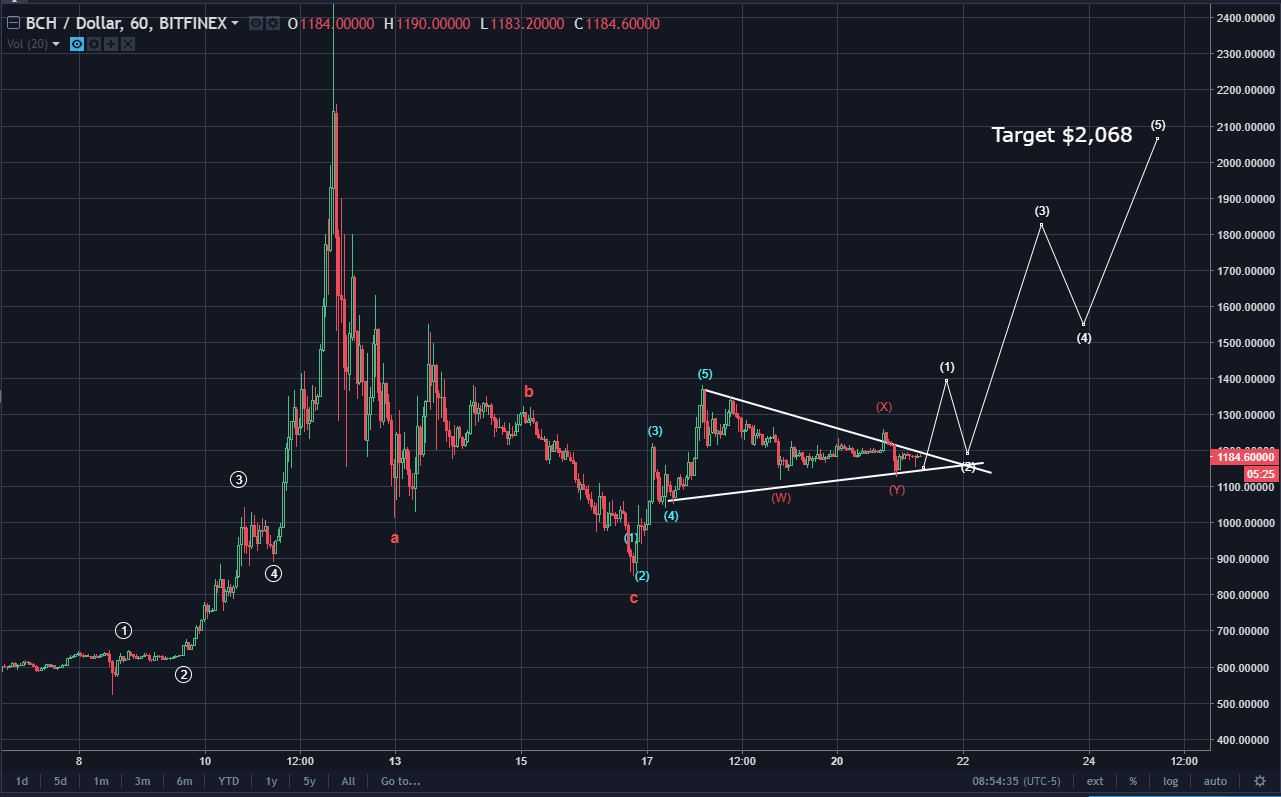 Here is the link on the Essay: Dangers of Herding. It would be a good read for all.
Not sure why Youtube is again causing view issues. I'm hoping this video will come through as it contains lots of gems.
Please consider reviewing these Tutorials on:
Elliott Wave Counting Tutorial #1
Elliott Wave Counting Tutorial #2
Elliott Wave Counting Tutorial #3
Laddering and Buy/Sell Setups.
Laddering Example with EOS
Tutorial on the use of Fibonacci & Elliott Waves
These Technical Analysis Books: Elliott Wave Priniciple & Technical Analysis of Stock Trends are highly recommended
Follow me on Twitter for Real Time Alerts!!
--
--


If this blog post has entertained or helped you to profit, please follow, upvote, resteem and/or consider buying me a beer:
BTS Wallet - haejin1970
BTC Wallet - 15ugC4U4k3qsxEXT5YF7ukz3pjtnw2im8B
ETH Wallet - 0x1Ab87962dD59BBfFe33819772C950F0B38554030
LTC Wallet - LecCNCzkt4vjVq2i3bgYiebmr9GbYo6FQf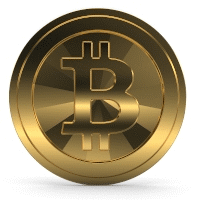 Legal Mumbo Jumbo
: This is only my opinion, make of it what you wish. What does this mean? It means it's not advice nor recommendation to either buy or sell anything! It's only meant for use as informative or entertainment purposes.**