Bitcoin (BTC) Morning Update: Pregnant with a Triplet!

SUMMARY
Bitcoin (BTC) has gone lower overnight....is it time to panic? Never! Let me take you through some reason and charts as to why. The below shows the current wedge being nearly complete. Price has pierced the lower line of the wedge pattern and that is a good setup for it to return quickly back into the wedge boundary to form a bull wick. Let's see what happens today.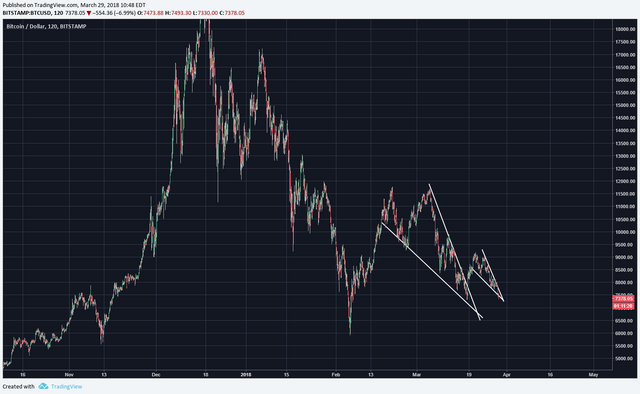 The 0.78 Fibonacci level could be the target as the prior bounced occurred near that zone. IF the 0.78 level breaksdown, then the 0.88 Fib level will be next and this level will coincide with the touch of the long support line as shown in below chart.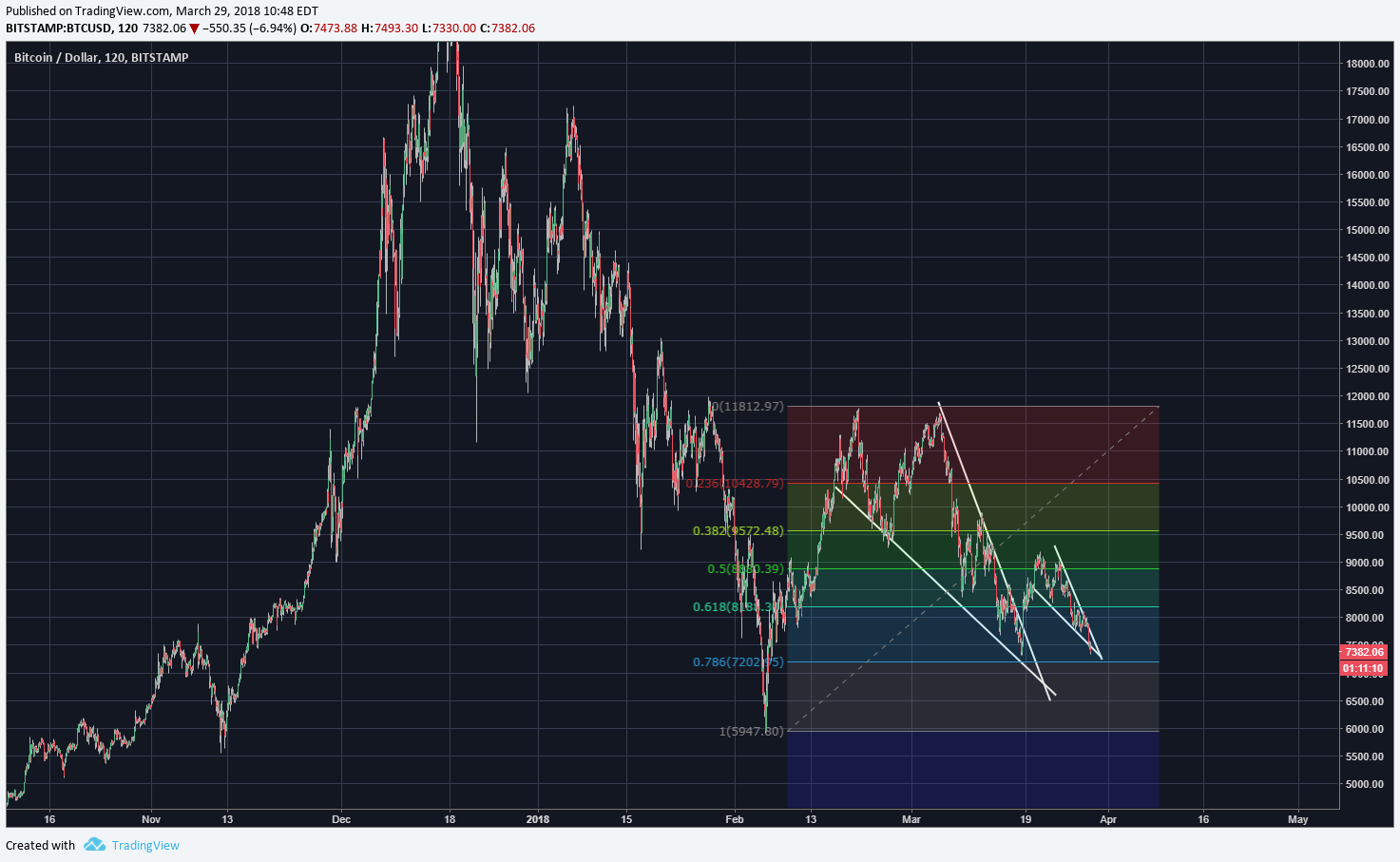 Here is a larger symmetrical triangle (blue) pregnant with triplets! The sequence of three wedge formations is actually quite bullish and even more when it's embodied by a larger pattern. Let me explain. The first wedge was sizable and it represented the full brunt of selling power. The second wedge was another attempt by sellers to achieve a lower low and failed. And the current, third, wedge is yet another attempt by sellers to take Bitcoin down but its effort is a pittance compared to their first try. What does this means? The selling pressure is deflating. This pattern, rationale and expectation holds as long as the lower long term support line holds (blue line). Thus far, it has held quite well. Price could touch this line and if it did so today, it would be at the $6,890 level and that also equates to the 0.88 Fib zone.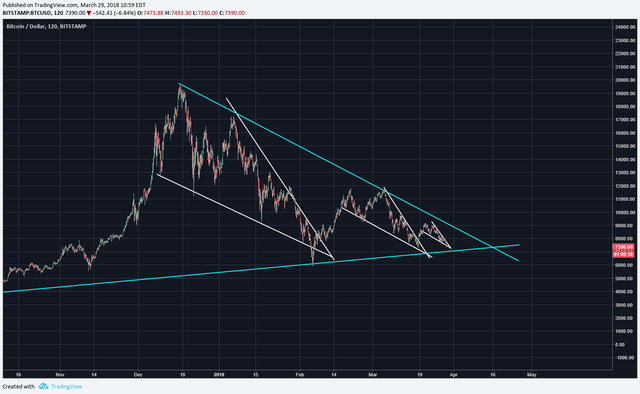 The bull flag pattern is still valid and price touch of the long term support line could provide the completion of this pattern.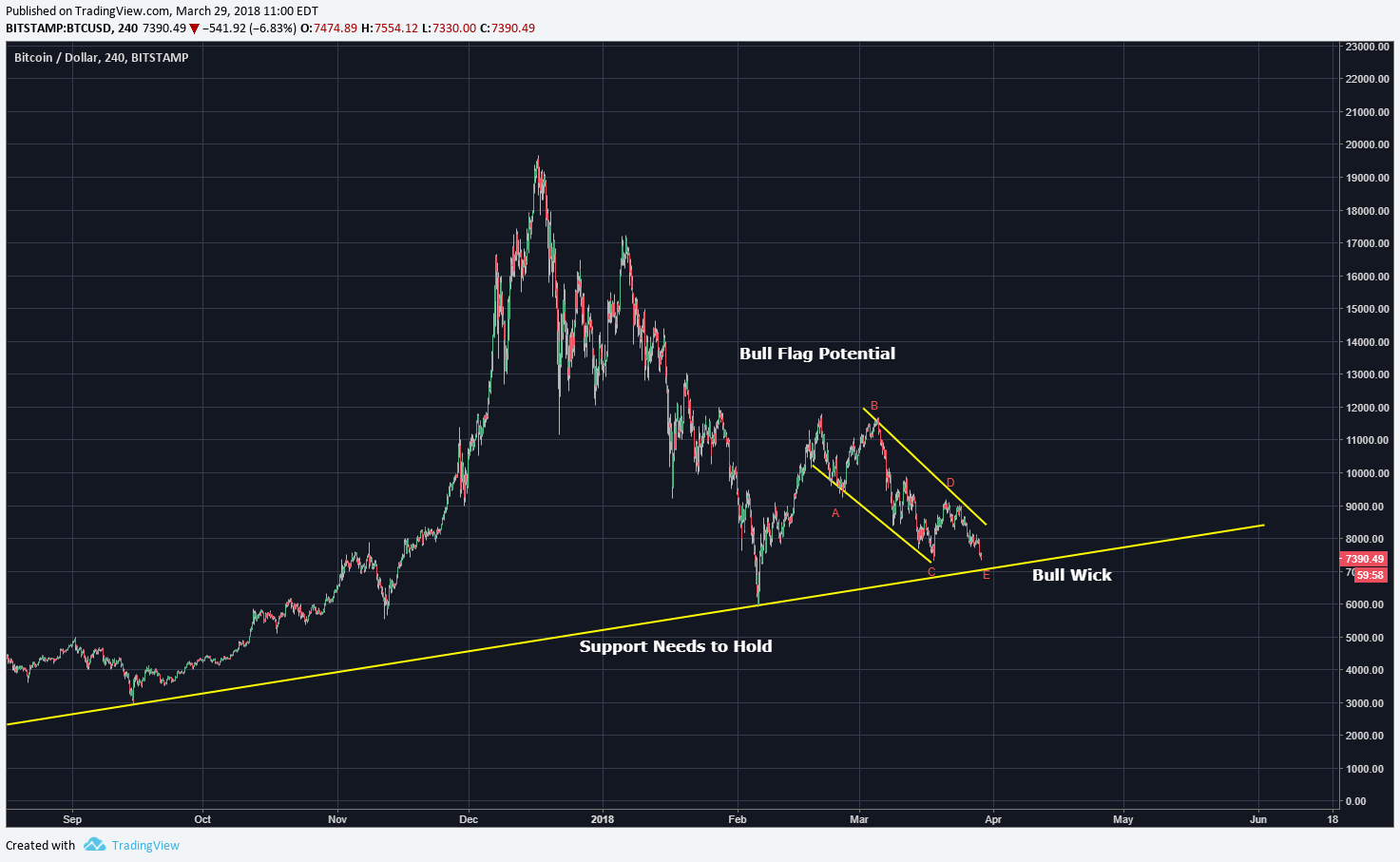 The second long term support line resides in the $5k range. IF the first long term support breaks, then the second support will be the fall back zone.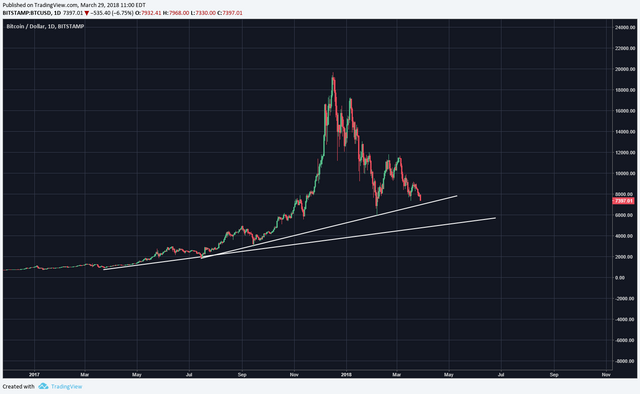 Legal Disclaimer: I am not a financial advisor nor is any content in this article presented as financial advice. The information provided in this blog post and any other posts that I make and any accompanying material is for informational purposes only. It should not be considered financial or investment advice of any kind. One should consult with a financial or investment professional to determine what may be best for your individual needs. Plain English: This is only my opinion, make of it what you wish. What does this mean? It means it's not advice nor recommendation to either buy or sell anything! It's only meant for use as informative or entertainment purposes.
Please consider reviewing these Tutorials on:
Elliott Wave Counting Tutorial #1
Elliott Wave Counting Tutorial #2
Elliott Wave Counting Tutorial #3
Laddering and Buy/Sell Setups.
Laddering Example with EOS
Tutorial on the use of Fibonacci & Elliott Waves
@haejin's Trading Nuggets
Essay: Is Technical Analysis a Quantum Event?
Follow me on Twitter for Real Time Alerts!!
Follow me on StockTwits for UpDates!!
--
--