Bitcoin (BTC) Morning Update: How to Remain Calm in a Correction

SUMMARY
NOTE: The Video has much more details, more than that can be covered in a summary.
Bitcoin (BTC) is likely starting what should be a final lower low towards the $8k or $7,500 or so regaion. IF the symmetrical pattern holds, as it has now since early January, then the final wave 5 of this diagonal should be reached soon. It will be in this region where the Fib 0.618 regiona lies. The chart below shows a fractal in play and how the first white support line in the blue box was broken and currently, the blue support line in the white box is expected to be breached. The purple lines are the tentative landing spots. I will be counting the subwaves of the final leg down as that will provide a good sense of the "geo" positioning.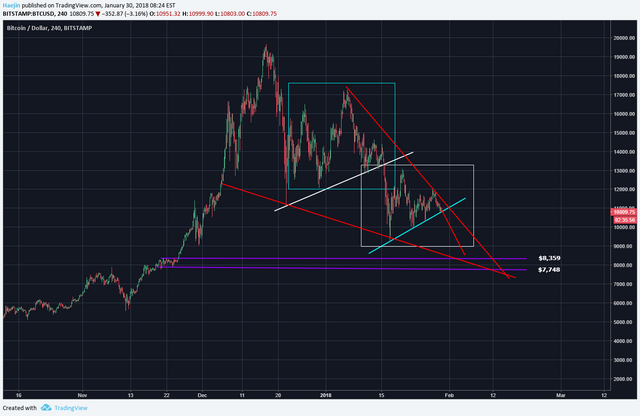 This chart illustrates the diagonal wave count 1,2,3,4,5 and IF correct, we should be in the final wave 5 leg. The bottom of this wave 5 should be near the bottom line of the triangle. Given the contracting nature of this pattern, wave 5 is also the shortest!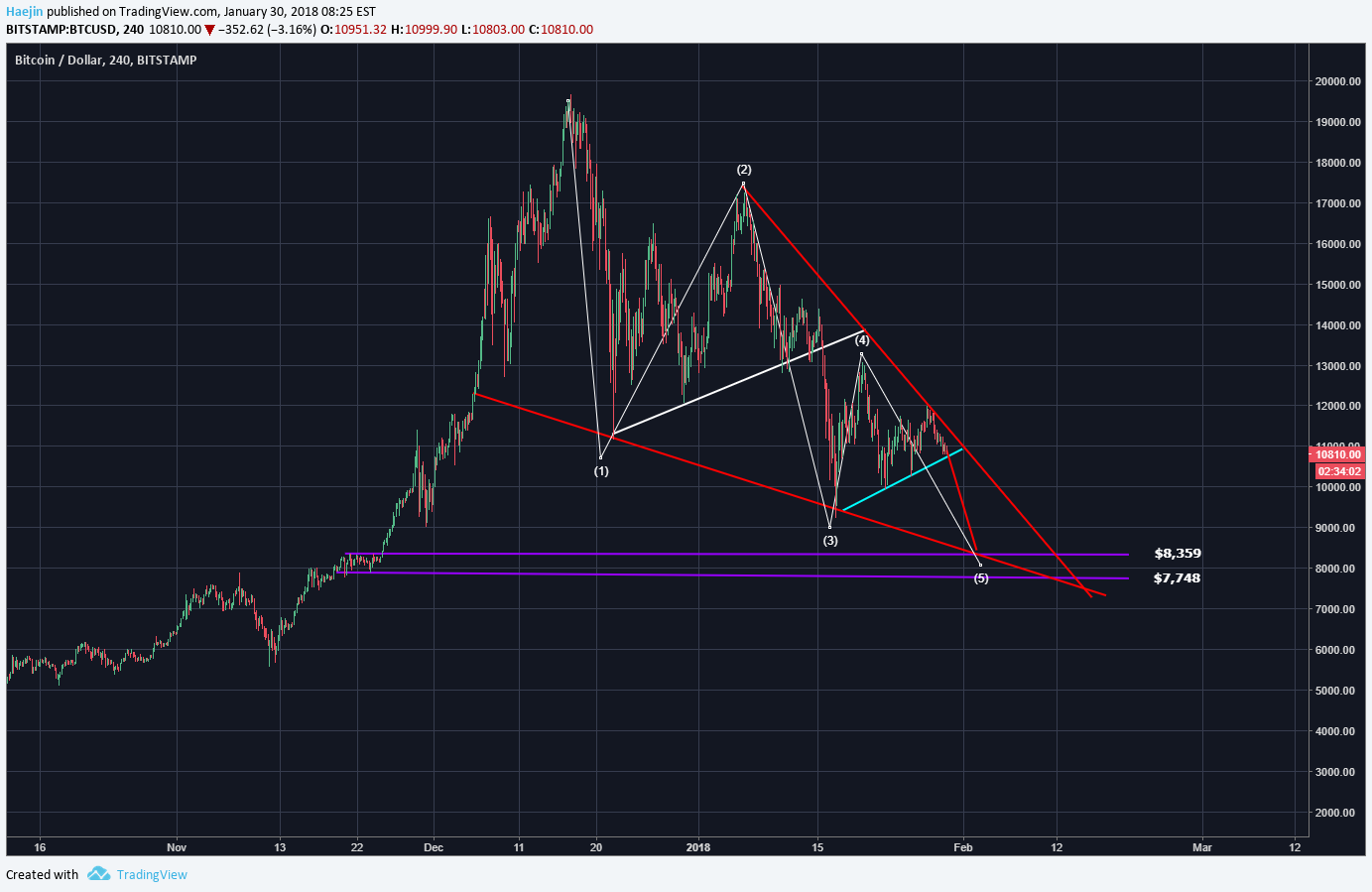 How do I remain calm? Awareness! More specifically, awareness of the big picture. In light of the below, the current correction, with all the fears, panic selling, frustrations and blaming.....it's a correction and a healthy one for that matter! I believe we are in a wave 2 of a higher degree correction. What comes after wave 2? Wave 3 up! And wave 3s are not weaklings! They are the most vigorous, violent and extended amongst the five waves of an impulse. So, from this persepctive, I patiently await the bottoming of this correction, keep my powder dry and ready to deploy.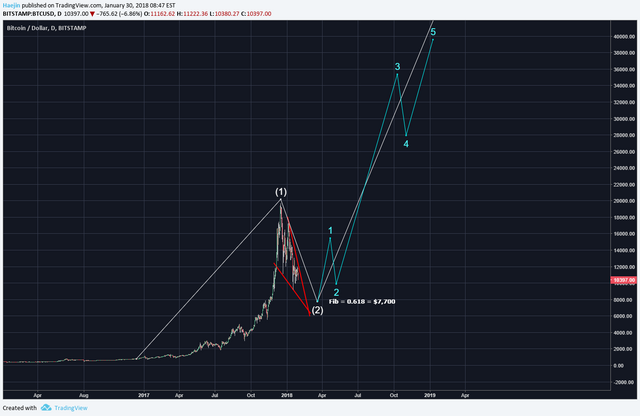 Legal Disclaimer: This is only my opinion, make of it what you wish. What does this mean? It means it's not advice nor recommendation to either buy or sell anything! It's only meant for use as informative or entertainment purposes.
Please consider reviewing these Tutorials on:
Elliott Wave Counting Tutorial #1
Elliott Wave Counting Tutorial #2
Elliott Wave Counting Tutorial #3
Laddering and Buy/Sell Setups.
Laddering Example with EOS
Tutorial on the use of Fibonacci & Elliott Waves
@haejin's Trading Nuggets
Essay: Is Technical Analysis a Quantum Event?
Follow me on Twitter for Real Time Alerts!!
Follow me on StockTwits for UpDates!!
--
--


If this blog post has entertained or helped you to profit, please follow, upvote, resteem and/or consider buying me a beer:
BTC Wallet - 1HMFpq4tC7a2acpjD45hCT4WqPNHXcqpof
ETH Wallet - 0x1Ab87962dD59BBfFe33819772C950F0B38554030
LTC Wallet - LecCNCzkt4vjVq2i3bgYiebmr9GbYo6FQf