Is it just the visual element or is it something more?
Working visually helps you see things as a whole.  It brings you into your center and into the present moment.
When you are in your art, you feel confident and open.  That openness helps you connect with the flow of the universe.  That flow helps you be greater than yourself.  That greater self is freedom.
When you are in your art, you are your boss.  Perhaps that's what I like most!  You are in charge.  You get to choose what happens, when and how.  Just you and the universe.
It's a Zen thing ...and not just for visual art.  You could be cooking, drinking tea, tending the garden or filing papers.  When you are in 'art' everything becomes beautiful.  Wherever you are is full of treasure.  All your experience is with you, fertilised by your actions, bringing new energy to the world.  
Maybe we should all do that more often.
What's your art?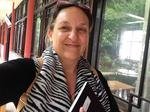 Hi, I'm Margot.  I love to write about energy, art and intuition.  Art is a great way to discover the universe side. Give it a go! 
Your comments and upvotes encourage me to continue my work and are truly appreciated.