Summary
Argentinean assets collapsed yesterday in a rarely seen extent, by 20-30 percent.
Avoid highly inflationary assets and rogue states.
However, Argentine stocks do not seem cheap yet.
"Who'd be foolish enough to buy Argentina's 100-year bonds?", "Big funds that bought a bad, bad bond" – you could read this on Marketwatch.com earlier. Some experienced investors were laughing loud as Argentina issued a 100-years sovereign bond in the summer of 2017. Knowing history, you could remember that the county was in bankruptcy at least a half a dozen times in the last 100 years, so buying these bonds, seemed to be financial suicide.
Getting worse and worse
And, in the light of new events, it was. Already in February 2018, Bloomberg wrote: "Things went from bad to worse for Argentine bondholders this week". Then some weeks later: "Time to cry for holders of Argentina's 100-year bond?" – a title of Financial Times. But now, it is much worse.
"Argentinian assets plummeted in price today after Alberto Fernández, a leftwing populist opposition politician, soundly defeated rightwing incumbent president Mauricio Macri in a nationwide primary election over the weekend". Yesterday, by data presented by Yahoo Finance, the 100-years bond, already in negative territory, fell to 54 percent from 74 percent of its face value, approximately.
Huge gap of 700 percent
That is 27 percent in one single day. The Argentine Peso fell approximately 30 percent, the S&P Merval leading stock market index, also 30 percent. The Global X MSCI Argentina ETF (ARGT) ETF (Exchange Traded Fund), calculated in USD, "only" 25 percent. (If you think the math is wrong remember that different assets can have different markets and various closing times.)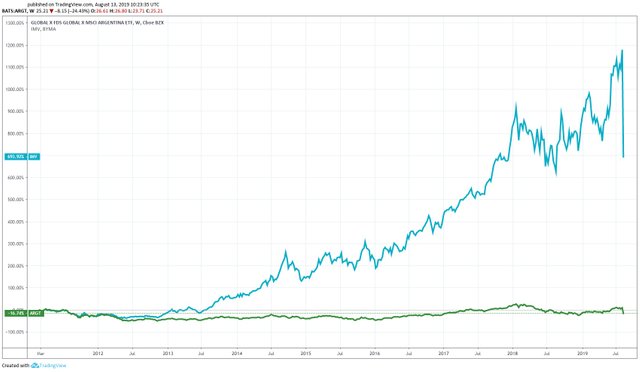 (Click to view in higher resolution. Chart courtesy of Tradingview)
On the chart, you can see the Merval index calculated in the Argentine peso and the mentioned ARGT Argentine shares ETF in US dollars. The difference is huge: the heavily inflationary Argentine peso provided a 694 percent yield in some more than eight years (since data is available). But the investment was a defeat in USD-terms, the ETF fell 17 percent in this period.
The effect of dividends
To complete the picture I have to mention that the ARGT ETF also paid dividends, every six months. I suppose mostly 1-2 percent of the ETF's share price on a yearly basis. (Nasdaq.com) By Fidelity and Global X, the ETF had a yearly yield of two percent from its inception in early 2012. Far less than other stock markets on a USD basis.
What means this for us, poor Steemians? Avoid highly inflationary assets? Avoid rogue states which are robbing their citizens and foreign investors with sovereign defaults (state bankruptcies), hyperinflation and currency devaluation? Or, that cryptos are the best investment? Most cryptos are also inflationary, by the way. (I wrote about it.)
Cheap?
Another conclusion, for me, a small and poor investor hunting very cheap assets, is: the Argentine stock market is not cheap enough yet. I prefer prices on 10-20 years low, or all-time lows by at least some indicators. But ARGT was also by 15 USD in 2012, and now, after the fall of yesterday, it is 25. I assume another 30-50 percent fall in USD terms can easily happen if things get worse.
If you want to message me in private you can find me in various popular Discord channels (Palnet, Steemleo, Steempeak, Neoxian, dPoll etc.)
The series "Chart Of The Day"
I started a series with the title "Chart Of The Day" because I see every day interesting events or phenomena on the markets or in the news. Other parts here:
The last ones:
Older ones: