Charts Of The Day – Which Token Fell 80 Percent In A Single Day?
(Steem-Engine tokens' price watch, volume 2.) I continue collecting price data from the new SCOT tokens, as no other historical prices are available. I have included much more tokens today than the first time. And of course, some more days are drawn on my charts.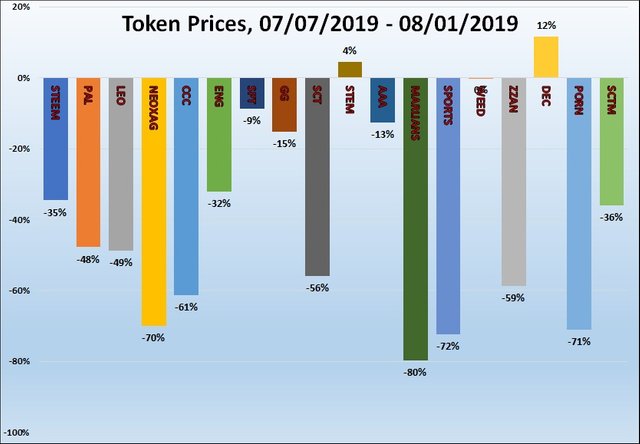 (Click to view in higher resolution.)
The picture hasn't changed very much: most tokens are falling, only STEM and DEC are some percent over the waterline (over zero). And WEED was stagnating, but only thanks to a big jump just today. Let's see if the pot keeps WEED token high in the future.
Underperforming STEEM
STEEM itself fell 35 percent in these 24 days, the average price movement of all 18 tokens on the charts was 38 percent. Below zero, deep down, of course. That means, the tokens have underperformed STEEM on average.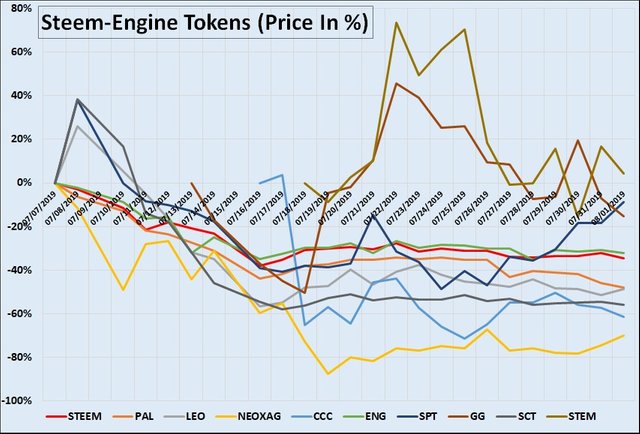 (Click to view in higher resolution.)
PORN, one of the newest tokens, fell with extraordinary high speed, was approximately 80 percent down in one single day. (I like porn and erotic art, but I'm not sure if I want to curate it on regular basis. I have too many types of tokens. So I'm glad I have sold my PORN's. I hope others will curate it.) MARLIANS made something similar, only in 2-3 days.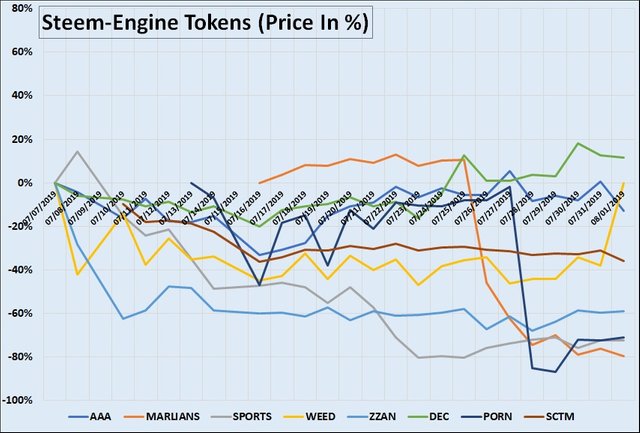 (Click to view in higher resolution.)
Many can be too much
Why can be many tokens too much? I wrote about yesterday yesterday. Of course, that was my personal opinion:
I suspect this selling pressure can be a long-term one, and it has some fundamental reasons. (High inflation, lack of new users, airdrops with 0 historical costs…) The price falls are consuming the initially very high and luring curation rewards
I'm sure I don't know all the important tokens. If you think I should include other ones in my watchlist, please leave a comment. I'm thankful for the developers of Steem-Engine and the tribes for their work. This coins and front-ends, tribes are a unique experiment for all of us. I don't intend to make harm to anybody, but I think we need to see the development of exchange rates. We need transparency.
About the data:
I'm collecting all token prices from July the 7th on, once a day, approximately at 4-5 p. m. UTC (Coordinated Universal Time). I'm not a robot or programmer and I'm not always online, so some delays can happen. The data is so more estimation than an exact recording. If somebody knows how to regain this information more precisely from the blockchain please message me.)