The daily Bitcoin trading volume reached all-time highs in June. That seems far away now in July, but the volume stays high, approximately so high as it was in the hype of and of 2017-beginning of 2018. That is good news and I suppose it increases a lot the possibility of a new cryptocurrency bull market.
There was a lot of bad news ultimately. Politicians in the USA, but also elsewhere were attacking the planned Libra currency from Facebook. But also Bitcoin and other cryptos. (Read for example this.) The fact that the 24-hour volumes on Bitcoin markets are still very high is promising.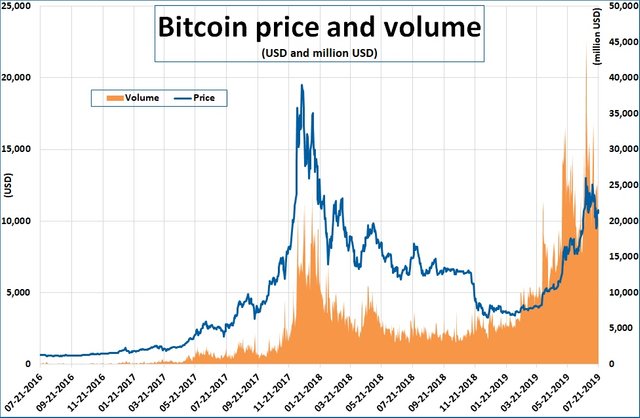 (Click to view in higher resolution.)
But… is it a fact, indeed? I know the great part, by a research from March maybe 95 percent of the Bitcoin trading value turned out to be fake, or only technical, not real. But Coinmarketcap.com, providing this turnover data, knows that, too. And they are eliminating the suspicious exchanges from the calculation:
Some market pairs are excluded from the sum, denoted by two asterisks (**) on the markets tab, if the exchange does not enforce a trading fee or otherwise offers significant incentives to trade on the market pair. Market pairs with these characteristics are rather susceptible to wash trading, resulting in artificially inflated reported volumes. (Source)
The actual Bitcoin trading volume was 17 billion dollars yesterday by data of this page and reached 33 billion some days ago. The top at the beginning of 2018 seems to be at 22-23 billion on the chart.
The volume at the time of writing is 15.5 billion on Coinmarketcap. Messari.io indicated 5.4 billion, Bitwise, only 871 million. (Obviously calculated with other, even much more strict methods.)
By Coinmarketcap, the first two exchanges have had a 24-hour volume of 651 and 575 million dollars at the time of writing. The two largest volumes excluded from the calculation, 2,39 and 1.36 billion, respectively. So, I must suppose this Bitcoin volume data are real, or, at least, relatively real.
Of course, the high volume gives no guarantees to a price surge. But it is a good sign, anyway.
The series
I started a series with the title "Chart Of The Day" because I see every day interesting things on the markets or in the news. Other parts here: