Facebook, its Libra and with this, all cryptocurrencies are facing bad news ultimately. Many crypto-investors were considering good news the plan to create Libra. Because it can contribute a lot to the mass adoption of cryprocurrencies. Some are speaking about "Facebook Libra, cryptos best gateway drug to date". (For example @marketingmonk.)
Trump is an enemy
Bitcoin prices slumped again on Friday in Asia after U.S. President Donald Trump also warned against the Libra digital currency project led by Facebook – wrote Investing.com.
Libra's 'virtual currency' will have little standing or dependability. If Facebook and other companies want to become a bank, they must seek a new Banking Charter and become subject to all Banking Regulations, just like other Banks
All are firing
Not very promising, maybe Facebook will face more hurdles than supposed before. It's not really good to bet against the president. Trump commented this one day after the chairman of the U.S. Federal Reserve, Jerome Powell said Libra "raises many serious concerns regarding privacy, money laundering, consumer protection and financial stability".
The financial services committee of the House of Representatives and the Senate of the United States also wants to investigate Libra and cited Facebook's leaders to hearings in the coming days.
Facebook shares on all-time high
In addition, French lawmakers yesterday voted for a three percent digital tax on local incomes of technology giants. This concerns, among other things, Amazon, Facebook, and Google – several sources were reporting.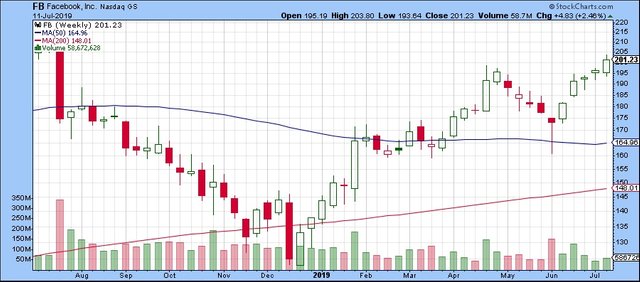 Click for higher resolution. Chart courtesy of Stockcharts.com
Interesting is, that the chart of Facebook seems to be uninfluenced by these attacks. The stock price is on new all-time highs this week (just as US indices and other US stocks).
No FUD effect
I must suppose mainstream analysts and investors don't care very much about Libra and these assaults against it. The uncertainties are too numerous. At the beginning of 2019, some analysts were supposing the Libra could be a new way of earning for Facebook. (Libra was also called FB Coin and Globalcoin before.)
We see a huge jump in Facebook's share prices and of January. But in reality, the press reported already in December about Libra. Facebook surged end of December, but all other shares did. And now, the Libra FUD and bad news are leaving the share price almost untouched.
The series
I started a series with the title "Chart Of The Day" because I see every day interesting things on the markets or in the news. Other parts here: