Chart Of The Day: How Many Tokens Do We Have? Crazy
Allegedly every week or maybe every day a new tribe or token is founded, created, launched. At least that is what I have read in various posts. But nobody seems to know how many are already created. So, as a collector of the trading data of Steem-Engine, I made a little counting in my Excel table.
And the number is…
These tokens are mobilizing many Steemians and are dominating many topics and posts, forums and discussions, Discord channels ultimately. By my research, the number of these tokens was 438 on August 1, 2019. Only 364 on July 7, and 398 on July 20. Twenty percent growth in 26 days.
Or, 74 tokens in 25 days. Three tokens a day. Crazy. On Steem chain are created a similar number of tokens or even more a day than in all the crypto world. Coinmarketcap has 2413 coins and tokens listed at the moment, but that is a product of approximately 6 years.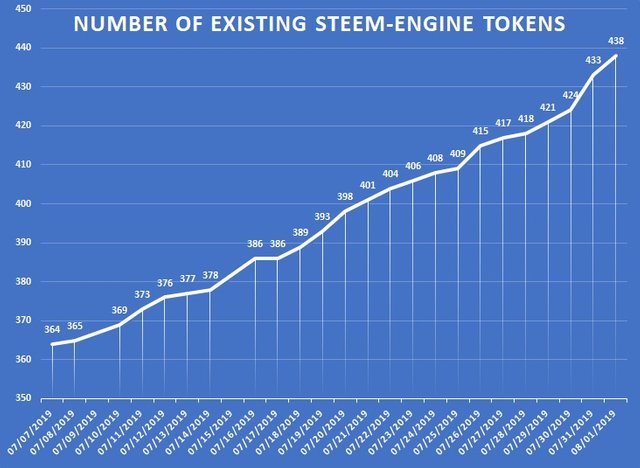 (Click to view in higher resolution.)
Very well. I wish my wealth was growing so quickly, but the prices of the particular tokens are mostly falling. Many bloggers are supposing some concentration, clearing, purge will happen in the future. Less is sometimes more.
Categorized tokens?
Of course, many of the tokens are only experimental or just something for fun. Who wouldn't issue a proper currency if he or she could do it? We all live only once. But I suppose Steem-Engine should make some classification. Distinguishing between serious community tokens and tribes, and experimental, individual, private, joke tokens.
There is nothing new in this, not even really my idea: Stock exchanges in the world mostly have two or three stock classes or categories. Like A, B, C, or Premium, Standard and Emerging. Or First, Second, Third, the name is not important. The quality they contain is. The data, the tokens could be analyzed better, investors would know in which category they are welcome.
Benefit of the trading volume
At the moment, you can find some orientation in the trading volume (here). I suppose the 20-30, maybe 30-50 most traded coins are more serious. Or, they are something we can call "publicly traded". The others are not recommended. You can buy it but later may never be able to sell it again. Or only for a fraction of the price.
See also my reports about Steem-Engine (SCOT) tokens trading volumes and prices:
The series "Chart Of The Day"
I started a series with the title "Chart Of The Day" because I see every day interesting things on the markets or in the news. Other parts here: