Chart Of The Day: Wow, Wow, How Overperforming!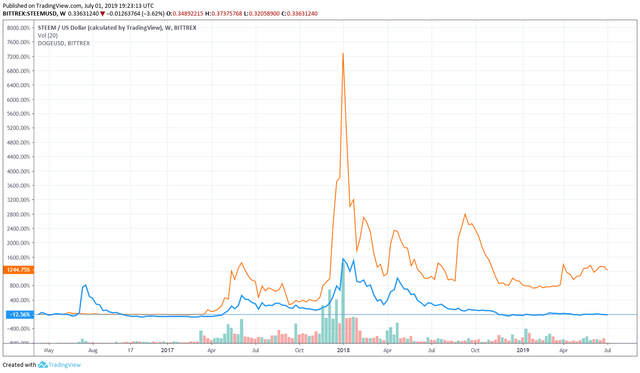 (Click here for higher resolution.)
This is a really sad chart. The blue line is the Steem price in USD – its change in percent –, and the orange line is the change of the Dogecoin/USD price.
I help you to understand it: From April 2016, the Steem price fell 12.56 percent. The Doge price surged 1244.75 percent in the same time frame. (Growing more than twelvefold!) That is a huge underperformance of Steem.
A serious joke
And Not against some strong, leading cryptocurrency – just against Dogecoin, the "joke crypto". Made as a parody of Bitcoin, technically nothing special, a Bitcoin-clone. Used mostly to make donations or to make memes about it. It is relatively successful and strong. (I wrote about it some earlier.)
Only one direction?
It is also interesting how the two assets were moving together. Maybe with the whole altcoin-market. But not always. They jumped together in May-June of 2017. They skyrocketed at the end of 2017 and at the beginning of 2018. Then, they fell and fell.
There was a Dogecoin price jump in autumn of 2018, and another in the spring of 2019. But Steem was not really participating in these new jumps. Steem seems to be like coursed, lately. Not even really volatile. Only volatile downstairs.
(By Tradingview.com/Bittrex, the first day of Steem data was April 11, 2016, with 0.3792 USD closing price. Other data may show differences, for example by Coinmarketcap, the first day is April 2018, 2016, with a 0.877681 USD close. Even worse.)
(Chart courtesy of Tradingview.com)