Chart Of The Day: Do You Still Believe In Your Tokens?
"What Do You Expect From The New Tokens?" – I asked some days ago about the expectations about the price of the new Steem-Engine or SCOT-tokens. The poll showed most people were uncertain, imagined no clear direction or couldn't give an estimation:
There will be no clear direction, some up, some down (50.0%) 8 / 16
So many factors, impossible to predict something (37.5%) 6/16
So far, so good. It is a new sort of token and it can be really difficult to see the future. But I think that should not prevent us from looking at the past.
Why historical prices?
That is always what investors are making: looking at the charts, watching the historical price movements and analyzing the past. The past price developments do not guarantee future performance, but that is what we know and that is what provides us some information.
I was surprised as I knew Steem-Engine doesn't provide price history at the moment. I asked them and they didn't mention when they were going to do it. So, what can a simple small investor do who is willing to do his homework? He begins to collect those valuable price information.
Bad news
The bad news is, the tokens know mostly only one way: Downstairs. At least the ones I have chosen fell a lot from July 7, 2019. Many people are happy because the tokens, the frontend votes on sites like Palnet, Steemleo, or Creativecoin, provide high income. Much higher than Steem itself does. But the tokens seem to stay under strong selling pressure.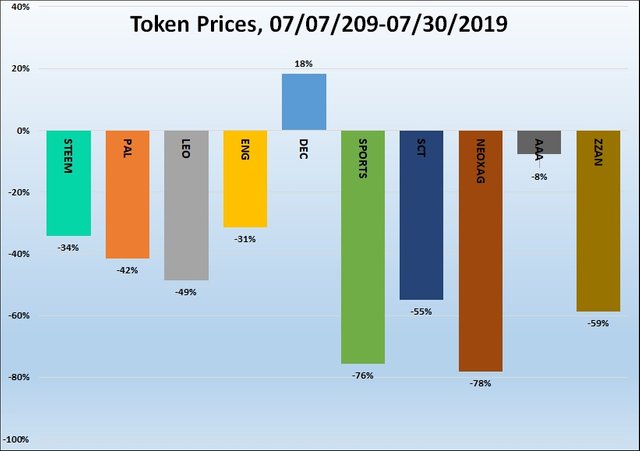 (Click to view in higher resolution.)
I'm collecting all token prices from July the 7th on, once a day, approximately at 4-5 p. m. UTC (Coordinated Universal Time). I'm not a robot and I'm not always online, so some delays can happen. The data is so more estimation than an exact recording. But better than nothing (If somebody knows how to regain this information more precisely from the blockchain I'll be glad to get rid of this collecting activity.)
Transparency on crypto exchanges
There are a lot of tokens, I counted 423 today. I'm only charting a few of them today. I'm trying to find a nice way to show at least the ones with a more significant trading volume.
This cryptocurrency trading, the token marketplace is some sort of stock exchange. All stock, bond, commodity and cryptocurrency exchanges need transparency, and that includes also transparent public price information.
The series
I started a series with the title "Chart Of The Day" because I see every day interesting things on the markets or in the news. Other parts here: