To better perceive the performance of CyberGhost VPN, I propose you again a review of one of the best VPN. Is the CyberGhost one among the best solutions on the market? The free version offers such efficiency or should you pay for the paid version?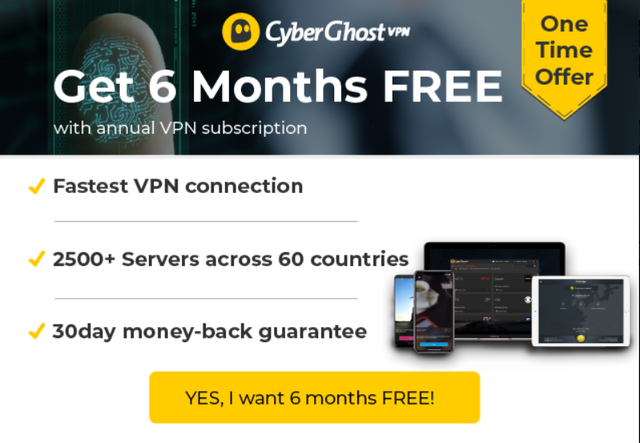 CyberGhost VPN
Installation and simple use
To install CyberGhost VPN, no registration is needed. Simply visit CyberGhost website and download the version corresponding to the system on which you would like install (Windows, Mac, Adnroid ...). In few seconds the file is downloaded and once launched, the CyberGhost software can be used for free without any registration.
By clicking "Browse anonymously" it's possible to choose a country. The software CyberGhost offers a pleasing ergonomics that simplifies its use and even novices can understand it very quickly.
Speed and performance
The speed depends greatly on the software version. In free mode, expect a slow speed that doesn't permit to download, upload or watch streaming videos. Some big sites can also take longer to load.
By cons, in pay mode, the flow is quite good and there's almost no loss of speed if you selected a high-performance server (prefer the American and European servers). It allows to override geographical blockages. As for the bandwidth, there's no limitation in free or paid version.

Settings and options
On the home menu of CyberGhost, six functions are available to you: Anonymous browsing, unlocking streaming, wi-Fi protection, torrent download, unlocking basic websites, choosing a server. With the free version, you merely have access to anonymous browsing, wi-Fi protection and unblocking of basic websites. And even these functions are partially restricted.
By cons with the paid version, the options are really interesting and we can take full advantage of the VPN CyberGhost. The Settings tab located in the upper right part of the software allows you to fine-tune certain aspects: launch on startup, language, exceptions, proxy, connection (DNS, TCP ...), Wi-Fi and application protection.
Security
In terms of security and anonymity, the CyberGhost VPN meets my expectations. It benefits from a 256-bit AES high-performance encryption system that allows you to cover your real IP address, use powerful protocols (OpenVPN, PPTP or L2TP), take advantage of Kill Switch, block ads, block malicious websites, and block tracing. Most of those protections don't seem to be accessible with the free version.

The best free VPNs?
Their free VPN can be used without subscription. Just download the software from the CyberGhost web site and launch the installation that solely takes few seconds.
Among free VPNs, the free version of CyberGhost is without any doubt one of the best, with not restricted bandwidth, but a greatly reduced throughput and fewer features than the paid version. I strongly suggest paying VPN CyberGhost instead of the free solution.
Main features
The CyberGhost VPN supplier is found in Romania and it's one of the few European countries to not have valid the laws coming from the Data Retention Directive of 2006. In other words, CyberGhost doesn't have to keep your log of connection, which is your history and metadata.
A positive point that ensures a lot of anonymity. However, it's not sure that if another Europeans country claims data regarding one of the CyberGhost users, the latter refuses. But this type of approach only affects cybercriminals. Note that CyberGhost permits P2P…
This VPN covers 60 countries across over 3000 servers. There are several VPNs giving a wider selection of country but in reality, 60 countries are largely sufficient. For the free version, the amount of country and servers is reduced.
CyberGhost is available for major operating systems and you can directly install on your router. This last solution allows you to guard your entire local network without having to install CyberGhost on all your devices.

Conclusion: my opinion on CyberGhost
You understood it, CyberGhost VPN is a superb VPN provided that you select the paid offers (the first 30 days being refunded and 6 month free, if you want to save money, that's a very good VPN).
The free version offers only a minimum of anonymity by connecting to an oversea server and taking advantage of military level encryption. And for P2P, streaming, geo-blocking and a wider range of options and good speed, go for the paid subscription.

CyberGhost VPN

I've made a lot of articles with tools, explanations and advises to show you how to protect your privacy and to secure your computer, GO check them out!