Previous parts from Lilith:
I - Woke up hungry
II - The starter
III - It Still Burns
IV - I Remember
V - Refocus
VI - Consummavi
---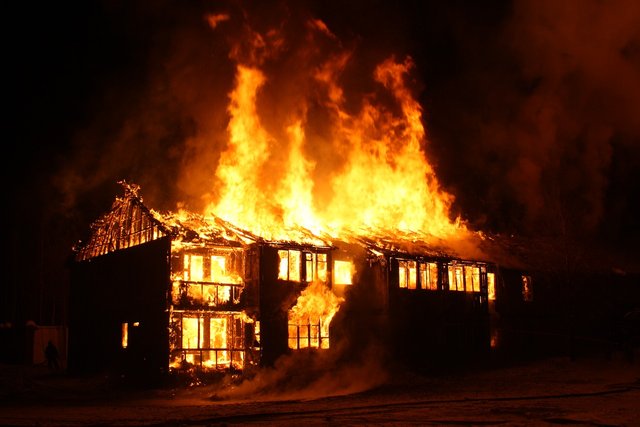 Image from: pixabay.com
---
Don't forget to hit play before scrolling down
---
Her dress was sweeping the dusty road again. She was going back to her safe hiding place; the cold hollow pit inside the earth that resembled that cold hollow pit inside her heart. She should have been feeling satisfied, instead she felt hollow, empty inside. She wanted to weep like a child only she couldn't. Her face wanted to make spasms as if she would burst into tears sooner or later, but she controlled herself. On her way back to the cemetery, she passed by the old mansion. She halted back and raised her eyes upon it.
Those eyes. Empty but shiny like beautiful glass marbles. That's what he had first fallen in love with, her eyes. Nothing more than two piercing holes now. She felt the need to go back in there for a moment. She wanted to see him again. She wished she could take that painting with her for ever, just like she would have taken him if things had turned out different.
You damned thing!
She said looking at her freckle that was burning like hell.
She exhaled noisily and walked up the steps, the sound of her shoes on the wooden porch scared away an owl that was resting on the railing. Determined she got inside. Headed straight to the parlor where the previously burning coals had already turned to dark, grey ashes. He was still standing there, high above her. She needed a moment to find the strength and look at him again. She felt so small when her eyes met with his. As if she was drawn backwards and he was being pulled farther away from her but he was getting bigger in her eyes at the same time.
It took her a few seconds before she opened her palm and the painting came down the wall. Lilith touched the dusty frame without saying a word, without breathing in or out, without blinking, without... not feeling. Trembling. She started trembling. Her hands were shaking, her freckle was always burning and there she sat on the floor in front of him.
The cold moonlight was coming in from the window on her right. A light breeze was blowing and pouring the long, white curtains into the room. Dancing veils that blew in front of them, like an airy ballet, getting the audience ready for the show's main performers to come on stage. Her gaze returned to the painting.
Her face cracked and she let a big sigh of pain that quickly turned into a sob. The painting was standing against the fireplace and she was leaning on it with her arms tightly folded around her bent legs and her face softly pressed against the lifeless face on the canvas.
More sobs. Every one was mourning a sweet memory. A first sight. A first gentle touch. A first kiss. A first night together. A first baby's cry. She let the tears flow. She let them cleanse her from all the pain she was hiding inside her. Nobody was around to see her vulnerable like that. Nobody. Not even the two continuers of this despicable species that took her life away and now she had sworn to take theirs every few decades.
People. Heartless mortals. One night they barged into her house and set it on fire. Her newborn baby girl was sleeping inside. Her husband was with Lilith at the little lake behind the house. It was Ebony that ran to them and made them notice the smell of smoke and the huge flames that were coming out of their house.
They both jumped in panic.
She stayed outside, not knowing how to help.
He rushed in and ran up the stairs to the nursery room.
She had to wait for him out.
He never came out.
We are immortals Lilith, immune to weapons, scars and disease. But fire, my dear, fire is the only way to banish us from this world. If you ever feel that you can't take it anymore, you now know how simple it is. Painful. Excruciatingly painful, but ultimately liberating.
Promise me one thing though, my dear, promise me that if you ever decide to do it, we'll do it together. Promise me that you won't leave me here alone for all eternity.
She promised him that day, but it was him who went back on his word.
Her pain, her anger, her wrath never faded away. They kept her going. They built her strong, stripped her off every trace of compassion and set her on a mission, to pay back for every drop of pain they had caused. Lilith was now a soldier obeying the commands of one and only general... Revenge.
Ever since, she appears every once in a while to avenge her family. Every few decades she comes back. She ruins what they have built in the meantime and kills everybody who lives in this village. Everybody but a couple. Her Adam and Eve who bear the burden of becoming the forefathers of a doomed race. They do not remember anything on the day they wake up, they just find themselves in a field of corpses. They put the dead ones away and go on to set up a new life. They never ask why and how, they just deal with it and move on. Then, new people come, passers-by who become settlers and the village starts thriving again. And these people have kids. Those kids have their kids and just like that they all have a share in Lilith's never-ending revenge plan. They labor to build life so that she can come and destroy it.
Again and again.
She always has the choice to put an end.
The question is, does she have the courage?
---
Original story by @ruth-girl - Steemit, 2018


Thank you so much for your time!
Until my next post,
Steem on and keep smiling, people!