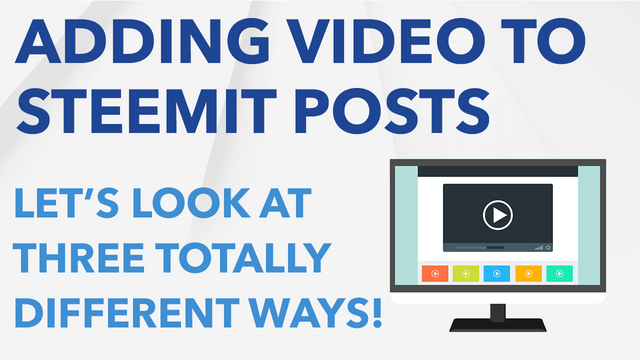 Let's Talk About Video Content on the Steem Blockchain...
When it comes to uploading video content to Steem, you really have three choices to consider. First let's list the three choices and then consider the pros and cons of each option...
1. YouTube Embedded Videos - Embed your YT videos into your Steemit posts. This doesn't really add your video to the Steem blockchain but it does add it to your Steemit posts.
2. Dtube - D.Tube was the first crypto-decentralized video platform, built on top of the STEEM Blockchain and the IPFS peer-to-peer network.
3. Dlive - Dlive describes themselves as the Next Generation Live Streaming and Video Community on the Steem Blockchain.
---
Pros and Cons
First it's important to mention that when people are looking for a way to add video to their Steemit posts.. well.. that's exactly what they're trying to do. They've built their following on Steemit and simply want a way to add video to their posts. But this isn't always the case; often times we have YouTube vloggers come directly to Dtube or Dlive because they're looking for an actual video platform to replace YouTube.
But, for the purposes of this article, we'll be focusing on the majority of people who just want a way to share video content with their Steemit following.
| Video Option | Pros | Cons |
| --- | --- | --- |
| YouTube Embed | Video playback directly in posts, reach a larger audience through the Google network, completely free to use, ability to earn from your YT videos | Videos don't really get added to the blockchain, videos still subject to Google censorship, may see ads |
| @dtube | Videos are added to the Dtube platform where you may reach more people, although rare you could get upvoted from the Dtube account, resistant to censorship, ability to earn rewards, they recently started sharing curation rewards with their community | Dtube takes 25% of your rewards, website often fails to upload videos |
| @dlive | Videos are added to the Dlive platform where you may reach more people, ability to do live or pre-recorded videos, ability to earn even after payout through tips, free to use, resistant to censorship, ability to earn rewards, may get upvoted from the Dlive account, incredible team behind Dlive that is VERY supportive of their community | Dlive is still fairly new but catching on quickly among both content creators and live streamers |
---
So Which Do You Choose?
This will really depend on several factors. Are you fed up with YouTube and want to abandon your YT channel altogether? If so, then it's likely that you'll want to find a totally new platform like Dtube or Dlive. If you're just wanting to add video to your posts then you may find that embedding YT videos is the best option as it allows playback right in your Steemit post. But maybe you want to meet more people on the Steem blockchain and you focus solely on live video streaming. Well, in that case, Dlive is probably your best option. So it really depends on what type of video content you shoot and what you're trying to accomplish.
What Have I Chosen To Do?
I've personally struggled with this for a while. For a short period of time I switched over to Dtube as I really wanted to support our first video platform on the Steem blockchain. This was until I found out that they were taking 25% of my rewards for using their platform. So I switched back to YouTube as it's completely free to use, allows video playback in my posts, and allows me to reach a larger audience and drive more people to the Steem blockchain.
But now that we've got another option, and they take 0% of your rewards, it looks like I might be gravitating more towards @dlive. Although I haven't uploaded videos to their platform yet, I have watched many videos hosted by them and participated in numerous live streams. The experience was great and what's really amazed me is how interactive they are with their community. They've also been hard at work adding new features like integrated chat into their streams and the ability to earn rewards after the 7 day payout via tips. This kind of forward-thinking development is what gets me excited. And the fact that it's free to use is just icing on the cake!
What Are You Using for Videos on the Blockchain?
Now I'd love to hear from you guys. What's your opinion of the current choices for video content here on Steemit? Are you using any of the above options and are there any other pros or cons you would add to any of them? I'd love to hear your thoughts!

Recent Posts