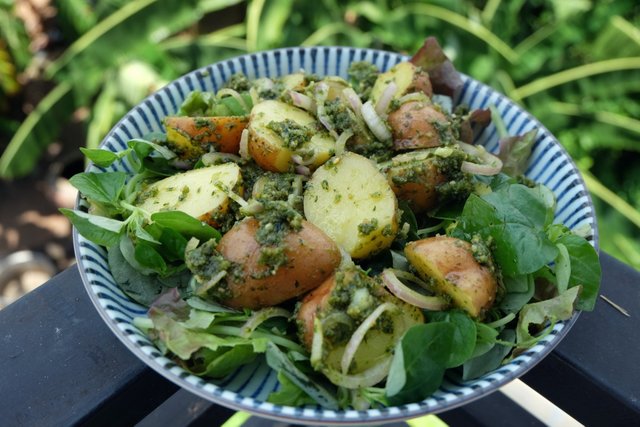 Yummy, 100% plant-based lunch that is filling and easy to take to work or on a road trip. The other day I came across an article about prebiotics and how resistant starch can improve your health and happiness. Potatoes are starchy vegetables we all know that but did you know that they are even healthier when cooked and cooled down?
This was kinda new to me too. A new topic to research and learn more about. More to come once I know more about this interesting fact.
POTATO SALAD WITH ITALIAN BASIL AND PARSLEY PESTO 🥔🥔🥔
---
INGREDIENTS (serves 2-3)
---
Parsley-basil pesto
---
1 cup fresh Italian basil leaves
1 cup fresh parsley
1/3-1/2 cup extra virgin olive oil
1/4 cup nutritional yeast
1/2 cup roasted cashew nuts
Sea salt and black pepper to taste
FYI: this makes more pesto than you need to make this recipe. Leftovers can be used to make a toast or pasta pesto.. or more potato salad ;)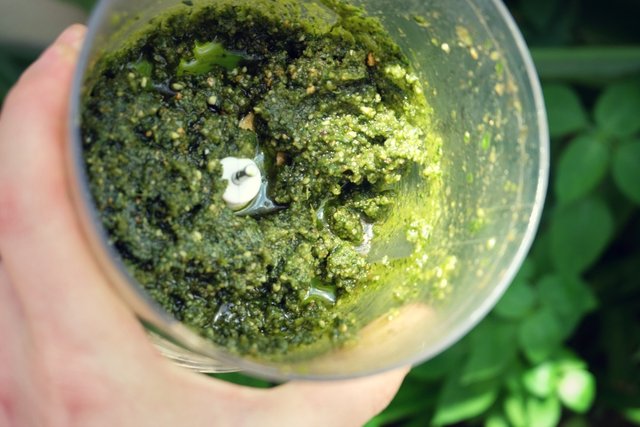 Potato salad
---
3 cups small potatoes, (you can leave the peel on) halved or quartered
1/2-3/4 cup sliced red onion
Salad greens of your choice
DIRECTIONS
---
Cook potatoes in lightly salted water until fork tender. When cooked, drain and allow to cool slightly
While the potatoes are cooking, make the pesto by combining all ingredients in a blender or food processor and blend until paste-like consistency.
When the potatoes are cooled down, mix with pesto and red onions. Add salad greens to a plate or salad bowl and top with potato pesto mix.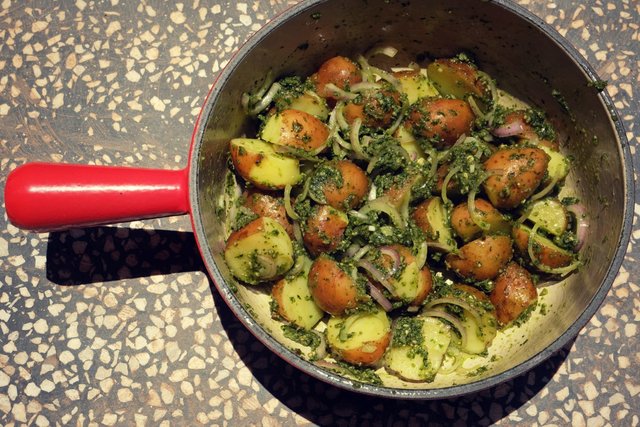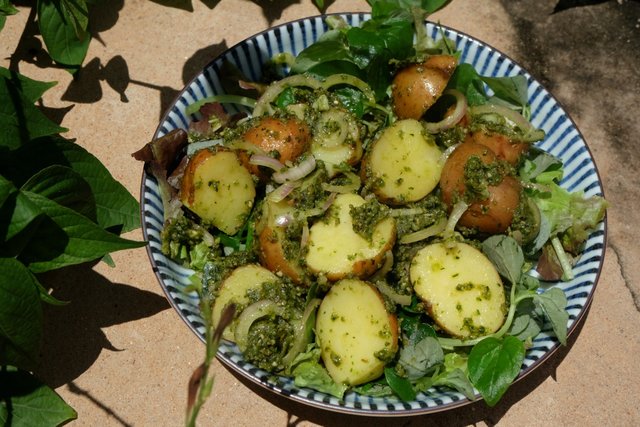 ENJOY ღ ღ ღ
---

FYI: For green smoothie tips, tricks, and recipes, download my FREE GREEN SMOOTHIE EBOOK HERE!
---
ALL CONTENT IS MINE AND ORIGINAL!
PICTURE(s) TAKEN WITH NIKON D5600
---
LET'S CONNECT!
---
Website - Facebook - Google+ - Twitter - Pinterest - YouTube
---
🥑🍓🍆 FIND MORE YUMMY PLANT-BASED CREATIONS BELOW 🥑🍓🍆
---