NEVER GIVE UP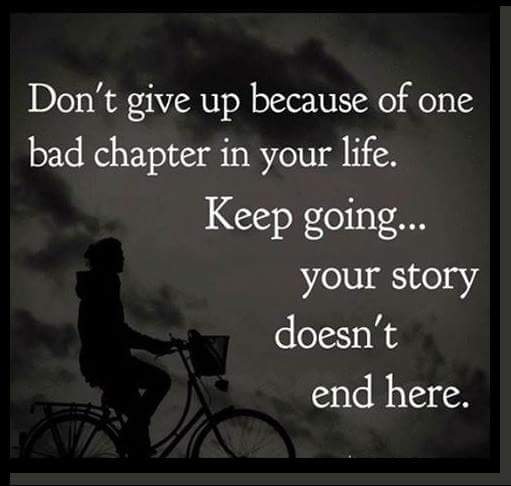 Source
Teardrops
Your teardrops had fallen, when all about you is lost,
You were defeated, like a worthless person,
The storm blew you like a blink of an eye,
You were ready to sleep, forever,
Your arms had no clutch, and had no legs to walk,
But you are ready, you would not give up,
Your life is just like this, But your hopes never disappears,
All of the sufferings, will be gone soon,
It seems like you don't have dependencies,
But you still has good things left,
So much happiness,
Good things that's meaningful to you,
You still have your heart, your heart that's still pumping,
Letting you know that you're still alive and not dead,
When you fall, you must stand and fight the pain,
Although you have no one left, But your heart is still in you,
|THANKS FOR READING|

I LOVE POETRY.. I LOVE MAKING POEMS..
Please Visit My Original Poems.. Thank You😊 :
💔The Weakness💔 || 💔........Unfit💔 || 💔End Of The Line💔 || 💔Incurable💔 || 😔My Beloved😔 || 💔The Clock💔 || Lost || The Promise
FOLLOW - UPVOTE - RESTEEM
Please, do the community a favor and support @steemgigs, Terry who blogs using @surpassinggoogle, as a witness.
How to vote:
1.) - Go to https://steemit.com/~witnesses
2.)- Scroll down to bottom, and type in steemgigs and click vote. (You can only vote once per witness if you try to vote again the original vote will get deleted.)


If you want to give him witness voting decisions on your behalf, visit https://steemit.com/~witnesses again and type in "surpassinggoogle" in the second box as a proxy.

---
Thank you to @bobiecayao , one of the good leaders of #steemunityph for mentoring our leader @michaelcabiles and helping him to build #thaisteemgroup in Thailand.
Others that are good: @beanz, @teamsteem, @good-karma, @busy.org, @esteemapp, @hr1, @arcange @bayanihan, @acidyo, @anomadsoul, @steemitph, @henry-grant and @paradise-found, @ocd, @thaiteam @tookts , rigaronib and also others who had visited my posts. Please, support them too. Thank you very much.