The worst part of some people's lives is losing their partner in life but still, they must move on and strengthen their feelings.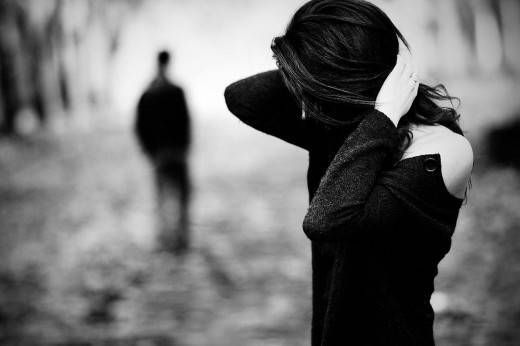 Photo from Google
---
Don't tell me anything, don't tell me what's going on in this reality,
Keep your goodbyes in your heart, and tell it to me later, slowly,
Don't tell me the truth if you're going to leave me,
Please act like you still love me and do it like it used to be,
Don't let me notice that you had changed, to a different person,
I get so easily scared, I hope I can stand on my own,
You don't have to be so good, you don't have to do it more than before,
Just make it seem like we love each other, and that's enough, no more,
Could you please wait for the time, when my heart is stronger than this?
And then gradually let it die slowly, my reminisce,
Can I ask for a little understanding? Of someone who's worthless?,
Please keep this time as a memory, from the hopeless,
The weakness that I have today, makes me feel scared,
I just need time to adjust, so that I can prepare my myself, sacred,
I have to live a life that's empty, with no one as before,
And when I'm ready to let you go, I won't ask for anything anymore,
---

Thank you to @bobiecayao , one of the good leaders of #steemunityph for mentoring our leader @michaelcabiles and helping him to build #thaisteemgroup in Thailand.
Special thanks to @purepinay for the inspiring post about @steemgigs and please follow and support her as well.
Please, do the community a favor and support @steemgigs, Terry who blogs using @surpassinggoogle, as a witness.
How to vote:
1.) - Go to https://steemit.com/~witnesses
2.)- Scroll down to bottom, and type in steemgigs and click vote. (You can only vote once per witness if you try to vote again the original vote will get deleted.)


If you want to give him witness voting decisions on your behalf, visit https://steemit.com/~witnesses again and type in "surpassinggoogle" in the second box as a proxy.
Others that are good: @beanz, @teamsteem, @good-karma, @busy.org, @esteemapp, @hr1, @arcange @bayanihan, @acidyo, @anomadsoul, @steemitph, @henry-grant and @paradise-found, also the many others who have visited my posts. Pls. support them too. Thank you very much.
Special Shout-out to @thaiteam , @tookta and to all Steemit Thai Community