StrongTower Begins!
Hi all!
So here is our first report - Everything will be as transparent as I can possibly make it!
Everyone who has joined has agreed to send 5 Steem to my @dreemsteem account. (some have asked to send it later, and I've covered their amount for now!) @quirky.countess really wanted to be a part of this, but isn't posting at all at this time. In order to hold her spot, she has offered to delegate all her Steem to the StrongTower account (thanks @quirky.countess! We love that extra delegation!) She has also offered to give her daily vote to Welcome Wagon to use as they see fit! (@welcomewagon will either use that daily vote to boost their post payout - or - will promote a contest where any worthy newbie can apply for 7 days of StrongTower upvotes!)
After the 5 Steem contributions by our members (plus the delegation from @quirky.countess in place of the 5 Steem), I have contributed an additional 53 Steem from me - for a total of 88 Steem. (This amount has covered anyone who wasn't able to contribute up front)
I've used the 88 Steem to request a delegation lease on Minnowbooster. The bid is to lease 1540 SP for the next 12 weeks. (as you can see below)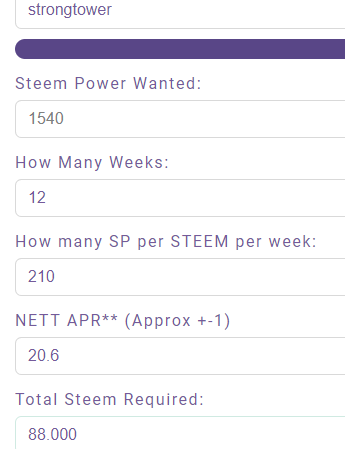 Here are the members of the First 90 day Delegation Experiment by @StrongTower
(in alphabetical order)
@andysantics48
@bluefinstudios
@dreemsteem
@eveningart
@kchitrah
@maquemali
@monchhichi23
@quirky.countess
@saffisara
@silversaver888
I've created a StrongTower DM - If I have any quick things to relay to everyone - I'll use that! :) (like - exactly the moment when I realize we got our delegation! fingers crossed that someone will choose to fulfill it soon!) For any longer reports - I'll use this posting method!
Also - PLEASE, if you know that you will not be using your daily vote... PLEASE don't let it go to waste!
As soon as you know you won't post, use our DM to tell me who you'd like me to upvote in your stead that day!
I'll upvote them and leave a comment saying something like:
"StrongTower has given you a 100% upvote, courtesy of @quirky.countess" (something like that!)
I will also be transferring approximately a 600 SP delegation from @dreemsteem to @strongtower. I want to make it the biggest vote it can possibly be for us!
Please manually upvote (or autovote, if that is easier) StrongTower's reports. Not sure how often I'll do them, but every bit of upvotes will help us next time we purchase a delegation (if it seems like a good thing to continue with this experiment.)
In conclusion - if the bid is accepted (update: it HAS BEEN accepted - almost immediately! LOL)- it looks like each person will be contributing 5 steem, to get a 100% daily vote from an account with approximately 2140 SP. Hopefully that will be about a $0.20 vote? We will know when we start getting them! :)
So if that's the case - at the current market, it looks like for a 5 Steem contribution ( $5.90 USD) - after 90 days, each person will be receiving back 90 days of ~$0.20 upvotes. (~$18.00) (At the current market value - if Steem rises, and wouldn't that be nice??? the value will increase. If Steem drops further, and wouldn't that be bad!!! the value will decrease)
Since I'm giving my delegation away, please accept my financial love through @strongtower, and my comment love through @dreemsteem LOL
ok guys.... here we go :)