Arcas' Bones (4/12)- Arrival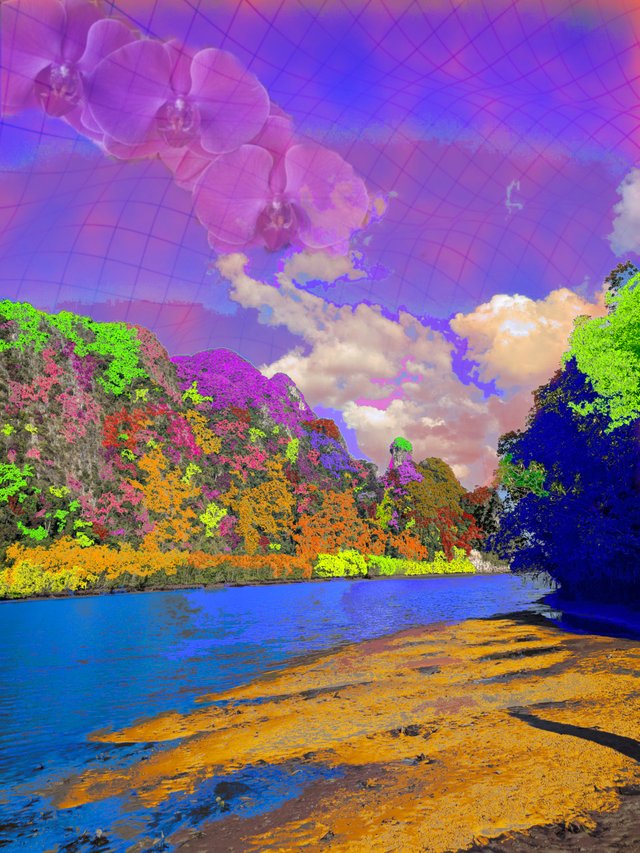 Being accepted by a group was essential for conducting ethnographic fieldwork. Wherever he went, Dr. Linnaeus made the effort to establish relationships with the locals as soon as possible. On Mars, he befriended the highly formal Sensei; on Venus, he was adopted by the mercurial Elysians; and on the far reaches of the belt, he formed strong alliances with the hardy Stonekeepers. Obtaining ethnographic data from any group of people demanded trust and cooperation. Therefore, quickly establishing a good rapport with them was absolutely necessary. First impressions mattered, and he wanted to make a good impression upon his host. It was a challenge that always made him anxious, but which he knew would lead to lasting relationships and even friendships.
---
If you haven't done so yet, please read parts 1, 2, 3, 3.5
---
The professor and his young assistant watched in silence as the vessel slowly approached the makeshift dock on the river shore. A raucous crowd had gathered there. Dr. Linnaeus and Esmeralda looked up the embankment, and for the first time they caught a glimpse of the Arcasians.
Esmeralda gasped.
A group of greasy and disheveled wild-eyed women stood on a hill with spears, hatchets, and arrows at the ready. They stomped their feet and waved their weapons at the crew of the scout vessel. They shouted, howled, yelped, and spit wads of green vile onto the ground. Their faces and bodies were covered in pink goo. Their blond hair had turned a translucent pink with the stuff. The only few items of clothing "adorning" their bodies were a variety of orchids that were plastered over their slimy pubic hair. Their breasts were smeared with paint and held by a narrow strip of braided palm fronds attached to a beaded string around their necks.
Esmeralda let out her breath in a single burst.
The professor put a hand on her shoulder. "You should go back inside. I'll see what I can find out."
She held on to the rail. "I'll be fine."
The professor hoped so because he didn't feel fine himself. The stench of dead fish and decayed vegetation was almost unbearable. He was close to retching, but he was soon distracted by a swarm of mosquitoes that began buzzing around him, biting his arms and neck.
The boat docked, and as soon as he stepped on the shore, the professor was surrounded by several dog-sized lizards that ran up to him and began hissing and snapping at his shins. Their long jaws were filled with row upon row of sharp teeth.
A young man with a scraggly beard ran up to them and shooed off the animals with a palm frond. The lizards hissed at him but soon scattered to the edge of the forest, where they kept a watchful eye on the visitors.
The man introduced himself as Neil Alvarez, assistant to Dr. Levine, who had been doing fieldwork on the island for the past couple of months.
"What is going on?" Dr. Linnaeus asked him. "Where is Dr. Levine?"
Neil took furtive glances at the women up on the embankment. "Unfortunately, he's not here. There was a raid a couple of nights ago. They took him."
"He was kidnapped!?" said Esmeralda in a voice bordering on panic.
Neil looked at her as if noticing her for the first time and his eyes widened. He was about to say something, but the professor cut him off.
"Who took him?" Dr. Linnaeus asked him.
Neil ran his grimy hands through his beard and looked up at the rowdy women. "Groups from different islands have been raiding each other for the past few weeks. The women of this village took a few men from a neighboring island north of here, and the other group returned the favor. They raided two nights ago and took Dr. Levine along with a few other local men. Our informant told us that this is customary as the dry season is about to begin, and the men are needed for work and other social activities. Thankfully, nobody has been killed, but a few women have been injured."
"How?" Esmeralda asked him already knowing the answer but not quite believing what her own eyes were seeing.
"In battle, of course. Women are the only ones who fight apparently. We haven't seen any men engage in combat."
Neil looked at Esmeralda for a moment, and then at the professor. He seemed like he wanted to say something but didn't know how to say it.
There was an uproar up on the embankment. After much yelling and shouting, the women ran off into the forest with the vicious hissing lizards in tow.
"What's happening now?"
Neil turned and hastily began walking up the hill. "They've been doing this all day. The other group threatened to return after the last raid. At the slightest noise, the women jump to their feet with no warning and rush off to investigate. I think part of the problem is the kuk-sha, a hallucinatory drug they smear all over their bodies. It makes them highly agitated and paranoid."
"Is that why their bodies are covered in pink slime?" Esmeralda asked him.
He nodded. "Up to now, the other group had left us alone, but things changed in the last raid and for some reason, they took Dr. Levine."
"What do you know about that other group?" Dr. Linnaeus asked him.
"We don't have any data on them. Our sensors didn't pick them up. And unfortunately, we also lost our records during one of the raids, so we don't have a precise location."
As they climbed the hill, the village came into view. Surrounded by dilapidated walls made of old sky-view panels, the village consisted of small cabins that had been laid out in a circle around a muddy field. They looked like the husks of old shuttles, rusted and caked with mud. There were a few sporadic gardens near the walls, but the only signs of life were the cunning lizards lounging in the mud.
Two fierce-looking women stood guard at the entrance staring at them with piercing blue eyes. As the visitors approached, they gnashed their teeth, which were covered in gobs of green matter. Pounding the ground with their spears, they thrust their bare chests forwards causing the beads on the string to rattle like a snake.
Dr. Linnaeus looked back at the boat with longing. Then reaching into his pocket, he closed his fingers around the pen he carried there, suddenly feeling very vulnerable and pathetic.